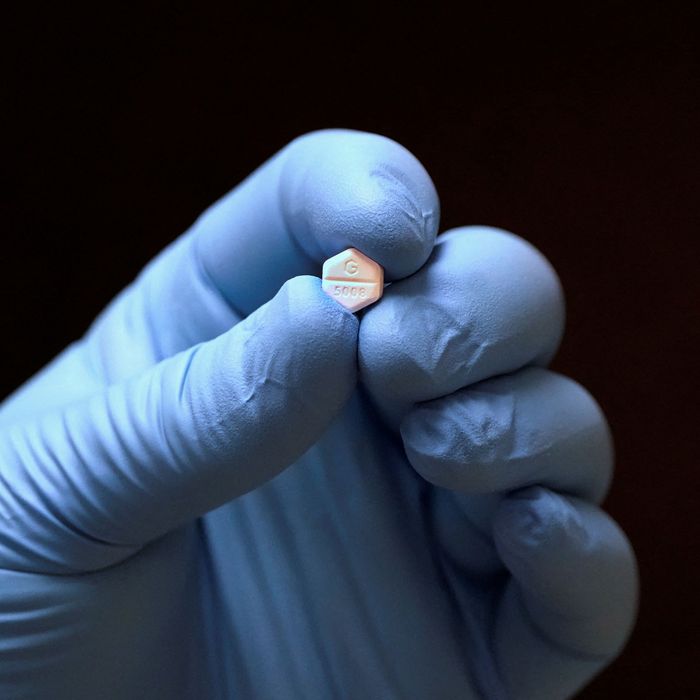 Misoprostol, one of the two drugs that together can safely terminate early pregnancies.
Photo: George Frey/REUTERS
The anti-abortion movement is already working to dampen any enthusiasm over the FDA approving the distribution of an abortion pill, mifepristone, by pharmacies with a prescription (previously, it could be dispensed only by specially certified mail-order pharmacies, doctors, and clinics). The approval applies only to states where abortion pills haven't already been banned after Dobbs v. Jackson Women's Health Organization revoked the federal constitutional right to choose. And now the forced-birth crowd is pledging to put pressure on pharmacies that distribute these drugs in states where it's legal in hopes of restricting access. As Politico explains, anti-abortion activists are focusing on large pharmacy chains that should quickly get certified to distribute the drugs:
Anti-abortion advocates are organizing pickets outside CVS and Walgreens in early February in at least eight cities, including Washington, D.C., in response to the companies' plans to take advantage of the Food and Drug Administration's decision last week allowing retail pharmacies to stock and dispense abortion pills in states where they're legal.




The demonstrations aim to bring the same chants, signs and tense confrontations to drug store parking lots that groups have long used to try to deter visits to abortion clinics. The protests will coincide with a call-in campaign and planned national boycott of the chains.
While the effectiveness of hassling and inconveniencing pharmacy patrons who aren't there to get abortion drugs at all may be questionable, it's likely a secondary goal is to provide cover for pharmacists and their assistants who refuse to have anything to do with the distribution of the pills. This will build on long-standing efforts to obtain protections for "pharmacists of conscience" who refuse to distribute emergency contraceptives, or even medications related to the insertion of IUDs, on the dubious grounds that these birth-control methods are actually "abortifacients." And pharmacy employees seeking a self-designated right to pick and choose customers and products will link arms with "Christian bakers" and others who cannot tolerate letting other people obey their own consciences.
Big drugstore chains aside, smaller mom-and-pop independent pharmacies may already be deterred from distributing abortion pills by the burdensome certification process. Now they'll also have to consider the threat of protesters outside and "pharmacists of conscience" inside. And underlying all these considerations for pharmacies will be the continuing battles in the courts over state constitutional provisions protecting the right to choose, policies set by state legislatures, and upcoming ballot initiatives (won by the abortion-rights cause in every 2022 test). And while Democratic control of the White House and the Senate means there's no reason to fear federal abortion bans right away, the House will be churning out anti-abortion legislation (it's already passed one bill protecting pro-life protesters and another requiring medical treatment for rare survivors of botched late-term abortions) in a sign of what might happen after 2024 if Republicans win a trifecta that year.
So the parking lots at CVS and Walgreen's will simply join other contested ground the U.S. Supreme Court created with Dobbs.