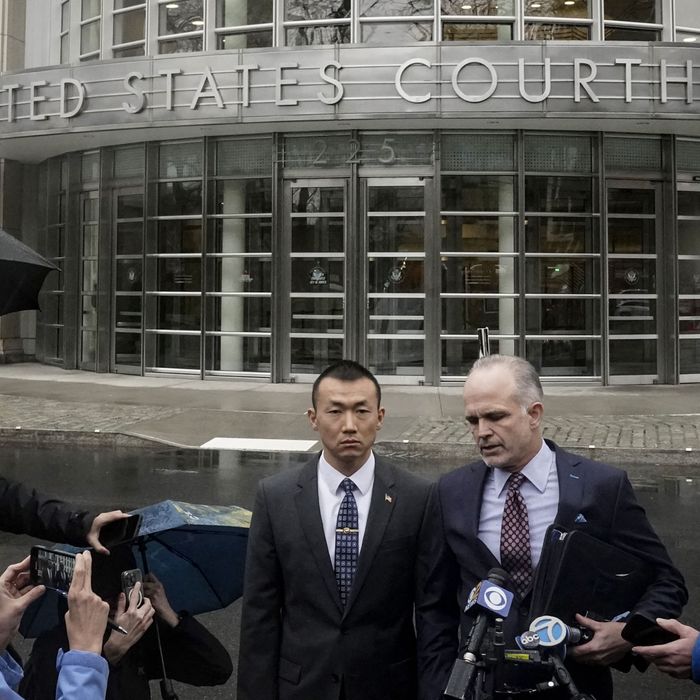 Baimadajie Angwang and his attorney, John Carman, outside the Brooklyn Federal Court Building on January 19 after a judge dismissed spy charges against him.
Photo: Bebeto Matthews/AP/Shutterstock
It was unusually cold on the morning of September 21, 2020, so Baimadajie Angwang started his day by warming up his car. His daughter had woken up crying, and she kept crying as he hugged her good-bye and walked out the door. It was there, in the narrow driveway of his Queens home, that a half-dozen FBI agents swarmed him, holding rifles a few inches from his face. His wife rushed outside, still holding their daughter. As one agent handcuffed Angwang, they asked, above the sound of his daughter's wailing and the low rumbling of his car, "Do you speak English?"
He did, and he spoke it well. Angwang was an NYPD officer and a Marine before that, having lived in the U.S. for the past 13 years. Handcuffed in the back of a van, the FBI agents eventually told him they'd been monitoring his calls with Chinese Consulate officials for over two years. Those calls, they said, proved he'd been acting as a foreign agent by essentially spying on fellow Tibetan immigrants. Following his arrest, he was called "the definition of an insider threat" by the head of New York's FBI office, a violator of "every oath he took in this country" by police commissioner Dermot Shea, and "a Chinese spy" by multiple news outlets.
Then, over two years later, on January 13, 2023, Angwang got a call from his lawyer. "Are you sitting down?" his defense attorney, John Carman, told him. Prosecutors had filed a motion to dismiss the charges after, they said, "the government obtained additional information bearing on the charges." They didn't elaborate further, and the Justice Department declined to comment.
It was a bizarre and sudden turn of events. Angwang's case was one of the highest-profile investigations under the Trump administration's China Initiative, which sought to crack down on Chinese national security threats but was shut down by the Biden administration for being ineffective at prosecuting those threats and likely perpetuating anti-Asian bias. A Bloomberg investigation found that the largest group of the program's cases targeted Chinese academics who had neglected to disclose affiliations with Chinese schools or grant programs. Less than a third of the defendants investigated under the initiative have been convicted. Still, in Angwang's case, there were recorded conversations that prosecutors claimed were evidence that he was working for China and that one of the Consulate officials was his "handler." Angwang said he was basically networking. He faced 55 years in prison, depending on whom you believed.
Angwang grew up in a small Tibetan village where the first floor of his home housed the family's livestock and the second served as their living quarters. His grandmother, whom he described as the kind of Buddhist who "wouldn't even kill a mosquito in the summer," spent most of her time on the third floor, reserved for religious worship. He recalled the smell of incense and shrines bearing offerings like fruit and fresh flowers. He was close with his parents and, by his account, "an extremely good kid." But in 2007, when he was 17, authorities caught him sharing flyers that advocated for equal treatment of Tibetans, a group long persecuted by the government. He was promptly detained and beaten while in custody.
After his release, he fled to the U.S., seeing it as a place where "people would have more rights." Small acts of kindness — like a man helping him look for lost luggage at the airport and another telling him to call the police when he couldn't find it — took on outsize meaning. "My first impression of America was, you know, that it was great or fantastic," he said. "I don't know which word would be more proper."
After two years spent learning English, Angwang enlisted as a Marine and was deployed to Afghanistan in 2010. (While there, in a tent with spotty Wi-Fi, he got the news that his grandmother had died.) In his view, the debt he owed to his adopted country could be repaid only through service, and, after being honorably discharged in 2014, he enrolled in the NYPD academy. As a community-affairs officer, he was a liaison between the police and various community organizations in Queens. He often worked with the Tibetan community of New York and New Jersey, translating for them in meetings and events. At a Tibetan New Year celebration, he was photographed seated next to Alexandria Ocasio-Cortez. Jessica Michelle, his former supervisor, called him a hardworking officer who could be "funny without even trying."
When his daughter was born in 2017, Angwang wanted to introduce her to his parents, who were living in China, but since he was now an American citizen, he would need a visa from the Chinese Consulate in New York. If he were Han Chinese, the visa process would have been little more than filling out an application. But as a Tibetan, Angwang was subject to a more elaborate vetting process. He was directed to two Chinese Consulate officers whose job was to maintain regular contact with him, essentially ensuring he wouldn't "cause problems" in China.
The one thing that prosecutors and Carman agreed on was that Angwang had many such conversations (53 with one official and 55 with a second), and in them he comes off as exceedingly friendly, even obsequious. At one point, he assured the second Consulate official, who was also Tibetan, that the official had a shot at eventually landing a government position in Beijing. "It's not that easy. Beijing, that place — smart people there indeed," lamented the official. "Patience, patience. Anyway, the future belongs to the young," Angwang responded. "You're so young."
The government's case largely revolved around Angwang's interactions with this second unnamed official, whom he supposedly called Boss. (Carman, in a court filing, said that boss in Chinese bears a different cultural affiliation: "a common colloquialism frequently used by men to refer to other men who are anything but 'the boss.'") At one point, Angwang advised the official about the opening of a new Tibetan community center in Queens, and the government's translation of their Chinese conversation claimed he suggested the two of them pay the community center a visit because "if they are involved with politics, then in the future more than half of the meetings might take place there." When we spoke, Angwang said he knew the official would eventually learn that he was working with the community center as a community-affairs officer and that he wanted to get ahead of it. Plus, he said, "I knew he wouldn't go."
In another conversation, the government claimed Angwang suggested the official "develop" Catholics, Muslims, or those of Hui ethnicity in the Tibetan community as intelligence sources because they'd "been discriminated against and neglected" and therefore were more willing to turn. Angwang claimed he was, in fact, advocating for them and merely pointing out all the ways in which they'd been disregarded. (Carman said the claim that he was suggesting they be "developed" was purely "forced narrative.") Angwang also brought up Aftab Pureval, the Tibetan mayor of Cincinnati, as someone he thought was "worth being associated with." Prosecutors said this was evidence of Angwang identifying potential intelligence sources. Angwang argued he was using Pureval as a means of buying himself credit: Here was a Tibetan in the public eye who hadn't stirred up controversy.
Angwang argued similar logic in a different conversation, in which he claimed to be advocating for fellow Tibetans by insisting the Consulate should be more amenable to providing visas. "People like us, the 100 percent type," he said, deserve to go home. Prosecutors took the phrase at face value: 100 percent loyal to the Chinese government. Angwang said that he was merely trying to counter the Consulate's blanket assumption that all Tibetans were dissenters, that he meant he was "a normal guy."
This back-and-forth went on for years in pretrial court filings with both sides swapping differing interpretations of evidence that, at times, felt like deciphering gossip. Carman accused prosecutors of cherry-picking and mistranslating excerpts of conversations, framing them in such a way that seemed plausibly nefarious. Prosecutors countered that Angwang had been tactfully discreet but that it was clear he was sacrificing other Tibetans for his own benefit. "If it's not so sad and tragic, it's comical, honestly, that they can stand up and say these things and not be called to account for it," Carman said.
After his arrest, Angwang was locked up in the Manhattan Detention Complex. Carman filed a motion for bail, which included a bond signed by fellow police officers and friends, but it was swiftly denied on the grounds that he was a flight risk. The spread of COVID kept him confined to his cell 24 hours a day, and in February 2021, the heat went out for more than a week. He got sick, got better, and later got sick again. Meanwhile, the NYPD placed him on unpaid leave and "turned their backs on him completely," said Michelle, his former supervisor who is now retired. "I was shocked."
It was then that Angwang said he began to question some of the values he'd once closely held as a police officer and, more broadly, as an American. He used to think "if you were in jail, you must have done something wrong." When he started listening to fellow inmates' stories, "it broke my heart again because I have this high look of America, the system, the equality." Some of them, he realized, maybe shouldn't be there at all. After five months in jail, he was granted another request for bail and put under house arrest. The police union had successfully fought to have him reinstated on the payroll.
But in the public view, his name remained synonymous with treason. Angwang said he had been made to feel like a "three-way traitor." "I'm a traitor of my birthplace," he told me. "I'm a traitor for the Tibetan population here. I'm also a traitor for America." People would occasionally spit on his lawn and throw trash at his home. After prosecutors dropped the charges, the International Campaign for Tibet still found it difficult to accept that Angwang had close interaction with Chinese diplomats in New York, "unusual for a Tibetan who has sought asylum in the United States," it said in a statement. Bhuchung Tsering, the group's interim president, remains unsure of his innocence. "While an ongoing visa interview may be standard," he said, "there's certain limits that people cannot cross — and normally they do not cross."
A few days after the charges were officially dropped, Angwang sat in Carman's office, eager to be listened to. He was hopeful and friendly and angry and still confused, he said. He had begun asking questions — questions he'd never before thought to ask. "When the government is abusing their power — for example, in my case — what could we do to hold the people accountable?" was one of them. And another: "Is America still heaven for an immigrant like me?"