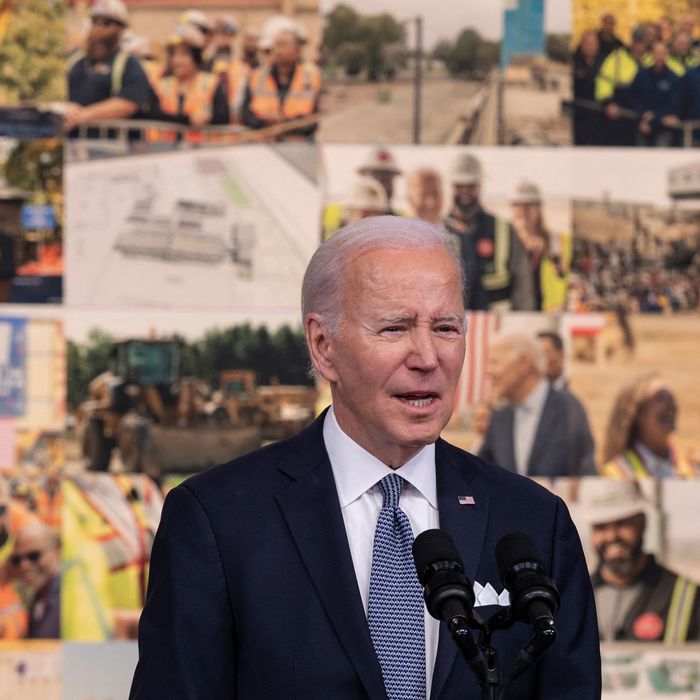 He's in there somewhere.
Photo: ANDREW CABALLERO-REYNOLDS/AFP via Getty Images
It's sometimes hard to remember that the mild octogenarian version of Joe Biden we see every day is the same guy whom the Onion memorably transformed into "Diamond Joe," an avatar of white working-class boomer masculinity. ("Shirtless Biden Washes Trans Am in White House Driveway" is the most-remembered headline from that late-2000s/early-2010s era, though there are many other classics.) But on Thursday, Diamond Joe made a brief reappearance, and perhaps not at the most opportune time.
Before making remarks about a newly revealed cache of classified documents found inside the garage of his Delaware home, Biden fielded questions from reporters. "Classified material next to your Corvette? What were you thinking?" asked Fox News reporter-gadfly Peter Doocy, in a question that set Biden up for a Diamond Joe response.
"I'm gonna get a chance to speak on all this soon, God willing," Biden began. He was about to launch into a prepared statement, but couldn't help snapping back at Doocy first with the perfect line: "My Corvette's in a locked garage, so it's not like it's sitting out on the street."
Beyond the absurdity of Biden's defense (even if the placement of the classified docs was an honest mistake, as seems likely) was his apparent indignation that he would ever park his prized 'Vette outside the home. At first blush, the implication seemed to bother him more than anything about the classified-documents business.
Biden's saltiness on Thursday also served as a throwback; it used to be a regular feature of his public life, but we haven't seen attitude like this in a while — perhaps since the presidential primary campaign, when he told voters they were "full of shit" and challenged them to push-up contests.
It was all a glimpse of the old Biden, or at least an idea of the old Biden. The only way it could have been better is if he'd ended the sentence with "Jack."