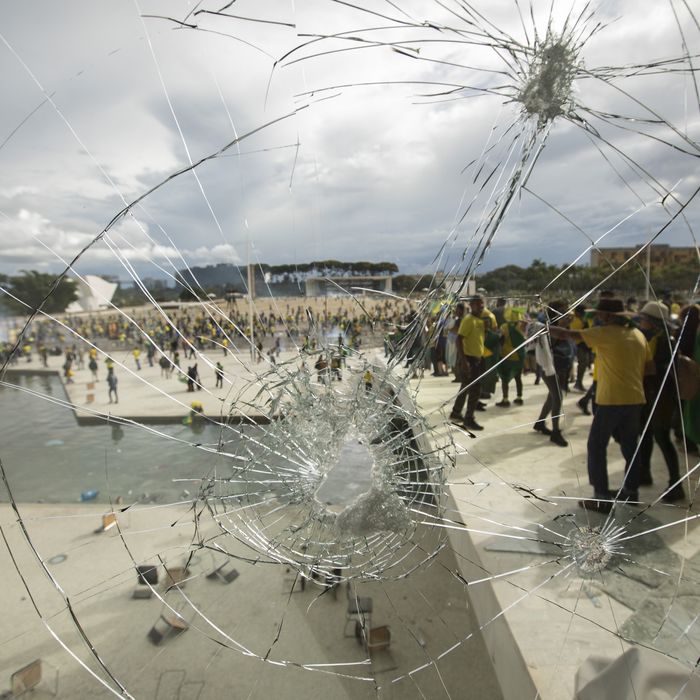 Supporters of former president Jair Bolsonaro clash with security forces as they break into Planalto Palace and raid the Supreme Court in Brasilia on Sunday.
Photo: Joedson Alves/Anadolu Agency via Getty Images
A mob of thousands of supporters of former Brazilian president Jair Bolsonaro stormed Brazil's Congress, federal supreme court, and presidential palace in the capital city of Brasilia on Sunday, exactly one week after President Luiz Inácio Lula da Silva took office. Over the course of about three hours, the far-right mob set fires, vandalized and ransacked the buildings, smashed windows, and reportedly stole documents and even weapons from the presidential palace before security forces were eventually able to regain control and push them out of the buildings. At least 12 journalists, including reporters from the Washington Post and Reuters, were attacked or robbed. The violence bore an unsettling resemblance to the assault on the U.S. Capitol two years ago.
In October, former president Lula da Silva narrowly defeated Bolsonaro in an October 30 runoff, after a close first round of voting. Now, one week after regaining power, Lula da Silva is faced with the most significant attack on his country's democracy in decades. He quickly condemned the siege, vowed that the "fanatical fascists" who perpetrated it "will be found and they will be punished," and accused Bolsonaro of fomenting the unrest. "There is no precedent for this in our country," Lula da Silva said. He also ordered federal forces to secure Brasilia through at least the end of the month, after city security forces were somehow easily overwhelmed by the mob Bolsonaristas on Sunday.
Brasilia governor (and longtime Bolsonaro ally) Ibaneis Rocha announced hundreds of arrests on Sunday evening, and said that police were working to identify and detain more of the rioters. As of Monday morning, more than 1,200 people had been detained. Rocha also said on Sunday that he had fired his top security official (who was Bolsonaro's former justice minister). But hours later, Supreme Court Justice Alexandre de Moraes ordered that Rocha himself be removed from office for 90 days while an investigation is conducted into any role he might have had in the unrest.
Overnight, pro-Bolsonaro truckers, who have been a force throughout Brazil since the election, imposed a series of road blockades, which authorities cleared by Monday morning.
Bolsonaro, meanwhile, isn't even in the country. He traveled to Florida on December 30 — two days before his term ended — instead of attending Lula da Silva's inauguration (or potentially face charges once his presidential immunity expired). Since arriving in the U.S., Bolsonaro has been photographed eating chicken at an Orlando KFC and wandering around in a Publix supermarket. Six hours after the siege on Sunday, Bolsonaro tweeted that he supported peaceful demonstrations but that storming and damaging government buildings "crosses the line." He also rejected Lula da Silva's claim that he had encouraged the violence.
President Biden condemned Sunday's unrest, which he called an "assault on democracy and on the peaceful transfer of power." Numerous other world leaders have also spoken out against the violence, and some Democratic lawmakers are already calling for Bolsonaro to be expelled from the U.S.
In the run-up to last year's election, Bolsonaro repeatedly attempted to sow doubt in the minds of his supporters about the integrity of the vote. Even before Sunday's violence, it was more than clear that a large number of them believed the claims, rejected the election results, and were primed for violence.
The plan to occupy the buildings had been discussed on social media for weeks prior, with organizers using various code words to avoid setting off suspicion. On Sunday, many of the rioters arrived in Brasilia by bus, then marched to the congressional buildings, indicating a high level of organization. Brazilian authorities say they are investigating who funded the buses.
Immediately after the runoff last fall, angry Bolsonaristas blockaded highways, set up encampments outside military bases, and repeatedly called on the military to stage a coup. "We will win," Bolsonaro said in a message to his supporters early last month. On December 12, the day Lula da Silva's election victory was officially certified, a mob of Bolsonaristas attempted to storm the federal police headquarters in Brasilia after a protest leader was arrested. Two weeks after that, the government foiled an alleged plot by a Bolsonaro supporter to detonate a bomb at Brasilia's airport in the hopes of provoking the military to intervene and block the upcoming transition of power.
Following Sunday's siege, Supreme Court Justice Moraes ordered federal forces to immediately clear the Bolsonarista encampments, which they began doing on Monday.
This post has been updated.