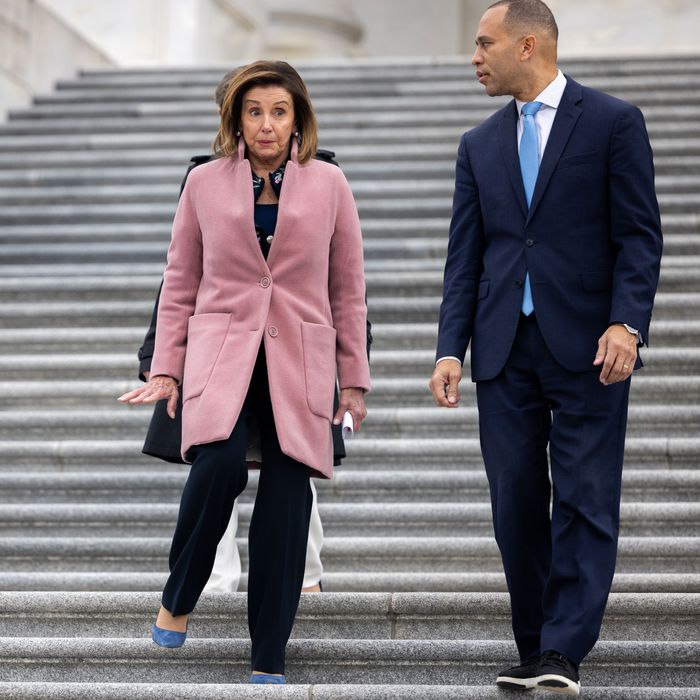 82-year-old Nancy Pelosi and her successor, 52-year-old Hakeem Jeffries.
Photo: Nathan Posner/Anadolu Agency via Getty Images
The spectacle of watching Republicans vote 15 times over Kevin McCarthy's Speakership bid distracted a bit from a big changing of the guard among House Democrats. In a graceful act of collective responsibility, the top three Democrats, 82-year-old Nancy Pelosi, 83-year-old Steny Hoyer, and 82-year-old Jim Clyburn gave up their positions in the leadership hierarchy to Hakeem Jeffries (52), Katherine Clark (59), and Pete Aguilar (43). The average age of the leadership troika dropped from 82 to 51 in one fell swoop.
But while not as dramatic as this revolution in the age of the House Democratic leadership, a generational evolution in the full House is still apparent, as Roll Call observed:
Move out of the way, TV dinners, and get ready for avocado toast. Baby boomers, or those born from 1946 to 1964, no longer make up the majority of Congress.




While still clinging to the top generational spot, boomers make up only a plurality of the newly convened 118th Congress, according to a CQ Roll Call analysis of lawmakers' birthdays. Around 48.5 percent of the representatives, senators, and delegates come from the baby boom generation.




Helping to dislodge the boomers are gains made by Generation X, who account for 35.6 percent of members in the 118th. Millennials have jumped to about 10.2 percent.
Meanwhile, Joe Biden's generation is losing ground in Congress:
Only 30 members of the Silent Generation, individuals born before the end of the Second World War, are part of the current Congress. That number has declined from nearly 7 percent of the previous Congress to 5.6 percent now. 
And at the other end of the spectrum, there is now a Gen-Z member of Congress: 25-year-old Florida Democrat Maxwell Alejandro Frost.
Unsurprisingly, the Senate is still grayer than the House; nearly two-thirds of senators are boomers. And they may hang on for a while given longer lifespans and the equally long political careers emblematized by the top two vote-getters in the 2020 Democratic presidential nomination contest, Biden and Bernie Sanders. But in Congress and elsewhere, we all trudge along in the great cattle drive of life, and eventually get put out to pasture.