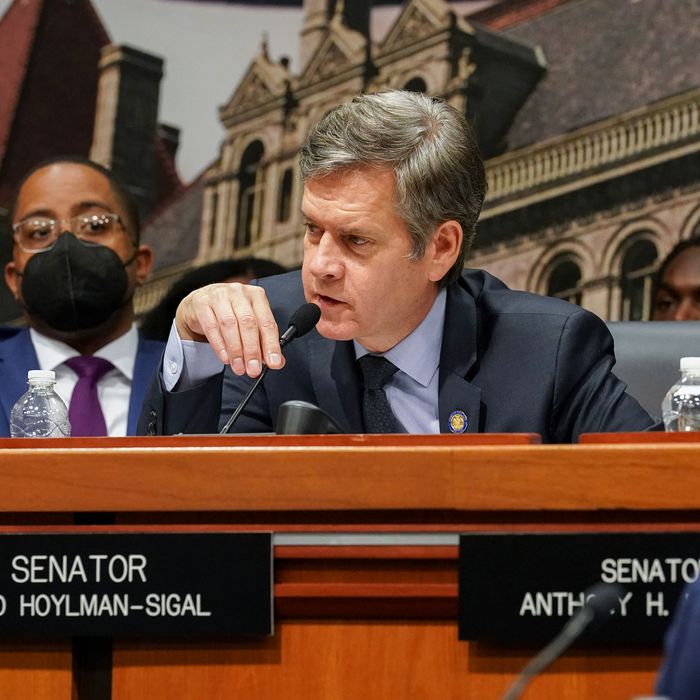 Photo: Cindy Schultz/The New York Times/REDUX
In December, Governor Kathy Hochul nominated Hector LaSalle to be the next chief judge of the Court of Appeals, hoping he would make history as the first Latino person to lead the state's highest court. But his selection was immediately contentious among members of the governor's own party, who criticized past rulings that he made as an appellate judge for being too conservative in their minds. On Wednesday, the state Senate's Judiciary Committee rejected his nomination after questioning LaSalle for nearly five hours. Leading the hearing was committee chairman Brad Hoylman-Sigal of Manhattan, who asked about LaSalle's decisions in several key cases. Soon after the hearing, Hochul hinted she is considering taking legal action to force the full Senate to give LaSalle a vote. During an interview on Friday, Hoylman-Sigal discussed how Hochul's office sold the nomination to skeptical Democrats, why he voted against LaSalle, and his fear that Albany is sliding toward a constitutional crisis.
LaSalle's name was one of several on a shortlist issued by the Commission of Judicial Nomination, which screens potential nominees. Did members of the Judiciary Committee have any conversations with Hochul about LaSalle or any of the other names on the list before she made her selection or after? 
Senators reached out to the second floor and had conversations about who they thought was viable and who they thought was going to be a problematic nominee. We reached out to them. I don't think there was any proactive consultation, but we tried to give the governor's team the lay of the land, as we saw it.
There were some early indications even before the governor made her choice that LaSalle would receive some pushback. Knowing that, why do you think she decided to go with LaSalle rather than another potential nominee? 
It's a question, I think, the governor can only answer herself. But I suppose, taking her at her word, she thought he was the best candidate and politics be damned. It was not advisable from my standpoint. We told her team as much. Perhaps it was a moment she was looking to define, I can only speculate, that she wanted to portray her governorship as independent, free from outside influence. I can't say whether she wanted to make this choice an olive branch to moderates on Long Island where Democrats performed poorly in November, including a number of my colleagues and congressional candidates and the governor herself. I can't say whether this was due to influence from the state party chair and powerful party politics on Long Island. I've gotten no independent confirmation of that. And others have thought that this candidate, based on his rulings — which is one of the reasons why many of my colleagues had concerns — was more moderate on areas like criminal justice. So, he was a moderate choice that perhaps the governor thought would appeal to that wing of the electorate. That seems to be the going speculation.
In the lead-up to the hearing, there were reports that the governor was personally making calls to members of the Senate to firm up support for LaSalle. Did the committee feel any pressure to change their position? 
Well, I think the committee members were open to conversations with the governor. Many of us had not announced our vote in advance, including me, including our leader Andrea Stewart-Cousins. And I think when you get a call on your phone and it says "Unknown Caller" and you pick it up and it's Kathy Hochul, you definitely listen. Or when the governor summons you to her office on the second floor of the capitol. I don't know if it was Lyndon Johnson–style arm-twisting, but she certainly made her case to members and framed it in terms of our collaboration going forward, which is understandable. She staked a lot on this nomination. Some of us are scratching our head why, but she did nevertheless.
Look, I respect the governor's prerogative to both nominate a candidate from the list of nominees, but also to try to drum up support among senators who were going to ultimately decide on his fate. So, I don't think anyone thought it was inappropriate or heavy-handed for her to do what she attempted to do. If anything, we think that should have happened earlier in the process.
What personally led you to vote against LaSalle's nomination? 
I think he most certainly demonstrated that he is a decent individual who pursues public service for the right reasons and has a moving personal story, as well as potentially the historic role of him being the first Latino chief judge. Those are all very compelling arguments. But at the end of the day, I don't think he sufficiently answered my colleagues' questions about some troubling decisions. For starters, he joined over 5,700 opinions in his eight years as an appellate judge. He personally authored only six of those decisions. The two of his personally authored decisions that went to the Court of Appeals were reversed. I think it was an insufficient work product on that score, not to mention the fact that his own application to the Commission on Judicial Nomination was incomplete, as he admitted during the hearing. I mean, if someone came to me for a job interview and didn't complete the questionnaire correctly, I'd have some issues, and this is a judge, for goodness' sake. So, on that score, I was troubled.
Specifically on answers to questions, I think one line of questioning in particular raised concerns. On the Bridgeforth decision regarding peremptory challenges of jurors, he said that he was bound by precedent to rule in favor of the prosecution over a claimed civil rights violation of a dark-skinned woman who was struck from a jury. But as I noted in the hearing, he didn't even include the name of the case that he says the majority was bound by and he admitted that was a mistake. That decision, by the way, was overturned by the Court of Appeals, which he, during the hearings, hailed as a victory for civil rights. Nevertheless, he was part of the majority decision that was overturned. But certainly his answers on the Cablevision case, even Evergreen. There's a case involving a minor who was deemed an adult for purposes of immigration status.
So, case after case after case he was asked about, he claimed he was bound by precedent even though there were dissenters on the bench and even though he never explained, along with the majority, their thinking. Most of the cases that are reviewed by his court are a page or fewer of discussion. In some cases, two or three sentences. Again, that goes to the almost casual concern with constitutional issues that are so crucial to New Yorkers today given the direction of the United States Supreme Court. I think a lot of this needs to be viewed in the context of Roe having been overturned and a number of decisions from the Supreme Court that impact areas that align with the concerns of Justice LaSalle's opinions on issues like workers' rights, reproductive health, and criminal-justice reform.
Supporters of LaSalle and Hochul herself have criticized the hearing, saying that it wasn't a fair process since many members of the committee made their disapproval of LaSalle known before the official hearing. What do you make of this criticism?
Well, I think it's absurd. First, the nominee himself described the hearing as being "elegant" and by all accounts fair, and I'm going to take the nominee at his word. Secondly, senators can express their viewpoints at any time. I think a lot of elected officials felt like they had to express their opinion early to try to give the governor direction on this nominee. We would have preferred to avoid this five-hour hearing, putting the nominee and his family through the wringer, spending a lot of time and energy in the lead-up. And her choosing, instead, a nominee that was a consensus builder. In fact, one of the main criticisms of the Court of Appeals currently is that it's fractured. If you read recent decisions, the judges attack each other personally, and I think that was largely due to the failed leadership of the former chief judge. So, the critical mission for a new chief judge should be to unite the court, and the only candidate who can do that is one that has consensus among the senators, who ultimately have to provide their advice and consent. By definition, the rancor that this nominee precipitated disqualified him from that very important responsibility on the court.
Secondly, it's certainly not unheard of for members of committees to announce their support or opposition to either nominees or bills before a hearing takes place. Many of them had met with him in advance, had read cases, had met with advocates on both sides, and spoken to the governor herself. I think they were certainly within their rights to articulate where they sit. And finally, let me just say, looking at the federal government and the work that the United States Senate undertakes in reviewing judicial nominees, I would argue that many if not most U.S. senators have articulated their opinions before hearings. I know that to be the case with Brett Kavanaugh and Amy Coney Barrett, and I didn't hear Democrats complaining about the unfairness of those hearings.
Governor Hochul is reportedly considering legal options, based on the belief that the nomination is required to be considered by the entire Senate per the state constitution. What do you think of that argument?
I think it's ill-advised to file a lawsuit against a body of the legislative branch when you're about to embark on an ambitious agenda and commence negotiations on the budget. So, from a practical standpoint, it would seem to be mistaken. But also just from the vantage point of separation of powers, I would be concerned about any branch going another route to conduct its business. Not to mention the fact that the state constitution clearly lays out the prerogative of the Senate to set its own rules. And recent history where every bill or nominee that the full Senate considers is first reviewed by committee. Taking the logic forward that this nominee has to be considered by the full Senate, why on earth do we have committees? Would that mean that every bill or nominee no matter what the outcome of the committee will be required to go to the full Senate or assembly floor? That would bring our legislative chambers to a grinding halt. So it's not practical thinking.
The last thing we need and the last thing New Yorkers want, I would guess, is a constitutional crisis at the beginning of the legislative session while we're commencing negotiations on the budget and trying to address major issues that the governor has laid out in her State of the State: housing, mental health, the minimum wage, among others. I think it has the potential to cause a distraction that won't benefit anyone's agenda. But if she does pursue it, I'm certain we can work through it. When you sue your neighbor, you can't expect them to be thrilled when you meet them on the sidewalk.
This interview has been edited for length and clarity.