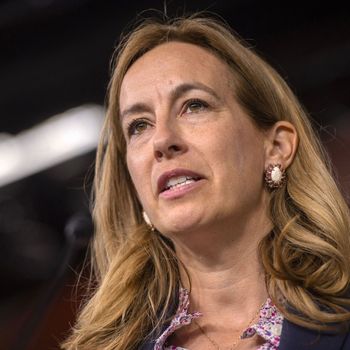 New Jersey congresswoman Mikie Sherrill, a Blue Dog no more.
Photo: Bonnie Cash/UPI/Shutterstock
It's been a while since we've seen any "Democrats in Disarray" articles in Beltway publications. Since the start of the 118th Congress, House Republicans have been showing off their own dysfunction so spectacularly that Democrats couldn't possibly compete. But now a problem in one small subsection of the House Democratic Caucus has come to light, as the Blue Dog Coalition, a venerable group of budget-conscious Democratic centrists, is having what can only be described as an identity crisis. Politico reports:
Congress' influential Blue Dog Coalition is getting chopped nearly in half after an internal blow-up over whether to rebrand the centrist Democratic group.




Seven of the 15 members expected to join the Blue Dogs this year, including Reps. Abigail Spanberger (D-Va.) and Mikie Sherrill (D-N.J.), are departing after a heated disagreement over a potential name change for the moderate bloc. For now that's left the Blue Dogs with seven, all male members — their smallest roster in nearly three decades of existence. One freshman member remains undecided.
If you've never heard of the Blue Dog Coalition, it's one of three prominent groupings of "centrist" Democrats. The other two (with which there is some overlap) are the much larger House New Democrat Coalition (with 94 members) and the bipartisan Problem Solvers Caucus (with 19 Democrats and 19 Republicans). The Blue Dogs are the oldest centrist group, dating back to the days after the 1994 Republican landslide made some Democrats in vulnerable territory complain they were being "choked blue" by extremists in both parties. The Caucus has long been known for a serious focus on fiscal policy (it has periodically devised its own federal-budget proposals) and for being a safe place for the ever-dwindling number of House Democrats with conservative positions on cultural issues. Like the Democratic Leadership Council, the think tank and political organization that provided policy ideas and "cover" for all kinds of centrists, the Blue Dogs (whose name also is thought to allude to southern "yellow-dog Democrats," who stayed in the party despite big differences of opinion with their Yankee colleagues) were especially known for attracting southern and western Democrats who found the national Democratic Party to be a political millstone.
That was then and this is now, as the seven defecting Blue Dogs are implicitly saying in pushing for a new name for the group (Common Sense Coalition was the moniker they wanted). It's sort of ironic that just as Republicans are again making fiscal hawkery a signature after four years of carefree spending when Trump was president (followed by a pandemic that forced stimulus spending), the Democratic group most likely to kick around budget ideas is shrinking.
But the name game might have coexisted with other disagreements over the role of the Blue Dogs in today's House, as reflected in the multiple groups occupying the just-left-of-center space. What, after all, is the function of such groups? For some members, it's mostly symbolic and entirely political: a signal to swing voters back home and potential donors on K Street that the Blue Dog in question (or the New Democrat or the Problem Solver) isn't one of those lockstep partisans or "woke" progressives but an independent thinker interested in getting stuff done. For others, a group smaller than the overall Democratic Caucus could provide some leadership positions or perhaps a vehicle for personal interests or issues that get lost in the bigger picture.
But let's face it: The other reason to belong to such a faction is to shake down the powers that be through the implicit threat of defection. For those with that motive, closely divided legislative chambers (like today's) are a godsend. Just last August, eight Blue Dogs signed a letter to Speaker Nancy Pelosi threatening to deep-six the ever-fragile Build Back Better bill if they didn't first get final action on a bipartisan infrastructure bill. One of them (Josh Gottheimer, a Blue Dog, a New Democrat, and a Problem Solver) held out until very late in the process. Only one of the Blue Dogs who wants to "rebrand" the group was part of the shakedown effort.
All this centrist churn may be irrelevant if House Republicans can somehow stay unified in their current obstructionist stance, leaving no opportunities for any bipartisan maneuvering in the chamber. But if the Blue Dogs do have a notion to operate once again outside the boundaries of the Democratic Caucus, they will have reduced numbers — and clout — to get it done.