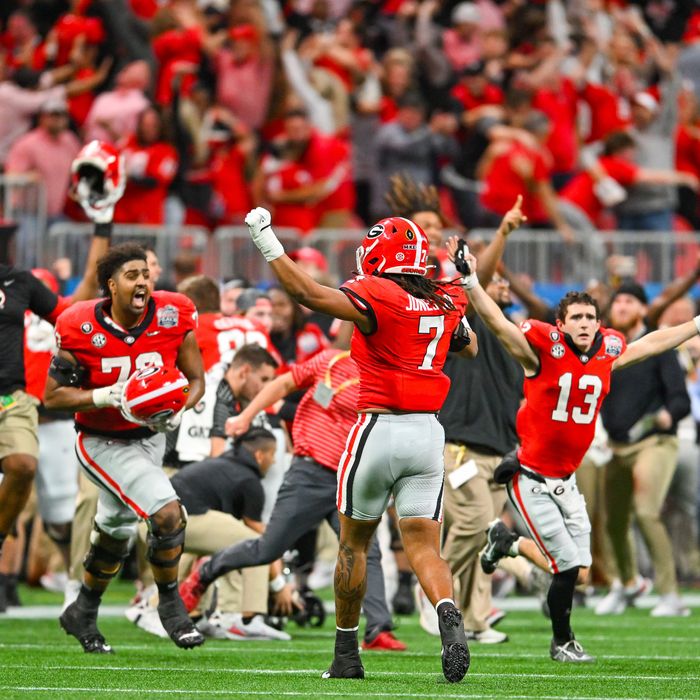 Georgia players celebrating at the Chick-fil-A Peach Bowl on December 31.
Photo: Rich von Biberstein/Icon Sportswire via Getty Images
At this time a year ago I wrote about the desperate hope of University of Georgia football fans everywhere that our beloved Bulldogs would break a 41-year drought and defeat the lordly Alabama Crimson Tide for the national championship. My own plea was for an end to all the frustration so as to make it possible once again to enjoy sub-championship — good and very good, if not supremely great — college football after the Great White Whale of a "natty" had been harpooned. Georgia won a thriller and the Dawg Nation rejoiced.
Now, a year later, despite many fans being willing to give Coach Kirby Smart and his boys a mulligan for their post-championship season, they are back in the title game, this time as favorites, with the role of underdog being played by the Horned Frogs of Texas Christian University. I couldn't be happier with this match-up, being a member of the small but storied religious denomination — the Christian Church (Disciples of Christ) — with which TCU is affiliated. If, God forbid, the Dawgs must lose, I'm glad their vanquisher will be this relatively small private university rather than one of the traditional behemoth programs that have long dominated the game.
Indeed, much of the sporting world will favor TCU as a true Cinderella team with a cool adopted mascot (a Futurama character called the Hypnotoad), a dynamic offense, an imaginative defense, and an unlikely path to the championship just a year after a losing record led them to run off a legendary coach who already had a statue outside its stadium. It didn't just have a comeback season: It's had a comeback era. After the dissolution of the ancient Southwest Conference in 1995, TCU wandered through lower-order affiliations with the Western Athletic Conference, Conference USA, and the Mountain West Conference before finally returning to big-time football in the Big 12 Conference. It now bears the aspirations of all those football conferences, programs and fans who fear being crushed by the Southeastern and Big Ten conferences that have been blessed by the richest TV contracts, the largest home stadiums, and the most fertile recruiting grounds. TCU defeated Big Ten champ Michigan in a semi-final upset, and if its wins the natty it will lay waste to the SEC champ as well.
But it's not quite so simple as a David-versus-Goliath contest in Los Angeles's Sofi Stadium. Yes, Georgia has a more talented roster. But it built its team the old-fashioned way, through recruiting and developing players over time. TCU has aggressively exploited the new Wild West mechanism of unlimited transfers, poaching 14 players from other programs before this season (Georgia added none). And while the defending national champion has a decided depth advantage, TCU is not lacking star quality at the skill positions. Its quarterback, Max Duggan, was a blue-chip high-school recruit with scholarship offers from big programs around the country, including Georgia, whose QB Stetson Bennet was famously a walk-on whose abilities are still being disparaged near and far despite his remarkable accomplishments. The Horned Frogs' top receiver, Quentin Johnston, is more highly rated than any of Georgia's wide receivers, or any of the Georgia defensive backs who will try to cover him. And overall, a list by the Athletic of the top 25 NFL prospects in the championship game includes 12 Horned Frogs.
Both teams are arguably relics of a soon-to-be-superseded era of college football, aside from the fact that neither school relies that much on big NIL (name-image-likeness) money to attract players. The current four-team playoff will be supplanted by a 12-team playoff in the 2024 season (if the powers that be and their TV overlords can wait that long). According to one simulation of what would have happened this year with a 12-team format, TCU would have been forced to play an additional game after losing the Big 12 championship, and the field would have included traditional powers Alabama, USC, Penn State and Clemson. It's unlikely we would have had the semifinal thrillers in which TCU beat Michigan 51-45 and Georgia beat Ohio State 42-41.
So we'd best enjoy this year's and next year's more limited playoffs with their more limited encroachment on regular-season games like Georgia's rain-soaked beatdown of then-number-one Tennessee, or TCU's many fourth-quarter comebacks. If the Dawgs lose they have the consolation of last year's natty and a program now being described as the "new Alabama." And TCU has already outstripped any reasonable expectations, making Forth Worth an improbably cool destination for a new batch of transfers.
I'll be watching closely if the weather gods don't make watching impossible (my wife and I followed the semifinals on phones in our car during a power outage). I'll offer up a prayer at church the day before the game, giving thanks for TCU and begging prospective comfort for its defeat at the hands of my Dawgs.