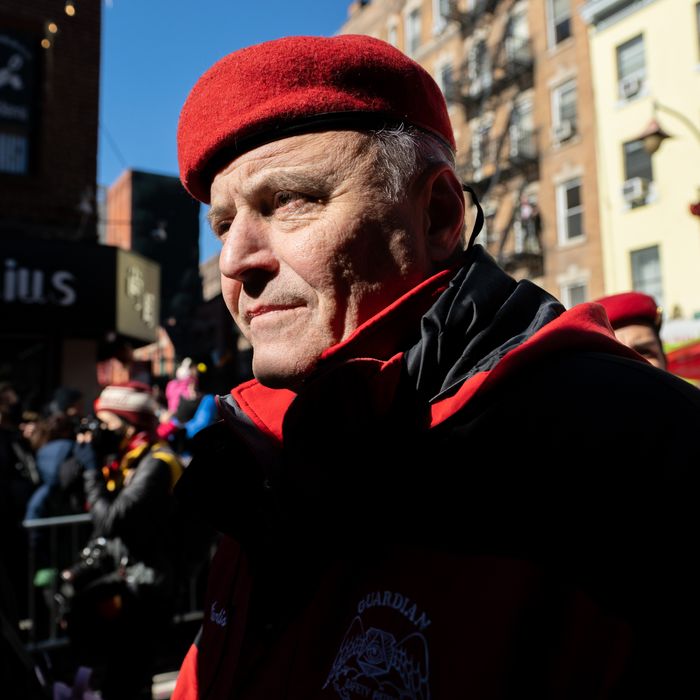 Eric Adams, meet Tiny and Thor. Curtis Sliwa hopes these two cats will be your new neighbors.
A little over a year after Sliwa lost the New York City mayoral election to Adams, he thinks he can help the mayor with one of his most entrenched battles: fighting the rat infestation surrounding his building in Bed-Stuy. The Guardian Angels founder is offering the services of Thor — who he said has "tiger stripes except darker" — and Tiny — who's "mostly black with a little white" — to guard the streets outside Adams's home. Last May, the mayor was issued a summons for fresh rat droppings outside the building where he maybe used to live. After he ignored the summons, he was fined $300 and successfully fought the ticket with a city attorney, stating that he spent $7,000 in rat-mitigation efforts. But additional rat-related tickets issued in December could force Adams to pay up to $1,200 in fines.
Sliwa said he has a cheap solution. "All you need is two cats," he told New York on Monday. "They work as partners, like Batman and Robin." Later in the afternoon, he'll head to Bed-Stuy to debut the little exterminators. It should be a perfect day for Sliwa, who loves press conferences and cats; he and his wife share an Upper West Side studio with 16 of their own.
Sliwa cited a program in Chicago tasking feral cats with fighting Second City rats as evidence that it could work in Brooklyn, too. "There are people who do this already," said Sliwa. It's "mostly women, 55-plus — some men — who manage these feral-cat colonies all over the city at no expense to the city," he noted. "We've tried everything; this is the one thing we haven't tried."
Looking beyond the acute rodent problem at Adams's townhouse, Sliwa believes that letting the rats own the night on the mayor's block isn't a great sign for his plan to curb infestations throughout the city. "He's already waved the white flag," Sliwa said. "It says he's afraid of rats." (As of publication, the mayor's office has not responded to Sliwa's offer.)
The city is already looking to hire a rat czar — offering up to $170,000 a year — and Sliwa has volunteered to complement the new position by serving as "rat czar at night." This would be an unpaid position, somewhat similar to his years patrolling the subway with the Guardian Angels. "Just let me roam at night and I'll know where the rats are," Sliwa said. "And I'll be with my wife, putting out cat colonies. Pretty soon it'll be even-steven. You'll never win, but at least it'll be under control."