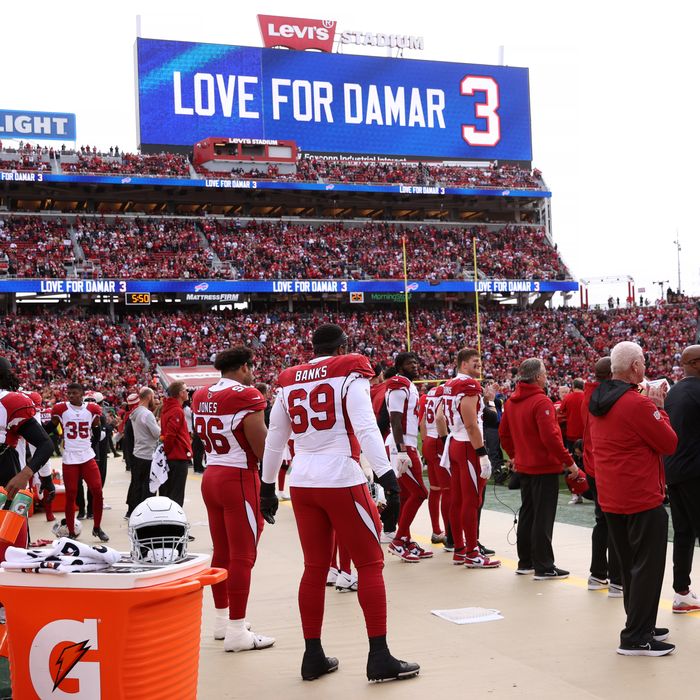 The NFL honored Damar Hamlin over the weekend.
Photo: Getty Images
This was a strange sports week for many reasons. The most notable of those reasons: Much of America briefly had to pretend it didn't prioritize football over almost everything else.
As someone who has seen these football reckonings come and go over the years, who has written "Are we looking at the end of football?" pieces for this publication in 2012 and 2017 and 2020, I know two things: Football is decadent and depraved and unstoppable, and almost everyone always comes back to watching it. It doesn't matter how morally compromised the sport may be — just look at this:
But I've also never seen a week like the one we just lived through. When Buffalo Bills safety Damar Hamlin collapsed on the field after suffering cardiac arrest during Monday Night Football, everything … stopped. The game against the Bengals was suspended. The NFL essentially shut down all business, taking several days even to announce whether the Bills-Bengals matchup would ever restart (it wouldn't). Coverage of the league shifted from the usual constant firehose of football minutiae to hourly updates on Hamlin's condition. Discussing the product on the field briefly seemed taboo; Fox Sports' Skip Bayless, who trolls so hard that he seems to have forgot what real life is, tweeted about the significance of the Bills-Bengals game while Hamlin was on his way to the hospital. Not only did his co-host refuse to do his show with him the next day, Michael Strahan was still yelling at him on television a week later.
At one point, the disembodied corporate entity that is the Twitter account of Yahoo's fantasy-sports platform provided its users with an update on how they should score their leagues, which were severely disrupted by the suspended Bills-Bengals game. (Week 17 is traditionally Championship Week for fantasy-football leagues, and those two teams are stacked with vital fantasy-football players.) The account then hastily informed its followers that its thoughts — it's an existential question what exactly the words "its" and "thoughts" mean here — were with "Damar Hamlin, his family and the Buffalo Bills." The brief acknowledgment that people might be looking for football-related information was apparently a mistake. I imagined some poor Yahoo social-media intern terrified: Am I going to get fired for Tweeting about football?
But soon the familiar pattern reasserted itself. After all the very concerned op-eds in serious publications, football returned this weekend, and the "Is it immoral to be watching this game?" conversation was quickly snuffed out with a feel-good narrative. The NFL put Hamlin's No. 3 on every player's helmet and every team's field, and as his condition began to improve dramatically, the story turned into one of resilience, of the NFL "family" coming together for one of its own. It's not as if Hamlin's recovery made the game less violent than it would have been if he were in a coma. But his recovery gave everyone a handy permission structure. See, he's gonna be fine! Go Bills! If his condition had stayed the same or even worsened, there would have been more op-eds and more gnashing of teeth. But in the end, after a few weeks or months, everyone would come back into the fold.
The game is just so powerful. The College Football National Championship Game was played Monday night at SoFi Stadium in Inglewood, California, and it was nearly impossible to avoid it even if you wanted to: ESPN broadcast it on 17 channels. TCU and (especially) Georgia fans took over Los Angeles all weekend, filling the stadium despite ticket prices that pushed well into the four figures. Georgia ended up destroying TCU 65-7, and not a single one of their fans left the stadium when the game was over, wanting to soak in the school's second consecutive national championship. There was no talk of the savagery of the game—unless you count the "savage" spikes Georgia defenders break out every time they force a turnover. There were simply giddy Georgia fans (including me) and sullen TCU fans who had paid the price of a nice compact car to fly across the country and watch teenagers and early 20-somethings play a dangerous sport for a program that doesn't pay them. Everybody just moved on, as they always do.
There will be another terrifying moment in football — there very well may be one this weekend. It will shock us, it will scare us, it will make us wonder whether we should be doing this, whether the cost is too high. But it never is. Because we watch and we cheer; because we rejoice when our team wins and weep when it loses; because the men who play it know the risks and still love it too; because it is, at the core, who we are. The tears for Hamlin over the past week were real. But the angst wasn't. It never is.