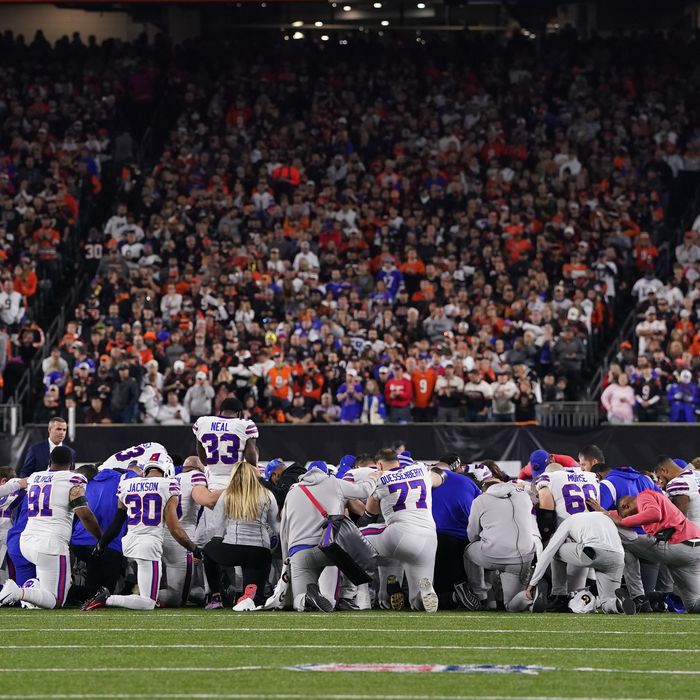 The Bills hold a prayer circle on the field after Damar Hamlin's injury.
Photo: Dylan Buell/Getty Images
The Buffalo Bills issued an overnight update stating that Damar Hamlin, the 24-year-old safety who collapsed during Monday night's game against the Bengals, had experienced cardiac arrest, and that his "heartbeat was restored on the field." As of 1:48 a.m., Hamlin's condition was listed as critical.
The terrifying incident occurred after Hamlin made a rough but routine-looking tackle in the first quarter of the highly anticipated game. Hamlin appeared to be fine immediately after the play, but when he stood up, he wavered and suddenly collapsed backward.
Hamlin lay on the field for about 16 minutes as medics attended to him, including by administering CPR. He was then placed in an ambulance, which left the field for a nearby hospital 30 minutes after his injury. The NFL later suspended the game and announced that Hamlin's condition was "critical."
After Hamlin fell, his ashen-faced teammates crowded near him, forming a prayer circle. Many of them were in tears, attesting to the seriousness of what they were witnessing. The Bills and Bengals eventually retreated to their locker rooms, and the game was temporarily suspended. More than an hour after Hamlin's injury, officials announced that play would not continue Monday night.
The Fox broadcast had earlier cut to its studio, where a rattled three-person panel commented that there was no modern precedent for such a scene in modern football. They also began to wonder — as did many on social media — why it was taking the NFL so long to cancel the game.