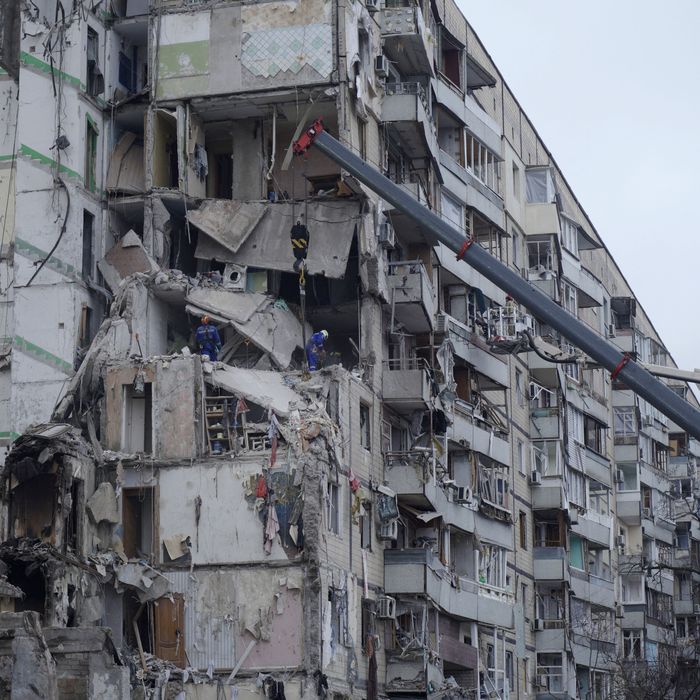 Crews continued to work Monday at an apartment tower in Dnipro that was hit by a Russian missile Saturday.
Photo: Vitalii Matokha/AFP via Getty Images
At least 40 people have been confirmed killed in Russia's missile attack on a nine-story apartment building in the Ukrainian city of Dnipro midday Saturday, and dozens of people are still missing, according to local authorities. The attack, which injured at least 75 people, including more than a dozen children, was one of the deadliest strikes on civilians since the nearly 11-month-old war in Ukraine began and the single deadliest since Russia began its campaign targeting Ukrainian cities far from the front lines in October.
Search and rescue workers continued to remove rubble from the partially collapsed building Monday, and while dozens of survivors were pulled from the building after the attack, Ukrainian authorities do not expect to find anyone else alive. The last survivor whom workers were reportedly able to find, a young woman suffering from severe hypothermia, was rescued early Sunday morning.
Horrifying footage of the aftermath of the attack and rescue efforts quickly emerged on social media:
Another young woman who survived the blast was photographed huddled in the ruins of her apartment:
The 23-year-old woman later posted on social media that her parents were still missing in the blast and that her partner was killed four months ago while defending the country from the Russian invasion.
Ukrainian military officials have indicated the building was struck by one of five Kh-22 anti-ship missiles Russia fired at targets in Ukraine on Saturday. The missile, which has a 2,000 pound warhead and a 370-mile range, apparently penetrated the concrete building before detonating. CNN reported, "The Kh-22 was designed in the Soviet era and is notoriously inaccurate. Even so, there are no military or infrastructure targets within several hundred meters of the building that was destroyed."
The Washington Post reported that Ukrainian officials said their current air defenses cannot protect against missiles like the Kh-22, and a Patriot missile battery the U.S. is supplying the country will not be deployed anytime soon:
The United States announced last month that it would send its Patriot missile system to Ukraine as part of a $2 billion weapons package. It will include one Patriot battery, which is equipped with up to eight launchers. Each one can accommodate between four and 16 missiles. The announcement was a coup for Zelensky, who had long requested the system. But it is expected to take several months, in large part because it requires specific training of Ukrainian troops on how to use the specialized equipment.
Hundreds have been left homeless in Dnipro because of the strike after surrounding buildings damaged in the blast were deemed unlivable.
Not even counting those killed in Saturday's attack, the number of confirmed deaths among Ukrainian civilians in the conflict has surpassed 7,000 people, the United Nations announced Monday — while acknowledging that the true civilian death toll is likely far higher.