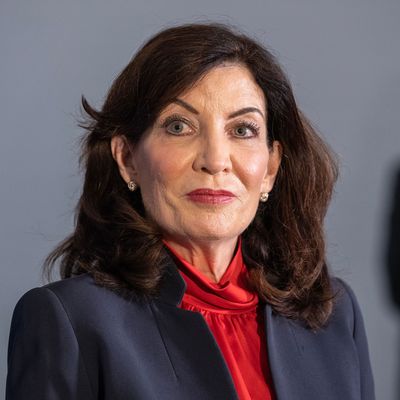 Photo: Lev Radin/Pacific Press/Shutterstock
Lawmakers rejected Governor Kathy Hochul's pick to lead the state's highest court Wednesday with her own party dealing a significant blow to the effort. The State Senate Judiciary Committee voted to reject the nomination of Hector LaSalle to be chief justice of the Court of Appeals, led by opposition from Democrats on the panel who believed he was too conservative.
Senate Majority Leader Andrea Stewart-Cousins confirmed to reporters after the hearing that LaSalle's nomination won't be moving on.
"We had the hearing we said we would always provide. The committee has spoken. The nomination was lost, and I'm hoping we can move forward," she said, per Spectrum News.
Hochul selected LaSalle, who presides over the appeals division of the State Supreme Court that covers New York City and surrounding areas, to be the first Latino to serve as chief justice on the Court of Appeals. As chief justice, he would have overseen the state's entire judicial system. But opposition to LaSalle slowly began to rise after some lawmakers cited court decisions he joined that critics view as anti-union or potentially a threat to abortion rights. Several major unions came out against LaSalle's nomination, including the powerful service-workers union SEIU 32BJ, CWA District 1, and the state chapter of the AFL-CIO.
During the nearly five-hour hearing, LaSalle was questioned by the 19 members of the Judiciary Committee over his past cases and his judicial philosophy. In his opening remarks, the judge rejected some of the claims made against him, saying he supports a woman's right to choose and talking about walking picket lines alongside members of his family.
"This is what I believe. If that's different from what you've heard or read, I'm happy now to set the record straight," he said.
Setting the tone for Democratic opponents was Brad Hoylman-Sigal, the committee's chairman, who asked what LaSalle made in particular of the NAACP Legal Defense Fund's opposition to him.
"I do not recognize the person that LDF references in their statement. I'm a person who grew up in a working-class neighborhood. I grew up in a community that was predominantly Puerto Rican. I well know, Senator, exactly what people deal with every day in their engagement with the police, in their engagements with the law. I've lived that life," he said. "So while I understand LDF took a position, the person they described, I do not recognize. That is not me."
Republican members adopted a lighter approach in their questioning, praising LaSalle's record while taking shots at their Democratic colleagues' critiques. State Senator Andrew Lanza at one point quipped, "You do not come across as a right-wing conservative nut."
Although the panel voted 10-9 against advancing LaSalle's nomination to a vote before the full State Senate, Hochul may not take "no" for an answer. The Buffalo News reported the governor is considering taking legal action to force a vote, which she hinted at in a statement following the panel's rejection.
"While this was a thorough hearing, it was not a fair one, because the outcome was predetermined. Several Senators stated how they were going to vote before the hearing even began - including those who were recently given seats on the newly expanded Judiciary Committee. While the Committee plays a role, we believe the Constitution requires action by the full Senate," Hochul said in a statement, echoing the position of Republican senate leader Rob Ortt, who said in a statement that the committee "failed to follow its Constitutional responsibility" by blocking LaSalle's nomination.
Susan Lerner, the executive director of Common Cause New York, said she was "horrified" Hochul was contemplating hiring a litigator, adding that it would be "a brutal attack on a democratically elected institution."
When asked about her plans following an event on Thursday, Hochul told reporters that she was "weighing all options," but did not get more specific.
Despite strong opposition by Democrats, Hochul never wavered in her support of LaSalle, telling the New York Post she expected him to have enough support after a fair hearing and "not the pre-judgment that is going on and the mischaracterizations and the character assassination that is going on." Latino Democrats, including former City Council Speaker Melissa Mark Viverito and former Bronx borough president Fernando Ferrer, also lobbied on his behalf, saying in a statement with other prominent Latinos that LaSalle was the victim of "an unprecedented, disingenuous and unhinged campaign to distort" his record.
On Sunday, Hochul's advocacy took an odd turn when, during speech at Sunset Park's Trinity Lutheran Church, she invoked Martin Luther King Jr. to defend LaSalle from criticism. "Dr. King called upon us to be just and to be fair and to not judge people," she said, according to HellGate. "And that has not been afforded to an individual named Judge Hector LaSalle. And I know in my heart that we're better than that."