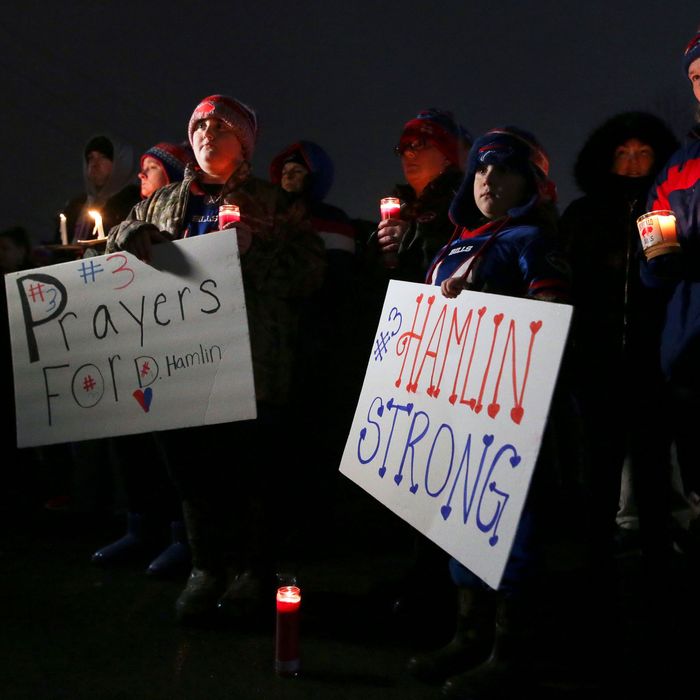 A billboard supporting Damar Hamlin outside of the Cincinnati Reds Hall of Fame.
Photo: Joshua Bessex/AP/Shutterstock
Three days after NFL safety Damar Hamlin went into cardiac arrest on the field following a blow to the chest, the Buffalo Bills released a promising update on his injuries. "Per the physicians caring for Damar Hamlin at the University of Cincinnati Medical Center, Damar has shown remarkable improvement over the past 24 hours," the statement read. "While still critically ill, he has demonstrated that he appears to be neurologically intact. His lungs continue to heal and he is making steady progress."
The updates come as a huge, if tentative, relief after the NFL's gravest on-field crisis in years. After Hamlin made what appeared to be a rough but routine tackle on Monday night against the Bengals, he stood up and then collapsed backward, losing consciousness. Hamlin received CPR for nine minutes before he was taken to the hospital. According to ESPN, Hamlin's father, Mario, told the Bills over Zoom on Wednesday that his son was progressing in his recovery. The Bills said on Wednesday that he remained in critical condition, but Hamlin's agent added that he was awake and able to hold hands with visiting family members. According to the Buffalo News, Hamlin woke up on Tuesday night and was able to follow commands. Communicating through writing because he is on a breathing tube, he also asked: "Who won the game?"
The NFL stated on Tuesday that the Bills-Bengals game, which was suspended after Hamlin's collapse, will not resume this week and that they are determining if the rematch should be played at all so close to the playoffs.