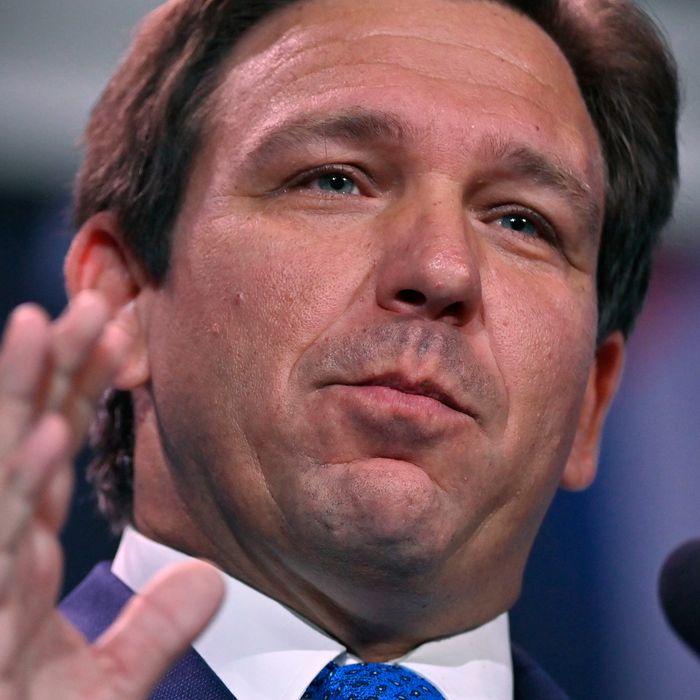 If Ron DeSantis wants to run for president in 2024, he'd best get a move on.
Photo: David Becker/The Washington Post via Getty Images
All the attention paid to the proposed shake-up of the Democratic Party's schedule for its 2024 presidential nominating calendar obscured parallel developments on the GOP side of the contest. And that's unfortunate, since it's increasingly likely that Democrats will unite behind a Joe Biden reelection bid, making who holds what primary when largely irrelevant. Meanwhile, Republicans could hold a wide-open nomination fight between a weakened if still front-running Donald Trump and multiple rivals.
While Democrats are clamoring for primary-calendar reforms to make the early states more representative, diverse, and competitive, Republicans are perfectly happy with the status quo ante, which means that their process will begin in the snows of Iowa just as it has since the 1970s. But it's likely that all the maneuvering among Democrats could have the side effect of moving the GOP contests up (mostly because New Hampshire is very likely to follow state laws aimed at ensuring it holds the first primary). And right now, presidential nomination guru Josh Putnam guesses that the Iowa GOP caucuses may be held on January 8, 2024 — i.e., less than a year from now. But at the moment, Trump is the only 2024 candidate who has announced a bid (if you ignore, as you should, the weird quasi-announcement made on British TV by John Bolton, who is under no circumstances going to win the nomination).
A recent historical analysis from FiveThirtyEight's Geoffrey Skelley made it clear that we're already in the window of when presidential candidacies are typically launched:
We took a look at open presidential primaries between 1980 and 2020 (meaning they didn't feature an incumbent) and noted when every candidate either filed with the Federal Election Commission or announced their candidacy, whichever came first. (Trump did both on Nov. 15.) Using this data, we compared how far in advance of the Iowa caucuses — the long-running first electoral stop — these candidates formally began their campaigns. 




About 3 in 4 primary candidates in this period launched their bids between 210 and 420 days before Iowa, with about 2 in 5 starting between 300 and 390 days (roughly 10 to 13 months) before voting began … Based on the 210- to 420-day range, then, we might expect most of Trump's eventual opponents to enter the race sometime between just after New Year's and June 2023.
Since presidential campaigns, particularly for less-known candidates, take a great deal of preparation, from fundraising to staff and consultant recruitment and early state infrastructure building, anyone who wants to run in 2024 needs to be shifting into high gear right now. The arguable exception is Florida governor Ron DeSantis, who's already considered the front-runner by some.
DeSantis is benefiting from priceless promotion on Fox News, a reputation for having the best 2022 showing among potential candidates, and a following that ranges from the heart of MAGA-land to some Never Trumpers. Surely DeSantis can wait to make his move, right? Yes, in theory. But if he's going to run, he really needs to clear the field quickly given the many polls showing him beating Trump only in the context of a one-on-one contest. Getting out on the campaign trail will give him an opportunity to address concerns about his lack of charisma. If Republicans fear he is the Scott Walker of 2024 — powerful on paper and in his home state but boring up close and on the national stage — he's going to have a rough time against the wildly entertaining 45th president.
You'd expect likely candidates to pop up first in Iowa — a place where you really do have to show up early and often, visit voters in their homes, and eat a lot of food that's bad for you to have a prayer of winning. Missing the State Fair in August, for example, would represent a death knell for most candidates. And Iowa Republicans have a much simpler caucus process than the one that has bedeviled Democrats recently: Caucus-goers simply listen to a few speeches, munch on cookies, then vote for their favorite presidential candidate. There's none of the weird affinity-group alignments, coalition-building, and multiple metrics for determining winners from which Democrats have suffered. But it's still big-time retail politics, and already, the one announced candidate and several quasi-candidates are showing up in Iowa, as CBS reported this week:
Former Secretary of State Mike Pompeo, South Carolina Senator Tim Scott and former President Donald Trump (who has already declared his 2024 run) placed full-page ads in a booklet handed out to state Republican lawmakers at the Iowa GOP Annual Legislative Breakfast Monday.




Term-limited Arkansas Governor Asa Hutchinson was the guest speaker at Monday's breakfast, according to an Iowa Republican.
Actually, potential candidates seemed to regard Iowa as a really key 2022 battleground state and found time to help candidates there prior to November, noted the Des Moines Register:
Former U.S. Secretary of State Mike Pompeo is among those who've spent significant time in the state. He's held at least eight public events since first traveling to the state in March 2021.




U.S. Sen. Tom Cotton of Arkansas [who has since ruled out a 2024 candidacy] and [Mike] Pence have both held seven events — more than any others but Pompeo.
Both of the South Carolinians mulling 2024 campaigns — Scott and former governor Nikki Haley — campaigned for Iowa candidates, and Trump held a rally. Beltway insider favorite Glenn Youngkin created buzz with a summer speaking engagement in nearby Nebraska. But DeSantis has conspicuously failed to pay his respects in person to the Great Corn Idol.
South Carolina is, of course, one of the early states as well, and Trump is reportedly about to make a push there, presumably to preempt any local groundswell for Scott or Haley.
Soon enough, the contest will descend into a three-dimensional chess match that will quickly reduce the field to contenders and pretenders. My guess is that Trump will be challenged by DeSantis, Pence, and Pompeo, for sure, with long shots like Hutchinson and perhaps an egomaniac like Florida's Rick Scott in the mix. But there could be more candidates too (the Washington Post's regularly updated top-ten list includes Haley, both Scotts, Youngkin, Ted Cruz, and New Hampshire governor Chris Sununu). We will know by this summer at the latest and have a very good idea before this year's Iowa snows have melted.