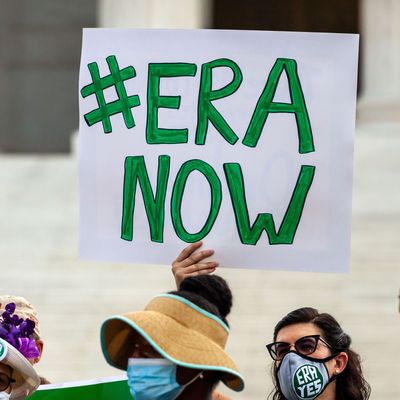 Photo: Allison Bailey/NurPhoto/Shutterstock
On Tuesday, New York lawmakers voted in favor of an equal-rights amendment that would expand civil-rights protections in the state's constitution to include new categories. The vote will put the amendment to voters as part of a ballot referendum in the 2024 election.
If approved, the new protected classes would include "ethnicity, national origin, age, disability, and sex, which includes sexual orientation, gender identity, gender expression, pregnancy, pregnancy outcomes, and reproductive healthcare and autonomy," per a press release. It would partially fill the void left by the lack of progress in passing a similar amendment for the U.S. Constitution.
To amend the state's constitution, a prospective amendment has to be approved by two successive legislatures before it can be put to voters, and this legislation was first passed in July 2022, not long after the Supreme Court's bombshell decision to overturn Roe v. Wade.
State Senator Liz Krueger, who co-sponsored the amendment, praised its passage in a statement, saying a change to the constitution's "1930s-era equal-rights language" has long been needed. "Days after what would have been the 50th anniversary of Roe, we are affirming yet again that we will not allow New Yorkers to be pulled backward, we will not allow the progress we have made on reproductive freedom to be undone," she said.
On the national level, the push for the Equal Rights Amendment that was passed by Congress in 1972 has been stymied by a ratification deadline that required 38 out of 50 states to ratify the ERA by 1979. That deadline was later extended to 1982, but only 35 states ratified before the time limit was reached.