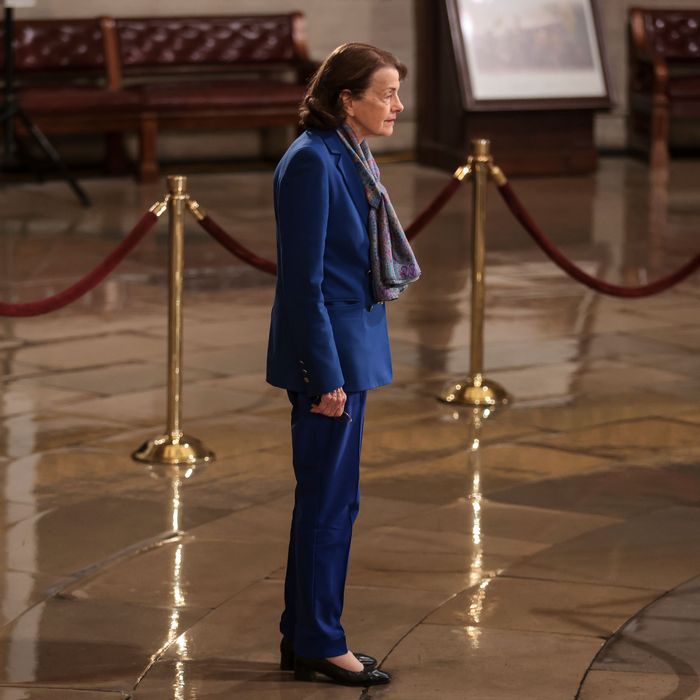 Dianne Feinstein paying her respects to former colleague Bob Dole in 2021.
Photo: Oliver Contreras-Pool/Getty Images
Senate Democrats, having just pulled off a small miracle by gaining a seat in a midterm election expected to favor Republicans, are already looking down the barrel of an even more difficult cycle in 2024, when they must defend 23 seats, three of them in states carried twice by Donald Trump. It's no surprise that Senate Democrats had to talk Michigan's Gary Peters into continuing his stint as chairman of their campaign arm for another cycle; no one else wanted the gig.
But the early biggest buzz about 2024 Senate races concerns a seat Democrats already control and aren't going to lose: the California seat held by Dianne Feinstein since 1992. It's generally assumed that the incumbent, who turns 90 in June, is finally retiring. She has been facing a lot of pressure to step down from impatient California Democrats and various Senate insiders (anonymously) airing their concerns about her frailty and lack of focus. She already agreed to give way to Dick Durbin as ranking Democrat (and, subsequently, chairman) on the Judiciary Committee in November 2020 and declined the honor of becoming president pro tem (traditionally the most senior member of the majority party) this year, letting Patty Murray have that spot in the presidential line of succession. But she has refused so far to confirm that she will not emulate Chuck Grassley by extending her Senate career into her tenth decade, and she has no plans to step down early in order to give Governor Gavin Newsom an appointment to the seat.
The uncertainty over whether and when the incumbent chooses to hang it up has cast a shadow over the many California Democrats who would surely crave a Senate seat. But now, one of them, Orange County congresswoman Katie Porter, has jumped into the 2024 race. Porter, who just turned 49, was sort of a West Coast version of Elizabeth Warren (under whom she studied at Harvard Law School and whose 2020 presidential campaign she co-chaired) before she was elected to the U.S. House in 2018. A law professor who specialized in consumer law, she was appointed in 2012 by then–California attorney general Kamala Harris to supervise bank compliance with a national mortgage settlement. As a politician, she has been a progressive favorite and a champion fundraiser, though a close brush with defeat in 2022 probably depleted her campaign stockpile more than she would have liked. Rather pointedly, Porter's new Senate campaign immediately released a poll showing her besting her more famous Los Angeles colleague Adam Schiff in a hypothetical general election under California's top-two voting system:
Under that system, Democrats have faced off in two Senate general elections, so the hypothetical is relevant to what may transpire. On the other hand, there are other big-time California Democrats also weighing a bid, including Congresswoman Barbara Lee (a veteran progressive from Oakland) and Congressman Ro Khanna (who represents Silicon Valley and was a leader in Bernie Sanders's two presidential campaigns). If all of these worthy candidates run, it could boost the prospects of the perceived moderate Schiff while also increasing the odds that a Republican makes the top two instead of a second Democrat.
However the field forms, this will be a very expensive primary and general-election contest with geographical as well as ethnic, gender, and ideological angles. Until Harris became vice-president, the Golden State had been represented in the Senate for 24 years by two women from the San Francisco area. Harris was California's first Black senator, and her appointed (and, more recently, reelected) successor, Alex Padilla, was the first Latino senator from the state. Padilla is from the L.A. area, as are Porter and Schiff. A lot of changes in the California delegation are possible in 2024.
The Senate race could also get pretty rough. Porter is already drawing implicitly critical comments from Schiff, Khanna and even Feinstein for announcing her candidacy while the state's residents and their congressional representatives are dealing with horrific weather and its many consequences. It's one of the pitfalls involved in holding one office while running for another.