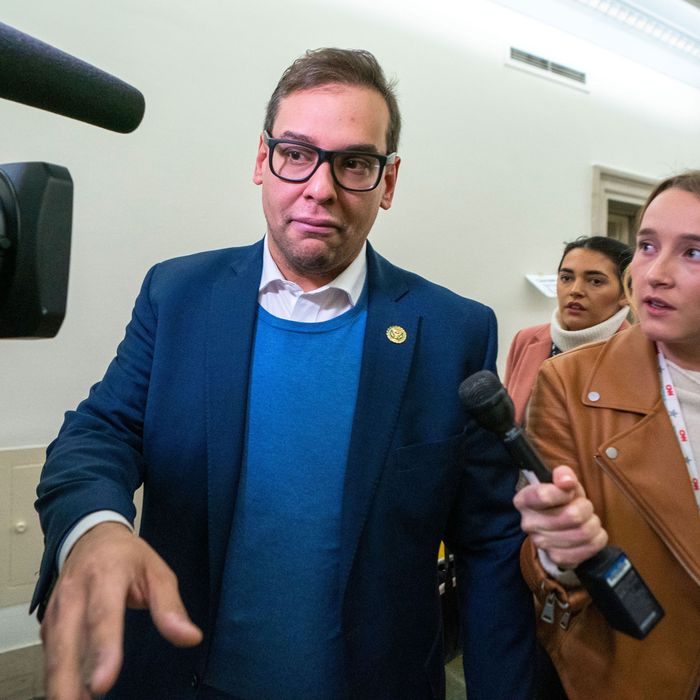 Photo: SHAWN THEW/EPA-EFE/Shutterstock
George Santos has lied about many things, but his claims about having Jewish heritage are among his most appalling falsehoods. The freshman U.S. representative from New York claimed as recently as last year that his "grandparents survived the Holocaust," saying his mother's parents originally hailed from Ukraine and fled to Brazil to escape the Nazis. But analyses of genealogy records by the Forward and CNN cast doubt on that, finding no evidence his grandparents emigrated from Europe or had any Jewish ancestry. Once this fabrication was exposed, Santos denied he'd ever "claimed to be Jewish," saying he merely described himself as "Jew-ish" in reference to his family's (apparently made-up) background.
This debacle did not stop Santos from taking to the House floor Friday afternoon to give a speech in honor of International Holocaust Remembrance Day, calling antisemitism "a plague on this nation."
"Today, I rise to acknowledge that the 27th of January marks the anniversary of the Auschwitz concentration camp being liberated by the Red Army in 1945. Let this day serve as a reminder that we must honor the victims and survivors," he said.
In his one-minute speech, Santos made no mention of or apology for his past claims of Jewish ancestry. Instead, he spoke about a relative of an unnamed staffer in his office who is a Holocaust survivor.
"We must also pay tribute to the liberators who rescued millions of people who nearly fell victim to the Holocaust. In fact, I would like to take a moment to acknowledge the grandmother of one of my D.C. staffers who is a 93-year-old survivor of Auschwitz and who is also one of the few survivors of her family who was tragically lost at the hands of Nazi murders," he said.
In yet another confusing layer to the Santos story, he has been accused of making antisemitic remarks. His Holocaust speech came just one day after Patch reported on a recently unearthed Facebook comment from 2011 in which Santos allegedly responded to a photo of someone making a military salute, "hiiiiiiiiiiiiiiiiiiiigh hiiiiiiiiiiiitlerrrrrrrrrrr (hight hitler)
lolololololololololololol sombody kill her!! the jews and black mostly lolllolol!!! Dum" Santos's former roommate and friend told Patch that Santos would often make offensive remarks about Jews, but "he'd always say that it was okay for him to make those jokes because he was Jewish."
In an email, Santos's attorney Joseph Murray told the outlet, "The Facebook comment that you reference … is completely false, absolutely disgusting — There is absolutely nothing to talk about."