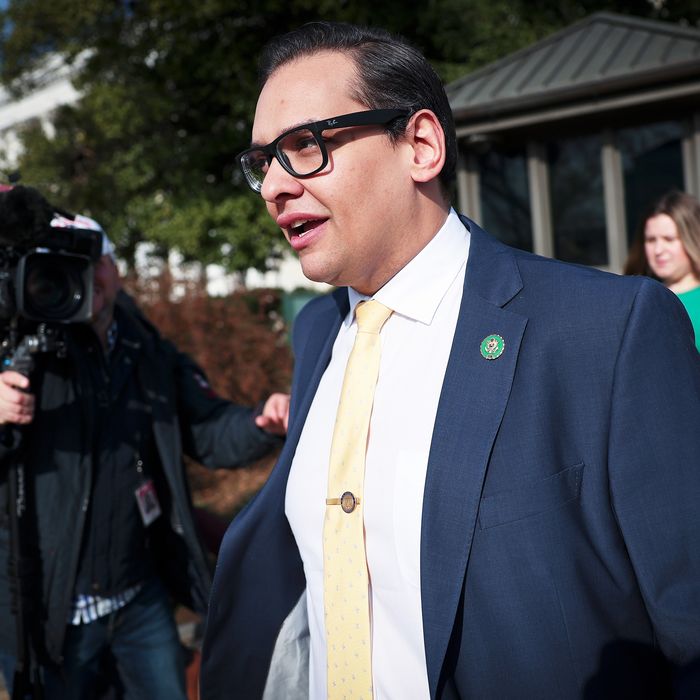 Friend: "He did not have what it takes to be a professional."
Photo: Win McNamee/Getty Images
New York Republican George Santos's long list of lies and alleged misdoings has so far consisted of résumé exaggerations, weird falsehoods about connections to historical tragedies, and benefiting from the generosity of strangers toward animals. But between lying about working at Goldman Sachs and allegedly ripping off the owners of dying dogs, Santos appears to have had some fun.
When Santos was living in Brazil in the aughts, according to friends who spoke to Reuters, he was performing as a drag queen, sometimes under the name Kitara Ravache. One friend, Eula Rochard, said she became close with Santos when he was performing in drag in 2005 at the first-ever gay pride parade in Niteroi outside Rio de Janeiro. In 2008, Rochard said, Santos competed in a drag pageant in Rio. "He came back to Niteroi with a lot of money," she said. Another friend said Santos frequently performed in drag and hoped to be crowned Miss Gay Rio de Janeiro.
"He's changed a lot, but he was always a liar," Rochard said. "He was always such a dreamer."
In an interview with reporter Marisa Kabas, Rochard claimed she met Santos when they both were teenagers. "He used to hang out in my house while his mom was playing bingo," she said, adding that she dug up pictures of Santos after she saw a story about the congressman on the news. "He did not have what it takes to be a professional," she said. "George did not have the glamour for that." During his drag years, Santos's self-professed (and totally bogus) résumé states that he was attending the prestigious Horace Mann School in the Bronx.
In the years since, Santos, who denies the whole drag story, seems to have changed considerably. Although he is the first openly gay Republican to win a House seat as a nonincumbent, he has expressed support for Florida's "Don't Say Gay" law blocking classroom discussion of gender identity and positioned himself as a staunch conservative on many social issues.