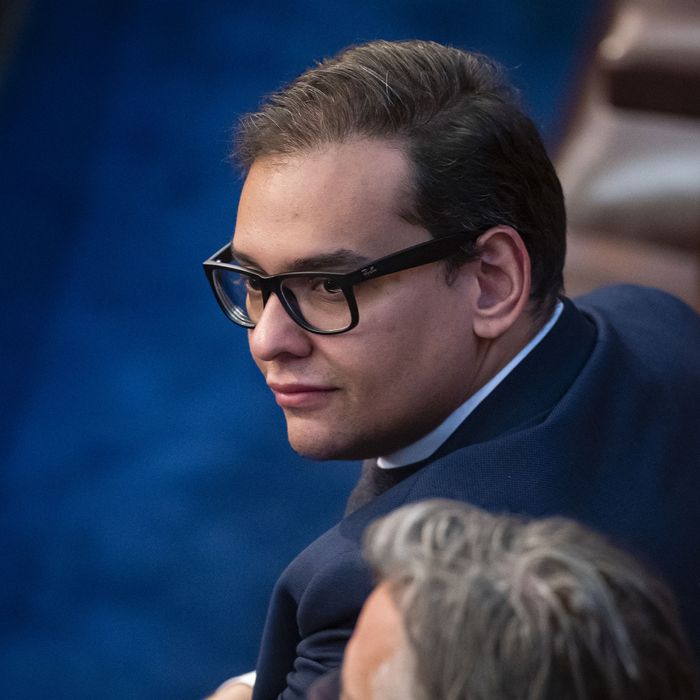 Photo: Al Drago/Bloomberg via Getty Images
Days after George Santos was officially sworn in to Congress, just about every aspect of the New York Republican's heavily fabricated life story remains a mystery. Now two of his new House colleagues are seeking an investigation into one of the most elusive elements: his finances.
Democratic representatives Dan Goldman and Ritchie Torres announced on Tuesday that they were filing an official complaint against Santos to the House Ethics Committee. In the letter, the congressmen call for a committee investigation into Santos, claiming that he has violated the Ethics in Government Act by "failing to file timely, accurate, and complete financial disclosure reports as required by law."
"Mr. Santos's financial disclosure reports in 2020 and 2022 are sparse and perplexing. At a minimum, it is apparent that he did not file timely disclosure reports for his most recent campaign," Torres and Goldman write. "Moreover, his own public statements have contradicted some information included in the 2022 financial disclosure and confirmed that the 2022 financial disclosure failed to disclose other required information."
Torres, who represents the Bronx, said on social media that Santos needs to be "held accountable for defrauding both Congress and the public." In his own tweet, Goldman, who represents Manhattan and Brooklyn, said, "George Santos, by his own admission, is an outright fraud. The House has an obligation to police itself and maintain the integrity of the institution."
Between his first run for Congress in 2020 and today, Santos went from claiming only a $55,000 salary and minimal assets to saying he made between $3.5 million and $11 million on his 2022 disclosure form, an amount attributed to his company, the Devolder Organization, which was dissolved last year. Santos also reportedly loaned his campaign $700,000, which the Daily Beast notes could potentially run afoul of financial regulations if the money stemmed from the company and not through Santos himself.
The Campaign Legal Center, a watchdog group, filed a complaint to the Federal Election Commission on Monday, alleging that Santos used campaign funds for personal expenses. Santos is also currently being investigated by both local and federal prosecutors in regard to his finances and his other fabrications.
When asked by The Hill about the House Ethics Committee complaint, Santos said, "They're free to do whatever they want to do."