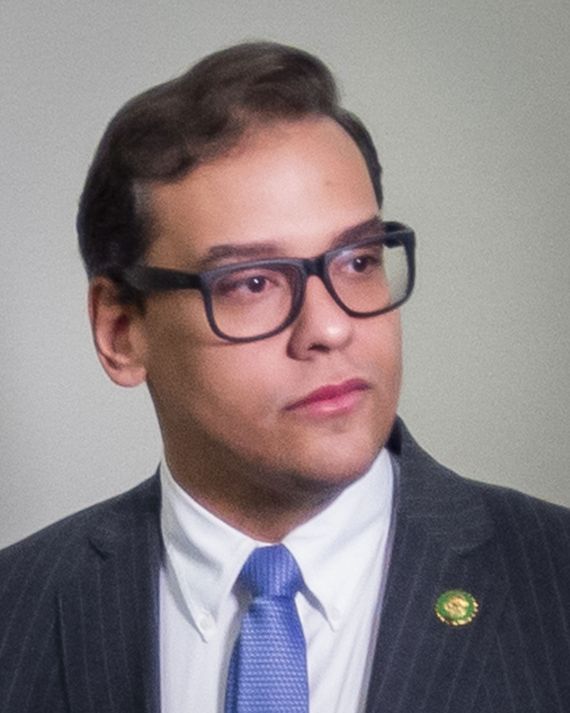 George Santos.
Photo: Shutterstock
When Anthony Devolder showed up in 2018, uninvited, at the house of Vickie Paladino, a firebrand far-right political activist from northeastern Queens then running for the State Senate, he said that he wanted to sign up as a volunteer. His big issue, he told campaign staffers, was animal rights, and he was pushing for a no-kill shelter in College Point. He said that he worked on Wall Street, and talked up his big-money connections who could raise gobs of cash for the campaign. Aides who interacted with "Tony D from Queens," as they called him, remember him as remarkably self-assured and charming. He was also openly and almost flamboyantly gay, an oddity for someone who wanted to volunteer for Paladino, who now in the City Council has faced censure from her colleagues for a series of inflammatory public statements attacking drag-queen story hours. He took a couple of campaign signs, but was scarcely heard from again afterward, his promises of either fundraising or volunteer help vanishing along with him.
The next year, he started going to meet with whomever he could about the possibility of running for Congress in a district that included a small slice of Queens and then stretched east into Nassau and Suffolk Counties on Long Island under the name of George Santos.
And it was not as if it were a particularly plum assignment. The Democratic incumbent, Tom Suozzi, had won by 18 points in 2018, and Hillary Clinton had defeated Donald Trump by six points in the district in 2016, part of an area of Nassau County that had once been a Republican stronghold but had moved rapidly to the left over the last several years. Besides Santos, there was no one else who had expressed much interest in running.
Santos met with Robert Hornak, a longtime Queens-based political operative affiliated with the local Young Republicans, who put him in touch with some of the leading GOP-leaning political strategists in New York, and Santos began making the rounds, heading to right-wing groups and donor meetings at a pace that impressed party pooh-bahs. He showed up at Mar-a-Lago in February 2020 at a dialing-for-dollars event billed as a "Trump Victory Call Day" and attended by the president's children. The next month he attended an event for the Council for a Secure America, a right-wing nonprofit that builds ties between American energy producers and "the pro-Israel community" at the Core Club, an exclusive private social club in midtown Manhattan, and where Santos believed he contracted COVID, which he said landed him in a hospital at the start of the pandemic.
He wasn't out of commission for long. Next, Santos got involved with the Log Cabin Republicans, and through them became involved in the New York Young Republicans, a group of Trump loyalists known for their wild parties and for inviting figures like Marjorie Taylor Greene and Steve Bannon to headline their galas. He recognized that this crowd was where the energy of the Republican Party was and he gave the NYYRC tens of thousands of dollars, often buying multiple tables at their events. In 2020, when the group had a "secret gala" in New Jersey to get around COVID restrictions — Matt Gaetz delivered the keynote address — Santos was honored with an award.
But if Santos was a happy warrior on the campaign trail, someone who aligned with the Trump wing of the party, people who met with him said something still seemed off. Josh Eisen, a small businessman running for Congress in Westchester, met Santos often on the political-club circuit in 2019 and 2020, and remembers Santos frequently bragging about his gonzo fundraising numbers, saying that he was bringing in hundreds of thousands of dollars. "And then I would look in his filings and see that he had raised almost no money," Eisen recalled. "Everybody in politics exaggerates a little bit, but this was saying he had a six-figure quarter and it would turn out that it was a four-figure quarter."
Santos told campaign advisers the same bizarre fabrication, even ones who were there to help him raise money. "I mean, if there is one thing we know how to do, it is read a campaign-finance report," one said. "It's what we do for a living." He was, in the words of another consultant who met with him, "a walking campaign-finance violation," allegedly coming up with schemes about how to circumvent campaign-finance law, including one that involved getting donors who had maxed out their donations to him to give to the political action committees of other candidates, who would then funnel the donation back to Santos.
The boasts weren't limited to fundraising, either. Santos was braggadocious, telling aides about a $5.1 million house he was having built in Oyster Bay — never mind that politicians tend to downplay their wealth — and that he had spoken at Anthony Scaramucci's annual SALT conference. (Scaramucci said there's no record that Santos attended.) At a fundraiser, he told one donor, a longtime Goldman Sachs executive, about his time at the company, speaking with enough fluency about the place and the people who worked there that the executive never suspected he was lying. Santos seemed to be constantly competing with everyone around him, making sure it was known that he had the better shoes, clothes, watches, and car. "He just seemed like a rich trust-fund kid who had a lot of money and didn't know what he was going to do with his life until he started running for Congress," said one operative who worked briefly with him then.
Though Santos was new to politics, he knew how to operate. The Queens GOP is riven by rival factions, one headed by two brothers, John and Bart Haggerty, and another by Robert Hornak, the operative who put Santos in touch with some of the leading Republican strategists in the city early in his campaign. He skillfully made each side feel like he was with them, and with Queens behind him, proceeded to win over the higher-ups in Nassau County, sitting with party leaders and filling out the candidate questionnaire that everyone else who seeks office there does, which includes questions like, "Have you ever done anything that will embarrass the party?" If there were questions about his background, it wasn't as if there were any other people willing to run for the seat.
The Suozzi campaign didn't pay much attention to him either. Santos had only raised around $50,000 by the time the general election rolled around, and was hardly showing up at all in their polling. The campaign was doing research into him and his backstory when they noticed that he was registered to vote outside the district, at his home in Queens. When pressed by reporters, he would give an address that actually belonged to his treasurer in another part of Long Island. The campaign shopped the finding to the media, but not particularly aggressively, figuring that even any negative publicity would just raise Santos's name recognition with voters.
On Election Day though, Santos was actually up over Suozzi. But since most voters were casting their ballots absentee in 2020, and the outstanding vote was coming from Democratic precincts, no one thought that Santos was ultimately going to be the winner. Still, he started raising more money and hiring staff for a recount, and according to one person familiar with the conversations, telling staff that they should find a way to throw out half of the Democratic ballots that had been left to count. He publicly went to war with Nassau County GOP chairman Joseph Cairo, accusing Cairo of deliberately sabotaging his efforts because he is gay. Some of Santos's staffers had begun to wonder about Santos's mental stability around this time, concerns that were further exacerbated when Santos went to Washington, D.C., for new congressional-member orientation even though it was clear that he was on track to lose, and then wouldn't leave the orientation once Suozzi was certified as the winner.
Santos went back to Washington, and spoke at a pro-Trump rally on January 5 at the Ellipse, where, dressed in a camel-hair overcoat and a Burberry scarf, he told the crowd, "They did to me what they did to Donald J. Trump — they stole my election. For 14 days I was congressman-elect of the Third Congressional District of New York, the first ever biggest upset for a Republican in New York City. And what did they do? When they were too busy printing 280,000 ballots in my district and shipping them to Pennsylvania, they sneaked in a few for my opponent."
This bizarre claim aside, the final tally showed Santos losing by 13 points. Not close, but respectable enough showing that Santos immediately started running again for 2022. He had managed to alienate most of the major Republican players in the district by that point, but he was also a gay Brazilian running in a party desperate to show that it was inclusive, and he had done well enough that nobody much wanted to challenge him in the primary. When one candidate, Kevin Surdi, an emergency-room nurse, started to make noises about getting in the race, Santos and affiliated super-PACs gave $185,000 to the Nassau County Republican Party, which eventually endorsed Santos.
Santos received a stroke of luck when Suozzi decided to leave his congressional seat in order to embark on an ill-fated campaign for governor. Then came a further stroke of luck when the state's highest court tossed out the congressional maps drawn by Democrats in the State Legislature to give themselves a steep advantage. The Suozzi district had been redrawn to make it even more difficult for Republicans, snaking along the North Shore of Long Island through Queens and into the wealthy enclaves of Westchester. But after a special master was appointed, the district was redrawn again, this time to fit more firmly into increasingly red Nassau County and with just a small sliver of blue Queens attached. There now wasn't enough time for another potential candidate to mount a signature-gathering effort under the more favorable lines, and so again Santos was the only one left standing.
Even before the lines were finalized, Republicans had been organizing and filing lawsuits to fight the Democratic gerrymander, and Santos told those leading the effort that he was going to donate tens of thousands of dollars to the cause. One of the people who had been raising money to fight the redistricting plan was shocked to hear Santos brag to a roomful of GOP donors at an event with Elise Stefanik that he had given $100,000 to the cause, a figure that was off by roughly $100,000, since he in fact had never donated.
All the Democrats running for the seat were Jewish, and around this time Santos began to say he was too, which was not something he had mentioned much, if at all, in his first run for Congress, telling one person who raised money for him that his mother was Jewish and his father was Angolan and that they met in Brazil. As Santos prepared for another run, he hired Capital Research Group LLC to do a standard background check on him, as the New York Times has reported. What they found was troubling: a string of claims that Santos had made over the years about his business experience (implicated in a Ponzi scheme), his education (he didn't attend the colleges he claimed), and sexual orientation (he was once married to a woman) that did not bear out. When faced with the report, Santos simply ended his contract with the company, while a number of aides quit in protest. No one, however, blew the whistle publicly and Santos yet again dodged political death.
Thanks to the new maps that dropped in the spring, Democrats had less time to prepare for a campaign than they would have had otherwise. Businessman Robert Zimmerman had spent the summer campaigning for the primary, which was moved to September, leaving the Democrat little time to focus on Santos, who at that point had been running unopposed in the district for nearly four years. And since Santos had already run, and against a political force like Suozzi, most people working on the race assumed that if there were anything to come out against him, it would have already come out.
In September, however, a story in the North Shore Leader showed Santos didn't own the Oyster Bay mansion and another in the Hamptons — he rented a rowhouse in Queens and drove a Nissan — but it failed to attract much attention. Meanwhile, the Democratic oppo machine failed to catch even one of Santos's nearly infinite lies. Even as a red wave swamped New York on Election Day, his former advisers and old New York Republican political hands didn't think it would carry Santos to victory: He aligned himself too much with the Trumpist populist wing of the party, something they assumed would leave him out of step with Republicans in an old-line GOP area like Nassau County.
This would turn out to be one of the great mistaken assumptions of American politics. Santos beat Zimmerman by nine points. He had less than a month to savor his victory, though: On December 19, the deceit caught up to him when the Times exposed lies about his fortune, his education, and his work history. Every day since, some new revelation has poured forth (his family members didn't die in 9/11 and the Holocaust, to name just two) and it has all made Santos a spectacle in Washington, emerging every so often from his Capitol Hill office like a cuckoo bird in a camel-hair coat to meet a phalanx of reporters. The Republicans who worked with him in New York can't help but snicker at the whole thing, the pure ridiculousness of it. They noted how the skills that made him appeal to both sides of the Queens GOP, and to repair his relationships with Nassau Republicans — and to invent a persona not within a hundred miles of the truth — are all the kind of skills good politicians have, but just directed to more productive ends. "Here is a directionless person who found in politics a grifter's paradise," said one operative who worked with him. "I think all George Santos ever wanted was to be chased down the halls of Congress by reporters. He has found it at last."