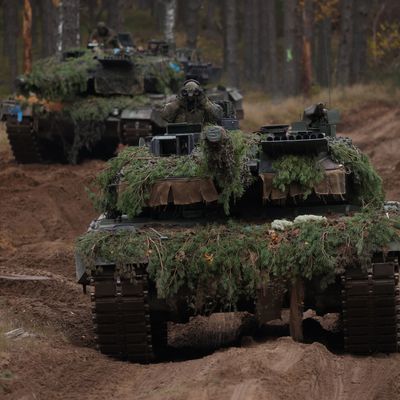 Two Leopard 2A6 main battle tanks participating in military exercises in Lithuania in October.
Photo: Sean Gallup/Getty Images
Ukraine received some disappointing news in its long quest to acquire the western-built tanks it says it needs to drive out entrenched Russian forces. Although the U.S. and several other allies recently agreed to send significant new weapons packages to Ukraine, Germany said Friday it has still not made a decision on its Leopard 2 tanks. It remains unclear when or if Berlin will make that call.
German officials reportedly balked at sending Leopard 2's to Ukraine unless the U.S. agreed to kick in some M1 Abrams tanks of its own, which the Pentagon has said it won't do, arguing that the tanks are too difficult to supply, maintain, and fuel. The U.S. and others are hoping Germany will agree to supply the Leopard 2's directly to Ukraine or authorize their export from other countries. Germany, which has historically been extremely reluctant to supply weapons of wars to active conflict zones, had been expected to announce its tank decision amid a meeting of top western defense officials at Ramstein Air Base on Friday, but German defense minister Boris Pistorius said the country needed more time to consider the matter.
Meanwhile, Ukraine and the Pentagon say time is running out to supply more weapons before the spring counteroffensive Kyiv is planning to retake Russian-occupied territory.
To be clear, Ukraine will be getting at least some tanks from the West. Last week, the U.K. agreed to send 14 Challenger 2 battle tanks and hundreds of missiles. This week, the U.S. agreed to send 90 Stryker and 59 Bradley armored vehicles as part of a $2.5 billion arms package, Canada agreed to send 200 Senator armored personnel carriers, and Sweden agreed to send 50 armored vehicles as well as a mobile artillery system. Ukraine hasn't been able to get these kinds of modern military hardware from its western allies before, but the highest item on its spring wish list remains heavy battle tanks. Ukrainian president Volodymyr Zelenskyy pressed this need when speaking with the western defense officials assembled in Germany on Friday, per the Washington Post:
Zelensky, speaking by video, said that "hundreds of 'thank you' are not hundreds of tanks. … All of us can use thousands of words, but I can't put words, instead of guns needed, against Russian artillery."
Poland and Finland have said they are willing to send some of their own Leopard 2 tanks to Ukraine but are barred from exporting German-made weapons to other countries without Germany's permission.