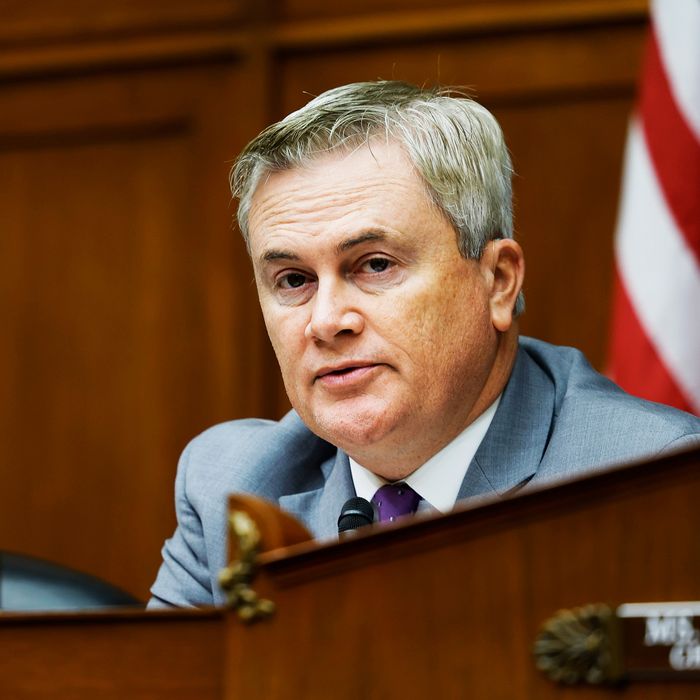 Photo: Anna Moneymaker/Getty Images
After the chaotic election of Speaker Kevin McCarthy caused a weeklong delay, Republicans are now getting straight to fulfilling the promise they made to the American people — investigating Hunter Biden.
On Wednesday, new House Oversight Committee chairman, James Comer, announced an inquiry into the Biden family's finances. "Now that Democrats no longer have one-party rule in Washington, oversight and accountability are coming," Comer said.
The probe focuses on around 100 "suspicious activity reports" connected to Hunter Biden. Banks file such reports to the Financial Crimes Enforcement Network within the Treasury Department whenever they spot something out of the ordinary, like large transfers or complex transactions. Republicans hope that the documents will be the smoking gun that connects Hunter Biden's shady and nepotistic business deals to his father — corruption that Republicans have no evidence for to date. (In 2020, Senate Republicans tried and failed to prove such a connection.) Comer has said he has seen only two of the 100 suspicious-activity reports but that he has written to the Treasury Department requesting that they hand over the documents to the House Oversight inquiry.
Comer also wrote to former Twitter executives who were reportedly involved in the platform's decision that briefly limited users' ability to share a New York Post story claiming that the president's son tried to arrange a meeting between his father and a Ukrainian energy company he consulted for. A Biden spokesperson denied the allegation at the time. In a statement to CNN, a White House Counsel spokesman said that the committee's "top priority is to go after President Biden with politically motivated attacks chock full of long-debunked conspiracy theories."
Ahead of a hearing in early February, the committee wants to talk to former Twitter head of legal Vijaya Gadde, former head of trust and safety Yoel Roth, and former deputy general counsel James Baker. "Your attendance is necessary because of your role in suppressing Americans' access to information about the Biden family on Twitter shortly before the 2020 election," read letters sent to them by the committee. Conservatives have claimed that Twitter's suppression of the story is proof of a plot to censor them. Twitter executives have previously stated that their handling of the Post story was a "total mistake" related to their policies over distributing hacked materials.
The House Oversight Committee is also investigating the classified Obama-era documents found in a think-tank office used by Joe Biden during the Trump years.