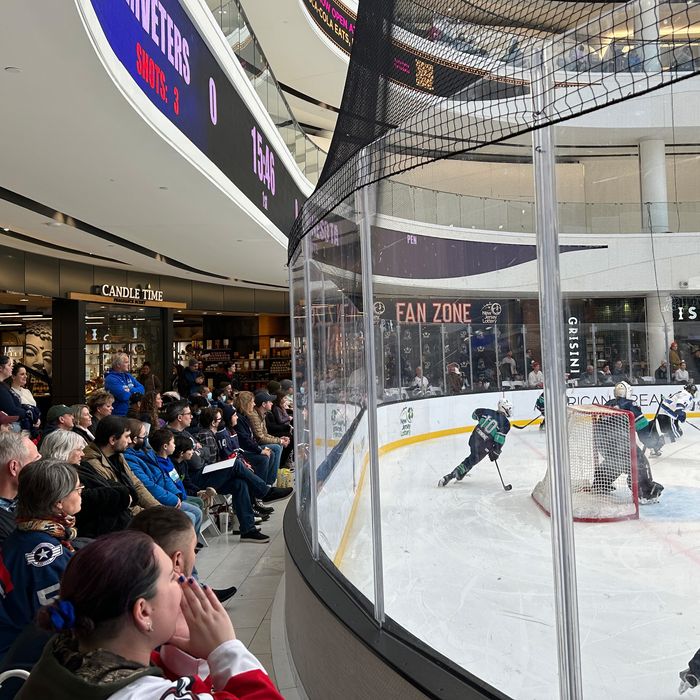 The Metropolitan Riveters' home rink at American Dream sits just feet from some of the mall's stores.
Photo: Joe DeLessio
The Metropolitan Riveters of the Premier Hockey Federation, the top professional women's-hockey league in North America, had a long road trip built into their schedule this season, since their home venue was unavailable for more than a month. This sort of thing happens from time to time in sports: The Houston Astros played 26 straight road games because the 1992 Republican National Convention was held at the Astrodome that year, and the Vancouver Canucks spent six weeks on the road to accommodate the 2010 Winter Olympics. But there was a less conventional reason for the Riveters' lack of home games between Thanksgiving and the New Year: Their rink is in the middle of a mall, and ice time in December was reserved for skaters taking a break from their holiday shopping.
Starting this season, the Riveters have been playing at American Dream, the shopping and entertainment behemoth at the Meadowlands in New Jersey that broke ground nearly 20 years ago — it was then named Xanadu — and finally opened in stages beginning in 2019. The ice rink there sits under a large skylight in one of the mall's many open courts surrounded by stores selling clothes, candles, and other mall-ish wares. There are no permanent stands. Paid attendees sit on rows of chairs that the team rents for each home game and sets up around the perimeter of the rink and along the second-floor railing. Anyone visiting the mall can stand and watch games for free from behind the ice-level seats and the mall's third-level concourse, where tables for a nearby food court offer good views for shoppers munching on Popeyes, Häagen-Dazs, or Jollibee.
A professional hockey game is an unusual sight at a mall, but it's less out of place here than it might be in a more traditional shopping center. Walking around American Dream can be disorienting. One might pass visitors in ski outfits on the way to the indoor slope one minute, then others in bathing suits coming from the enclosed water park the next. There are roller coasters and multiple mini-golf courses and a Ferris wheel outside. A large-scale attraction awaits behind seemingly every turn, so encountering a crowd of a few hundred people watching the Riveters isn't all that jarring. It's just kind of weird — but the good kind of weird.
Riveters president Digit Murphy says she was initially skeptical of the proposal. "In my head, as a women's advocate, I was like, Oh my God, they want women's sports to play in a mall. I totally dismissed the idea, because I hadn't seen it."
The Riveters had held practices at American Dream prior to Murphy's hire last spring. But she says that after seeing the mall, and the facilities at the rink that would be available to the club if it moved there full time, she was sold. This season is the first in a three-year agreement for the Riveters to play there.
"We have to think a little differently about how women's sports get on the map," says Murphy. "We go where the people are instead of dragging people to us."
The Riveters lean into their locale. The ceremonial first puck at a recent game was dropped by Geoffrey, the Toys "R" Us giraffe mascot. Ticket purchases come with discounts at other American Dream attractions. And Murphy says she's open to unorthodox opportunities for promoting the team — like fashion shows involving players.
The team began playing in 2015 as one of four founding franchises in what was then called the National Women's Hockey League, which made a splash as the first North American women's league in the sport to pay its players. The league has since expanded to seven teams. (A separate organization, the Professional Women's Hockey Players Association, organizes showcase games for many of the top players in the world but doesn't operate as a formal league.)
The Riveters have led something of a nomadic existence up to this point. They spent one season in Brooklyn at the Aviator Sports complex, then moved to New Jersey, where they played home games at the Devils' practice facility in Newark as part of a partnership with the NHL club that ended in 2019. But after a season spent practicing in Montclair and playing home games 40 miles south in Monmouth Junction, where the crowds could number in the low dozens, they were looking for a new home — with limited suitable options.
Because games are broadcast on ESPN+, the team needed a venue with adequate lighting and space for cameras. They wanted facilities that were comfortable for players but weren't prohibitively expensive to rent or so large that they'd look empty on-camera if only a modest crowd showed up.
American Dream checked off enough boxes and holds some advantages over the team's previous homes. The Riveters can get ice time every day of the week if they choose. (Practices are held in the mornings before the mall is open to the public, though they've occasionally coincided with law-enforcement training exercises in the empty concourses.) The team has a dedicated locker room, meaning players don't need to lug their gear home after games or on weekends as they have in the past. Perhaps most important is the visibility factor: Digital signs promoting the team are everywhere inside the mall, and there are permanent signs with team logos, schedules, and QR codes to buy tickets. That's important for a team and league eager to educate people about their existence and win over new fans.
"From a player's standpoint, it's unmatched as a facility," says team captain Madison Packer, who has been with the team since its inaugural season. "We have our own locker room. We have laundry. We have a training room. We have a place to warm up and cool down. The setup is so far ahead of where we've ever been."
The team has had between 300 and 500 seated fans for games so far (including comp tickets it gives away), but that doesn't account for the mall-goers taking a break from shopping to watch for a bit or the fans who come specifically for the game but opt to stand and take it in for free.
"I used to play hockey as a kid, so I got sucked in pretty quick when I heard the puck against the boards," says David Ribbans of Carlstadt, who stopped to watch a game on a recent Saturday shopping trip. "It's pretty cool. It's different for sure."
But some longtime fans of the team are less enamored with the unconventional setup. "We kind of lost the community aspect of going to one of these games, where you could just sit in the stands and meet new people," says Jennifer Muller, a former season-ticket holder from Bloomfield who watched last Saturday's game for free from the mall's third level rather than pay a ticket price she called "not realistic." (Rink-side seats cost $20. Seats on the second level, which include food, go for either $50 or $99.) "You knew everyone was there cheering," she says, "as opposed to half the people up here are just watching the game because they're eating."
Yet the Riveters say the partnership with American Dream offers things that more conventional arenas might not. "I think the biggest thing is that they wanted us," says Packer. "That's a real thing — to want to feel wanted and not just feel like you're an inconvenience."