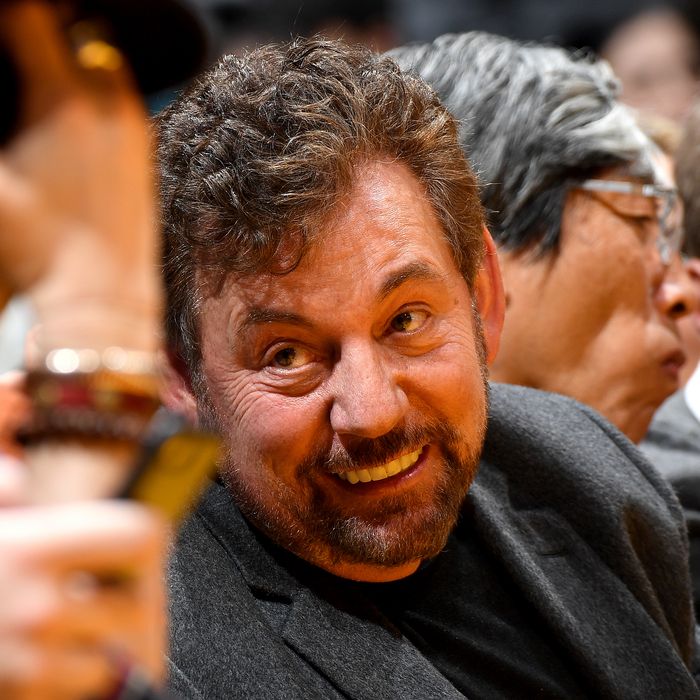 Photo: Andrew D. Bernstein/NBAE via Getty Images
Madison Square Garden owner James Dolan has come under a lot of pressure in recent months for using facial-recognition technology to ban attorneys who work for law firms that have sued him from entering his venues across the city. In a letter to Dolan, New York attorney general Letitia James said "thousands of lawyers" from as many as 90 firms are blacklisted.
Dolan, not one to let criticism or years of Knicks' losing records get in his way, hasn't been particularly troubled by the backlash, as he showed in an interview with Fox 5 New York on Thursday. Playing the philosopher in a Rangers scarf, Dolan began his argument by saying facial recognition has actually been used since the beginning of humanity. "Facial recognition is just a technology," Dolan said. "When I walked into the studio, right, did you recognize my face?" Host Rosanna Scotto said she did. "Facial recognition," Dolan said.
Dolan continued to take the philosophical view on this self-imposed scandal. When asked about legislation proposed by State Senator Brad Hoylman-Sigal that would stop MSG from banning personal-injury attorneys who have sued his company, Dolan pointed to "a thing called the Bill of Rights."
"You're allowed to own property, etc.," he explained. "This is just about owning property that the, uh, you know — a bakery, right? A restaurant, right? You get to say who you serve, right? For whatever reason, I don't care if they're a lawyer or whatever; you get to say who you serve. And if there's someone you don't want to serve, you get to say, 'I don't want to serve you.' And if it's somebody who is suing you and trying to put you out of business or take your money from you … you have a right to be, yes, a little unhappy about it."
Dolan then took on the New York State Liquor Authority, which is investigating the use of facial recognition at Madison Square Garden. He threatened to leverage Rangers fans against the state regulator by stopping alcohol sales for a night and telling them to write to the board to knock it off. "This isn't gonna bother me because I've been sober 29 years," Dolan said. "I don't need the liquor."
Getting further from his argument, Dolan then zoomed out to cover some of the issues in New York he thought state lawmakers like should be focusing on. He called out the proposed Clean Slate Bill, which would seal records of New Yorkers who have committed most types of felonies after three years. "I'm sorry, but if you're a criminal, you're a criminal," Dolan said. "If you've committed a crime, you should, you know, you should be accountable for that."
Toward the end of the 17-minute interview, Dolan tried to wrap all his thoughts up. "In the end, this is about who we elect," he said. "Honestly, also a little bit about the press, about what you're paying attention to, right? Stop paying attention to the ticket scalpers and start paying attention to the criminals that are in a revolving door that keep, you know, coming back out and, and destroying our city."
At least for now he has stopped trying to destroy a functional Knicks team by meddling with the roster mid-season.