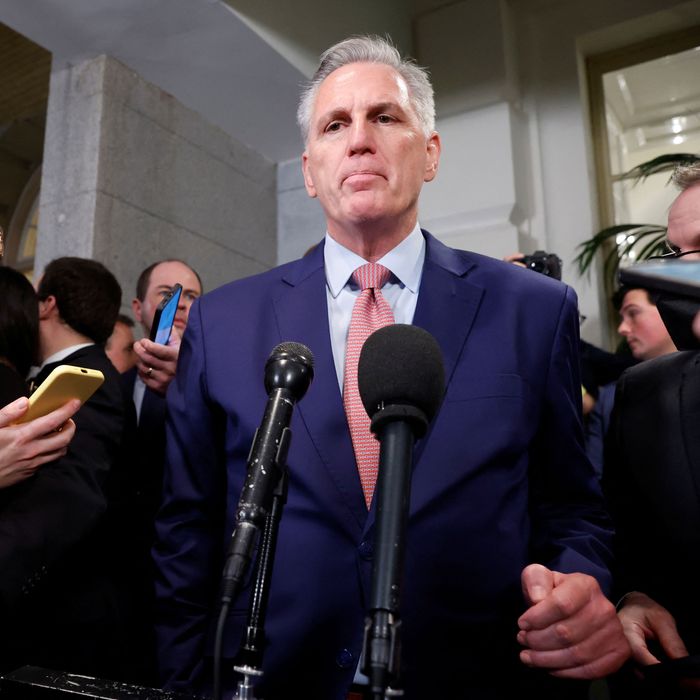 Not going the way he planned.
Photo: Jonathan Erns/REUTERS
In his efforts to appease the far right of his conference, Kevin McCarthy has gone to just about every length possible over the past two years. From his Mar-a-Lago trip just weeks after the January 6 attack on the Capitol to his elevation of Marjorie Taylor Greene as a key ally to his recent acquiescence to a series of procedural demands from hard-liners, McCarthy has relentlessly courted skeptical conservatives.
And, on Tuesday, all this still left him 15 votes short of becoming Speaker of the House.
For the first time in 99 years, the House of Representatives did not elect a Speaker on the first ballot. For the first time in 99 years, the chamber didn't elect a Speaker on the second or third ballots, either. Instead, after three votes and five hours on the House floor, with little change — McCarthy lost 19 Republicans on the first two ballots and 20 on the third — everyone threw in the towel and decided to try again on Wednesday at noon.
The question is whether seemingly immovable battle lines will have shifted at all by then. McCarthy's opponents have rallied around Jim Jordan of Ohio, who received all 20 of the dissenting Republican votes on the third ballot, despite the fact that he publicly supports McCarthy. An alternative candidate could also emerge, such as Steve Scalise, McCarthy's second-in-command, although it's unlikely that Scalise would mount any effort while McCarthy is still actively trying to win the Speaker's gavel.
As Tuesday progressed, the mood in the congressional chamber grew increasingly grim. During the first ballot, as members brought their children onto the floor to celebrate the opening day of a new Congress, lightheartedness prevailed. Members didn't just vote for Kevin McCarthy or unanimous Democratic choice Hakeem Jeffries — they often did so emphatically or loquaciously, chiming in with McCarthy's full name, "Kevin Owen McCarthy," or perhaps praising Jeffries's Brooklyn roots. ("If you don't know, now you know," Democrat Adriano Espaillat intoned.) Whenever a Republican rebel voted for someone besides McCarthy, loud murmurs and "oohs" could be heard on the floor. By the second ballot, the mini-speeches grew shorter, the murmurs grew fainter, and the children were visibly bored. By the third, the votes were often a single name. The novelty of a contested Speaker election had already worn off as members faced a political stalemate with no clear solution. Either McCarthy would win or he would quit, and neither seemed likely for the moment.
Ken Buck of Colorado, a Freedom Caucus member who voted for McCarthy repeatedly, said the challenge was that a faction of Republicans are "'Never Kevin.' They just don't think Kevin is trustworthy, and they want somebody different." However, he expressed some hope that an agreement could be reached overnight.
Others were more skeptical. Speaking to us before the vote on Tuesday, Stephanie Bice of Oklahoma, echoing many of her colleagues, expressed her frustration with McCarthy's opponents. "They have not been negotiating in good faith for a while," she said. "This is not about policy issues. It's not about budgets, earmarks, or any of that. This is about personal conflict."
Speaking after the House had called it a day, Don Bacon of Nebraska, a moderate who represents a Democratic-leaning district, expressed his disdain as well. The Nebraska Republican said that, at this point, he and other moderates were inclined to vote against a rules package with the concessions that McCarthy had already granted. Bacon even signaled a willingness to make a deal with Democrats. When asked if there was an appetite for that, he said to us, "Yes, at some point, that's going to be a deal that's got to be made if they"—dissident Republicans—"don't accommodate." It's unclear what the parameters of any deal with Democrats would look like, although Bacon acknowledged they "would want something in return."
He was still optimistic about McCarthy's chances. And no one thought the California Republican would throw in the towel as he did in 2015, when it was clear that rebels within the GOP conference would oppose him for Speaker after they toppled John Boehner. (Eventually, Republicans coalesced around Paul Ryan as a consensus choice.)
But Buck thought that if nothing changed by the time the House convened on Wednesday, McCarthy would lose votes. "I think it goes higher," he said. "The longer this plays out, I think, breaks is when some of the old timers decide that it's time and you start to see them vote against Kevin."
Byron Donalds, the one Republican to switch his vote away from McCarthy between the first and last ballots, said of his colleague, "Bro, you got to close the deal. You had two months. And so, at this point now, if you can't close it, we gotta find who can."
The challenge for the House GOP is that if their longtime and generally liked leader can't get the support of 218 Republican members of Congress, it's unclear if anyone can do so.