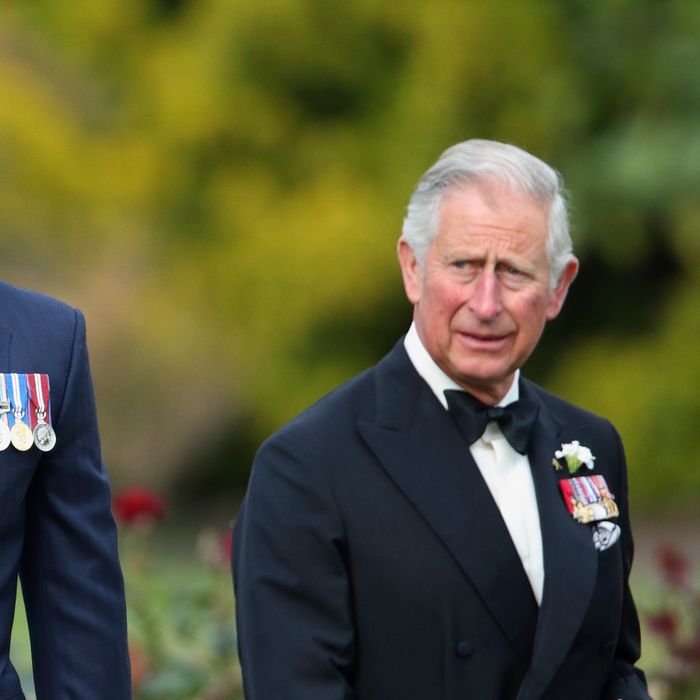 Photo: Max Mumby/Indigo/Getty Images
Although I'm only halfway through Prince Harry's book, Spare (his battle with a frozen "todger" drags on much longer than you'd think), it's already quite apparent that the book's main villain is the British press. Harry is rightly furious at the paparazzi for continuing to aggressively pursue members of his family even after his mother was chased to her death. And he repeatedly accuses U.K. tabloids of pushing untrue narratives and publishing stories that have absolutely no basis in reality, often at the behest of the royals themselves.
So now that Harry has made detailed accusations about the U.K. press peddling nonsense, has anything changed? Well, let's take a look at the latest reports out of the U.K. on how King Charles (or "Pa," as Harry calls him) is coping with his younger son dropping a bombshell on the monarchy just months after he finally became ruler.
Over the weekend, the Mirror reported that while the royal family has maintained a "dignified silence" in the face of Harry's "stream of sensational claims," that could soon change:
King Charles may be about to break his silence on Prince Harry as he prepares to do a landmark BBC interview. Palace aides are discussing the possibility of the monarch using his chat to give his side of the story following a string of incendiary claims in his son's memoir Spare and his Netflix documentary with wife Meghan. If the Palace agrees to the interview, Charles could set the record straight on the Megxit drama, in which Harry, 38, and Meghan, 41, stepped back as working Royal Family members.
Pa's revenge interview might be similar to the 1994 documentary in which he discussed the breakdown of his marriage to Princess Diana. The Mirror reports that the BBC may even use the same interviewer: Jonathan Dimbleby. But, while Dimbleby is a longtime friend of the king, there are concerns that the move could backfire since Harry is so wild and unpredictable (and, as viewers of The Crown will recall, the 1994 piece backfired by spurring Diana to do her own tell-all interview):
Palace aides are concerned about the line of questioning, it is claimed. But sources say the monarch is mulling over the interview offer. An insider said: "Plans are already up and running for coronation coverage at the BBC, including the profile on the monarch. It is not the done thing to avoid subjects in interviews, so it makes matters tricky.




"Even one small comment on Harry and Meghan would make worldwide news. It could also prompt a response from Harry, which would be unpredictable, like so much. Everything is very delicate."
Another complicating factor: As Pa is plotting the best way to get back at Harry, he also desperately wants his "darling boy" to be at his May 6 coronation. The Mail on Sunday reported:
The King has asked the Archbishop of Canterbury to broker a deal to allow Harry to attend his Coronation — but has met resistance from William, The Mail on Sunday can reveal. Charles wants Justin Welby to strike an agreement with his warring sons that would allow Harry and his wife Meghan to attend the Westminster Abbey ceremony in May, senior sources close to Lambeth Palace say.
Supposedly, while the king is worried that Harry and Meghan's absence from the coronation will be distracting, William is concerned that his dastardly brother may intentionally stage a "stunt" to overshadow the coronation. The Mail explains:
William fears that unless Harry's visit is tightly scripted, he could steal the limelight by, for example, going on a walkabout in a deprived London borough with Meghan.
Is Willy really distraught over the possibility that his brother may mingle with the plebs on Pa's big day? Does the king really think he can trash Harry in a TV interview, then expect him to participate in a show of family unity on Coronation Day? I suppose it's possible that all that's true. Or maybe despite the accusations leveled in Spare, nothing will keep the U.K. tabloids from making stuff up to sell papers and make friendly royals look good.