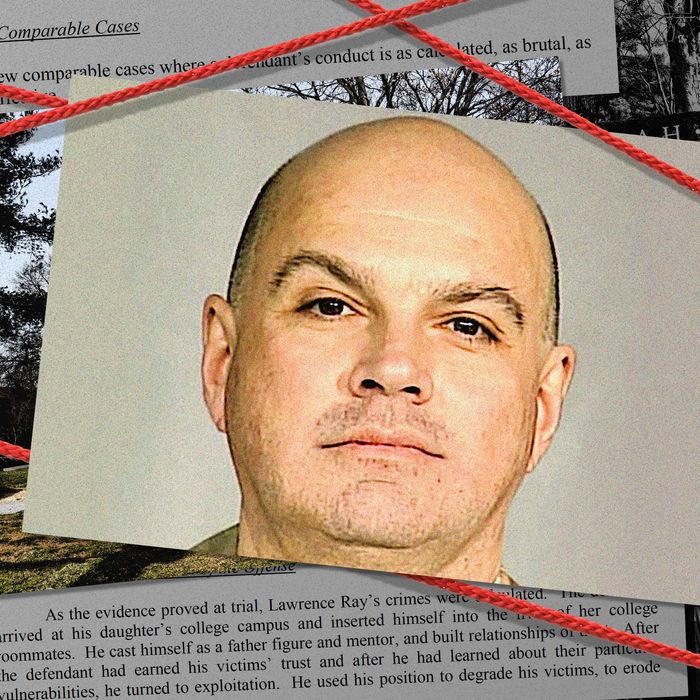 Photo-Illustration: Intelligencer; Photos: Getty Images/Shutterstock
A federal judge has sentenced Larry Ray, who moved into his daughter's college dorm room only to psychologically, physically, and sexually abuse her roommates for years, to serve 60 years in prison.
In April, a jury convicted Ray, 63, of all counts he faced during a month-long trial, including sex trafficking, racketeering, and extortion. Ray's reign of abuse was first exposed in a 2019 New York Magazine cover story, which inspired the FBI to investigate.
On Friday, Ray's victims lined up to face their tormentor, recounting suicide attempts, spells of homelessness, jobs lost, and family-ties severed.
"Lawrence Ray did steal my youth," said Daniel Barban Levin, who published a memoir about his experience and will appear alongside other victims in a forthcoming Hulu documentary. "I will for the rest of my life be on the ground, the kitchen tile digging into my knees, sobbing while Lawrence Ray brandishes a knife over me."
"I am, right now, standing in front of my friends while Lawrence Ray holds a garrote around my testicles," he continued, pausing at times to hold back tears, "twisting it tighter and tighter, trying to get me to confess to something I never did."
Ray, dressed in khaki prison scrubs, sat a few feet away from Levin as he spoke, looking directly at him with an expressionless stare.
Claudia Drury's former attorney, Brooke Cucinella, read a statement written by Drury describing the physical and emotional abuse she suffered at Ray's hands. She recounted years of torture and sex trafficking in harrowing detail, and called Ray a "malevolent, violent, deceitful shadow of a man." Ray, Drury wrote, once told her that the "root of true evil is cowardice." She now believes it's the only accurate thing he ever said to her.
Santos Rosario described the "decade of absolute misery" that followed his first encounter with Ray when he was a 19-year-old sophomore on Sarah Lawrence College's campus. Ray, he said, forced him to sever all of his relationships and drove him to consider suicide daily.
In an impact statement filed before sentencing, Santos's sisters, Felicia and Yalitza, described Ray's crimes in ghastly detail, and said they have struggled to piece their lives back together after his arrest. "I did not want to exist in a world defined by Larry, in a world occupied by him," Yalitza said, describing the conditions that led her to multiple suicide attempts. "He made living so painful."
Felicia, the eldest of the three Rosario siblings, wrote that both physical and emotional scars haunt her even amid seemingly mundane experiences. "Using a public restroom can hurl me back into the nightmare I used to live in," she said. "When driving with Larry, at rest stops, he would kick me out of the car and lock me out until I found a trucker to have sex with me. It was horrifying then, and horrifying now."
Ray convinced Felicia to leave medical school just two weeks shy of completing her exams, and spent years humiliating her over her failure to graduate. "Doctors, nurses, hospitals, doctor's offices, and ambulances, serve as a painful reminder that because of Larry, I do not wake up in the morning to work at a hospital, or go into an office to see patients," she wrote.
Sentencing also offered a glimpse into Ray's formative years, which have long been a mystery even to people close with Ray. Documents filed by Ray's defense team claimed that he had been physically, emotionally, and sexually abused by his grandparents. According to the defense, Ray's grandmother would strike him with a cat o' nine tails, a whip historically used by sea captains to flog recalcitrant sailors, and his grandfather raped him as child.
According to another defense memo, Ray's one-time sister-in-law claimed Ray's mother would brag about sneaking Ex-Lax into muffins she baked for people who crossed her. "Ray's fixation with poisoning is rooted in reality," the filing says.
But in a memo submitted by the government, Ray's own brother, Carl, pushed back on his claims. "Carl was extremely skeptical. He said Larry always accused people of sexual abuse," reads the notes of an FBI agent's interview with Carl. "Carl emphasized that there was no outside proof of Larry's claims other than his word."
The filings, which clearly echoed Ray's crimes, were in a sense a continuation of a theme — in Ray's world, the truth was always just out of reach. Ray's defense team had even tried to convince jurors to suspend their own relationships with truth and reality so that they might see the case through Ray's eyes. "Through the looking glass, the truth became complicated. At times the storytellers couldn't separate truth from fiction," one of Ray's attorneys, Allegra Glashausser, said during the trial. "That's the thing about a good story: It makes you believe. And Larry believed most of all."
Ray also gave a statement. Standing before the judge, Ray asked for mercy because of the inhumane conditions he'd experienced over the past three years in federal jails and recited a long list of medical conditions that plague him. Ray said that this winter, his father, step-mother, and step-father had died in a matter of days. They were the only people he kept in touch with while in jail. (He did not mention his daughter, Talia Ray.)
But Ray's pleas didn't sway Judge Lewis Liman, who described Ray's conduct as "heinous" and carried out with "evil genius" and "particular cruelty."
"He sought to take every bit of light from his victims' lives," Liman said. "It was sadism, pure and simple."
Liman made a point to credit the bravery exhibited by Ray's victims in testifying.  Ray "attempted to extinguish lives, but he did not succeed," Liman said. "In a sense, this case speaks volumes to the resiliency of the human spirit."
After the verdict was handed down, Ray was led out of the courtroom by U.S. marshals, as the Rosario siblings and Levin embraced.