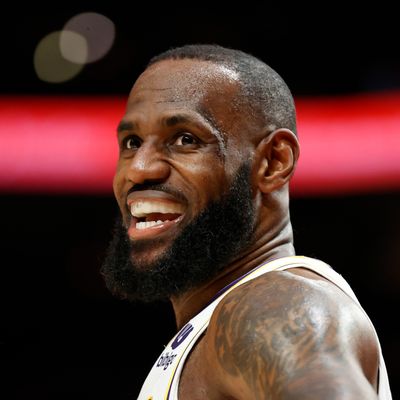 Photo: Steph Chambers/Getty Images
The strangest thing about the "Crying Jordan" meme — inspired by the time Michael Jordan teared up during his otherwise bitter and semi-deranged Basketball Hall of Fame induction speech — is that it's so contrary to its subject's essence. With one notable exception, that speech was the only time any of us ever saw Jordan cry, a rare moment in which he departed from his smooth, slightly detached public persona: It's as if the meme most associated with Vladimir Putin showed him smiling or the one most associated with Donald Trump showed him paying a contractor. One of the most lasting images of Jordan (online, anyway) tells us nothing about him.
LeBron James's 20-year NBA career has generated its fair share of memes—my favorite has to be him scolding J.R. Smith — but I think this one sums up the man best:
The image, which James posted to his Instagram page just hours after Fox host Laura Ingraham infamously told him to "shut up and dribble," encapsulates him perfectly. There's a little lack of self-awareness, some charming awkwardness, a dash of braggadocio, and, more than anything else, an understanding that, no matter what happens, everything's going to turn out fine for LeBron James. Perhaps more than any other megawatt top-shelf superstar in recent decades, James seems … if not quite normal, at least content. Jordan was miserable even when he was winning championships and has grown only more embittered; Tom Brady simply cannot fathom a world where he isn't the NFL's top dog; Tiger Woods was as great at golf as he was bad at, well, anything that wasn't golf. (Stephen Curry seems at peace with himself, but he still isn't quite at James's icon level.) The inner-circle legends are often tormented, driven to win at an almost psychotic level and largely unequipped to handle anything resembling real life. It's their curse: brilliant on the field, forever lost off it.
James, who will become the NBA's all-time scoring champion sometime in the next fortnight — perhaps the day before the Super Bowl against Curry and the Golden State Warriors — has never been like that. He is fiercely competitive, no question: You don't reach the levels he has without an inner fire most people couldn't understand. He'll certainly eat your heart out if you let him:
But James has also carried himself as a man who, as much as he wants to win, knows deep down that he already has. He is known for diving head first into whatever endeavor piques his interest — finance, entertainment, politics (until recently anyway) — and, while you don't become a global superstar like he has without minimizing at least some risk (witness his recent retreat from the political sphere), he has always spoken his mind about off-court endeavors in a way that that would have been unfathomable for Jordan. The never-ending, forever-exhausting Jordan-James "greatest of all time" debate has always rested a little bit on this dynamic. James's career numbers dwarf Jordan's in most ways (yes, he's two titles short), but Jordan's obsessions shaped the way a whole generation framed nearly every sports endeavor: Winning is the only priority, and to lose is to die. Jordan won, and he cut your heart out while doing it. He was so good at being ruthless that he made us all think that's what you were supposed to do.
James's career has served as a quiet but refreshing rebuke to this philosophy. To be clear, he is hardly comfortable with, or even all that familiar with, losing. He has won four NBA titles and reached ten NBA Finals, including eight in a row from 2011 to 2018, and he recently groused about the subpar roster that surrounds him in Los Angeles right now (a roster he's partly responsible for constructing, it should be noted). But even when James loses, even when he's playing for a team as middling as the one he's on right now, he doesn't have the vibe of a man who needs the world to burn because he's not getting what he wants, the way Jordan might have: His vibe remains very "Smiling through it all! Can't believe this is my life." The all-time scoring record is perhaps the NBA's most sacred: Kareem Abdul-Jabbar has held it for nearly 40 years (since Jordan's rookie season!). But James's chase for it has been almost low key. His run at the record has felt less historical and more a logical inevitability: incredible but not necessarily inspiring.
Partly this is because James does so much more than just score: He's sixth of all time in assists and ninth in steals. But I think it's just as much because of James's personality, which is so different from Jordan's or Brady's or Kobe Bryant's. This feels less like a culmination than a logical chapter in a story we've been reading our entire lives. It will be 21 years next month since James showed up on the cover of Sports Illustrated for the first time — in a piece written by the late Grant Wahl — and he's been a central figure of American sports since then. Much of his transformative effect has been personality driven. He is the otherworldly talented superstar who accepted the mantle as the Chosen One with every human on the planet watching his every move, but he did not seem driven insane by it. He is just about as normal as a human who has lived such an extraordinary life could possibly be. It's remarkable.
And now he has a chance to do another thing Jordan, Bryant, and — so far anyway — Brady never got to: end his story perfectly. (It is a bit wild how often you have to remind people about Jordan's wayward Washington Wizards years.) James might nudge the Lakers into the playoffs, but he does not look primed to win a career-capping championship with them or anyone else; no other team could trade for him without gutting their roster. But that's what's special and even revolutionary about James: His brilliance doesn't have to be defined by alpha-dog dominance. He has rewritten those specific rules. Which is why he may have found the best, most LeBron exit possible. His son Bronny James graduates high school this year — you're old, sorry — and will play one season of college basketball next year (likely at Ohio State) before entering the NBA Draft. Bronny is not considered a top-shelf lottery prospect, certainly nothing like his father was back in 2001, but he's still probably good enough to find a spot in the league somewhere. LeBron has gone on record saying he wants to play with his son before he retires, and by signing with whichever team drafts Bronny, he could make that happen.
LeBron James's farewell, whenever that is, won't be about meeting some sort of masochistic, championship-or-death mandate Jordan foisted on himself (and could not ultimately live up to). It will be a feel-good story, one authored by James himself. Assuming he doesn't win another title, breaking the scoring record will be the next-to-last culmination moment of his career. The last one will be his retirement. And you know what? He has the look of a guy who will be happy when he bows out. For a superstar, that's a feat possibly more difficult than winning all those titles in the first place. He's smiling through it all; he can't believe this is his life.