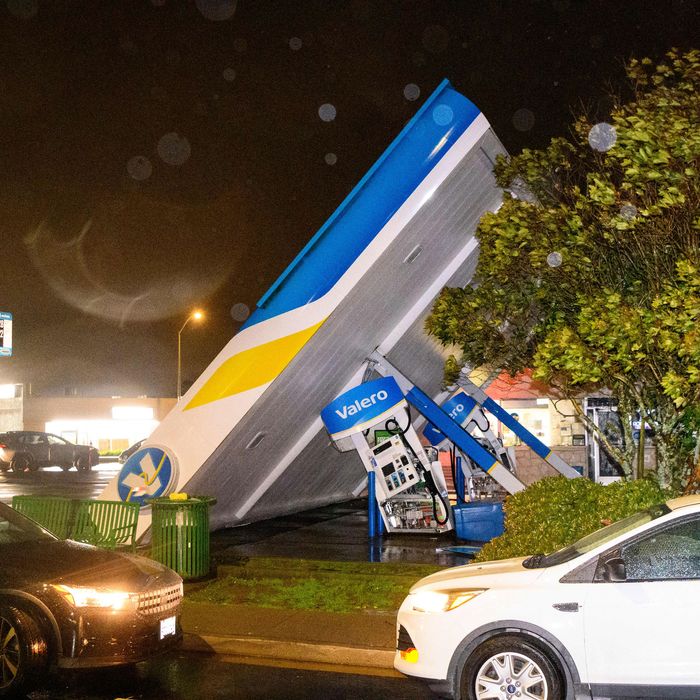 A damaged Valero gas station creaks in the wind during a massive "bomb cyclone" rainstorm in San Francisco.
Photo: Josh Edelson/AFP via Getty Images
When I moved to the central California coast from the Washington, D.C., area some 15 years ago, the main attraction was undoubtedly the weather. After decades of sweltering summers in the South and occasionally brutal winters in the mid-Atlantic region, living in a place where temperatures typically ranged from the low 50s to the mid-60s year-round seemed idyllic. In my adopted home, thunderstorms were so rare that when you heard thunder you initially figured it must be an earthquake. As for winter weather, there was a locally famous photo of the 18th green at Pebble Beach blanketed in snow — in 1962. Indeed, the big local weather problem, chronic drought, was comfortable enough; for non-farmers, it meant long stretches of sunny days, until the recent rash of wildfires made everyone pray for rain.
This winter, those prayers are being answered by the bucket. The Pacific weather phenomenon known as an "atmospheric river" (roughly defined as a huge column of water vapor that empties when it encounters land) is creating wave upon wave of violent storms. In the last few weeks, three have hit the West Coast, pummeling central and northern California the hardest with more on the way. The storms are wetting the parched land, to be sure, but at the cost of flooding and mudslides, particularly in areas previously afflicted by fires. Both the weather hazards and the widespread power outages (I've personally had two extended outages in the last 24 hours) are exacerbating other chronic California problems, notably an epidemic of homelessness and some poorly maintained roads, highways, and levees. It's too early to assess the full damage, and the storms are ongoing, but an Associated Press story provides a sense of how bad it may become:
On Wednesday, authorities in south Sacramento County found a body in a submerged car — one of at least four victims of flooding from that storm …




Officials in California ordered evacuations in a high-risk coastal area where mudslides killed 23 people in 2018 as a huge storm barreled into the state Wednesday, bringing high winds and rain that threatened widespread flooding and knocked out power to more than 100,000 people.
For those of us fortunate enough to have shelter, firm ground, and adequate provisions, it seems wrong to whine. As recently as Christmas Day, my brother flew here from Georgia on a nonstop flight that skirted the transportation disaster afflicting airports almost everywhere else in the country; he actually landed 40 minutes early in San Jose. Californians are used to national weather maps showing dangerously hot or cold conditions and apocalyptic storms east of us all the way to the Atlantic and the word "Nice" appearing over our own Golden State. While it's not very nice right now, so far the biggest threats we've faced personally due to atmospheric rivers are spoiled food and somewhat amusing inconveniences. (My wife and I watched the Georgia Bulldogs win a playoff game from our car in a darkened parking lot miles from home, which was the only spot where we had sufficient cell-phone signal for streaming video.)
We're not quite at the point where "California weather" evokes nightmarish images of rain and wind alternating with fire and smoke, instead of snippets of old Beach Boys songs about endless balmy summers and sunny skies. But in a state where climate-change skepticism has never had much of a grip, there's no doubt that we now share the world's fears of nature coming unglued thanks to the bad behavior of our species.