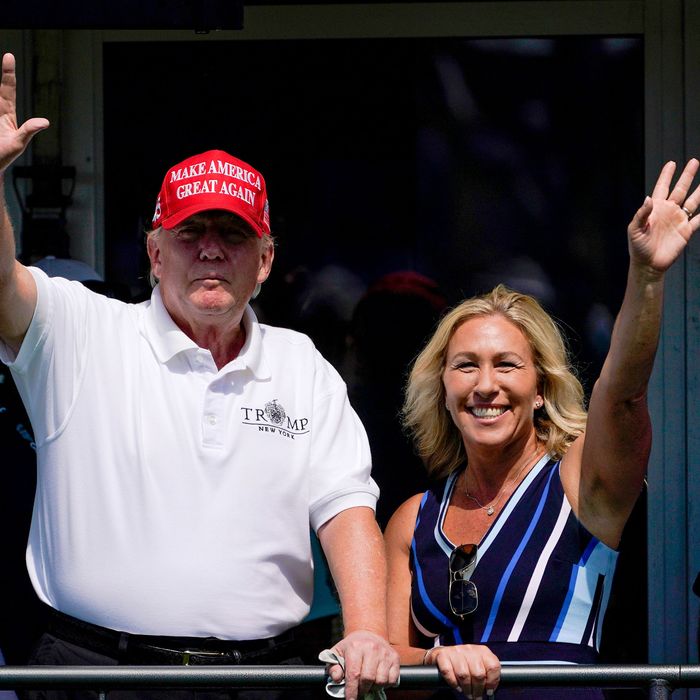 Imagine this 2024 ticket.
Photo: Seth Wenig/AP/Shutterstock
This is America, a place where any child with talent and grit can imagine moving to the head of the herd in the great cattle drive of life and achieving … the vice-presidency! Or at least, that's the case in the dream world of second-term Georgia congresswoman Marjorie Taylor Greene, per a report from NBC News:
Rep. Marjorie Taylor Greene, R-Ga., is angling to be Donald Trump's running mate in 2024, according to two people who have spoken to the firebrand second-term congresswoman about her ambitions.




"This is no shrinking violet, she's ambitious — she's not shy about that, nor should she be," said Steve Bannon, the former top Trump aide who hosts the War Room podcast, where Greene has been a guest.
No, Steve Bannon is not the most credible source for much of anything. But he's not alone on this topic:
A second source who has advised Greene said her "whole vision is to be vice president." The source, who has ties to Trump but spoke on the condition of anonymity to describe private conversations, said he also believes Greene would be on Trump's short list.




That goal is at the heart of Greene's recent efforts to rebrand herself as a politician who can stand astride the divide between the party's hard-liners and its establishment wing, the sources told NBC News.
There's a lot to unpack there. First of all, who dreams of being vice-president? A politician who knows their only shot at landing anywhere near the West Wing involves hitching a ride with an elderly and a far more popular candidate. Indeed, one Sarah Palin, to whom MTG will inevitably be compared, converted a failed vice-presidential bid into decades of celebrity, culminating in an appearance as a Mama Bear performing "Baby Got Back" on The Masked Singer.
But would Trump really pick MTG? Well, the word from MAGA-land is that Trump wants an absolute loyalist this time around (i.e., someone who won't betray him in his hour of need like Mike Pence did on January 6), and he finds the idea of a female running mate appealing. The Daily Beast reports there is an actual veep list, and MTG is on it:
Trump and his inner circle have been tossing around names for an entirely premature veepstakes, according to two sources that have spoken to Trump as well as a GOP strategist familiar with the conversations.




And the one common thread among Trump's imagined running mates? They're all women.




So far, Trumpworld has been bandying about the names of Reps. Elise Stefanik (R-NY) and Marjorie Taylor Greene (R-GA), along with a third contender who has already begun to rankle corners of Trumpworld: Tulsi Gabbard.
The NBC story suggests that Greene wants to outflank these somewhat more conventional female options (and others like Nikki Haley, Kristi Noem, and Sarah Huckabee Sanders) by rebranding herself as, well, sort of normal. Dropping her aura of craziness was apparently her goal in positioning herself as a Kevin McCarthy loyalist and Trump intermediary during the recent House Speakership fiasco.
But despite her wise decision to aim no higher than the vice-presidency, it's still quite a reach. She entered electoral politics like the proverbial bat out of hell less than three years ago, exploiting a surprise House retirement to parachute into a safe Republican district, then winning the contest through the combination of shrill MAGA extremism and family money. She's just now getting her first committee assignments, having been stripped of that opportunity in 2021 thanks to violent utterances about her future Democratic colleagues that had been bouncing around social media. Since popping up on the national radar screen, she's gotten attention mostly by saying and doing things that should probably warrant a red flag on her file at the White House security office. She's veered from embracing conspiracy theories (including QAnon) to uttering offensive slurs (the wild "Jewish Space Lasers" narrative and inappropriate Holocaust analogies) to breaching basic rules of conduct (dodging congressional metal detectors and howling at the president during his State of the Union address). Now and then she apologizes for her terrible deeds and words, but that only makes it clear that some of her malice reflects mere ignorance.
I have a pretty low opinion of Trump, but it's hard to imagine him choosing Marjorie Taylor Greene to be his running mate, unless his ego leads him to try to prove he can win with literally anyone sharing his ticket. At present, with his renomination very much in doubt, the last thing he needs is speculation that he'd make an irresponsible VP pick.
As for Greene, she has a safe seat in Congress and is one of the chamber's bigger celebrities. That should be enough to sustain her, even if the Trump-Greene ticket turns out to be nothing but a pipe dream.