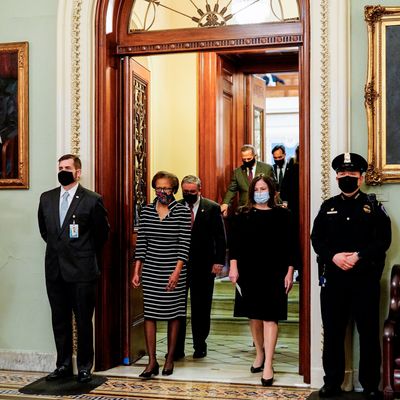 House impeachment managers transmit articles of impeachment on January 25, 2021.
Photo: Melina Mara/POOL/AFP via Getty Images
I'm sure most House Republicans would claim that they're focused on the present and future needs of the country now that they control the chamber and have finally chosen a Speaker. But that's not strictly true — insofar as their front-burner agenda includes a deep dive into Hunter Biden's laptop, a reinvestigation of where COVID-19 began, and a whole new select subcommittee focused on the alleged deep-state "weaponization" of government dating back at least to the Obama administration. But a more alarming example of revisionist history and score-settling could be on the way, as McCarthy has indicated some serious interest in a MAGA effort to gloss over Donald Trump's high crimes and misdemeanors by expunging his two impeachments, as the Washington Post reports:
Trump — now a 2024 candidate — was impeached twice during his four-year presidency: in 2019, for withholding military aid from Ukraine in exchange for political favors, and in 2021, for inciting the Jan. 6 Capitol riot.




In the previous Congress, groups of Republicans floated resolutions to expunge both impeachments. Supporters of the latter included Rep. Elise Stefanik (N.Y.), the Republican conference chairwoman.




Asked at a news conference about the prospect of an expungement now that Republicans control the House, McCarthy said, "I would understand why members would want to bring that forward."
McCarthy promised to "look at it," though it's not clear whether he's talking about one or both impeachments. A resolution to expunge the second impeachment drew a lot more co-sponsors in the last Congress and was the particular focus of Elise Stefanik, as MSNBC's Steve Benen noted in May:
Stefanik, who used to be a relative moderate who was reluctant to say Trump's name out loud in her district, argued yesterday, "The American people know Democrats weaponized the power of impeachment against President Donald Trump to advance their own extreme political agenda … It is past time to expunge Democrats' sham smear against not only President Trump's name but against millions of patriots across the country."
Stefanik doesn't appear to have paid any attention to the rather massive amount of evidence compiled by the House select committee on January 6 showing that Trump incited the Capitol riot as part of a very conscious and long-standing plan to disrupt the transfer of power to his elected successor. Then again, most House Republicans thought that, too, was a "weaponized" exercise producing "sham smears" of Trump and the fine patriots of the Proud Boys, Oath Keepers, and the dude with the Viking horns.
A review of the second impeachment might be a tad embarrassing to McCarthy, who at the time of the January 6 insurrection said publicly that Trump "bears responsibility" for the violence and even suggested that he might support censure of Trump after a fact-finding commission was convened (you know, kind of like the January 6 committee he opposed). That's not the sort of vindication Stefanik and company have in mind.
But let's say that, thanks to some aggressive whipping by Trump, an expungement of the second impeachment gained momentum. Just as he aggressively caved to the MAGA rebels who nearly denied him the Speaker's gavel, McCarthy might go along. There is precedent for this sort of action, though it involved an expunged censure of Andrew Jackson. But it could produce an humiliating failure, since Republicans have just a four-seat majority in the House and two of the ten House Republicans who voted for the second impeachment are still around (California's David Valadao and Washington's Dan Newhouse).
Impeachment revisionism, moreover, could open Pandora's box. Next time Democrats control the House, might they consider expunging Bill Clinton's impeachment? Then would a second look at Nixon's impeachment be in order? How about Andrew Jackson's? The mind reels.