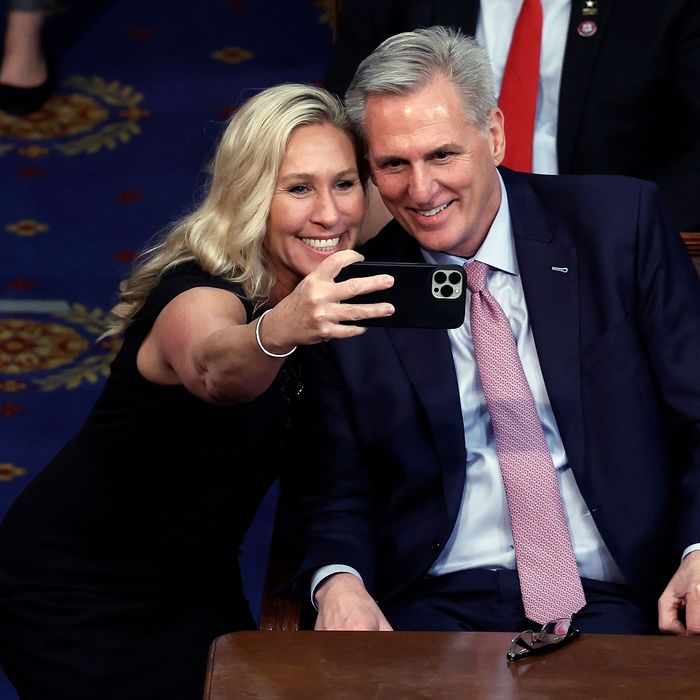 No enemies to the right!
Photo: Anna Moneymaker/Getty Images
When you are holding on to a Speaker's gavel that you have coveted your entire adult life by a mere handful of votes, the option of alienating even a single member of your party is pretty much off the table. That's particularly true of Kevin McCarthy, who needed 15 ballots to convince his fellow House Republicans to name him their leader and agreed that he'd submit himself to a motion to vacate the chair any time a single House member invoked it.
So it was entirely unsurprising (albeit still embarrassing) that two House Republicans who were stripped of committee assignments in the last Congress for particularly horrendous displays of violent extremism got them back from McCarthy, just as he promised. Paul Gosar of Arizona was sanctioned in November 2021 for tweeting out an image of himself as an anime character murdering his House colleague Alexandria Ocasio-Cortez. He will now join the Natural Resources Committee. Marjorie Taylor Greene was barred from committees from the get-go in early 2021 for a series of earlier hateful comments wishing death and violence on then-Speaker Nancy Pelosi and other Democrats. She'll now have an opportunity to defend the right-wing domestic terrorists with whom she once sympathized from her spot on the Homeland Security Committee.
And according to The Hill, both of these exotic characters will serve on the House Oversight Committee, which will likely be the locus of high-profile show-trial investigations of the Biden administration.
It seems there is absolutely nothing a House Republican could do to forfeit full participation in McCarthy's conference. While his specific assignments haven't been announced, the Speaker said George Santos will "get seated on committees." So the New York freshman — whose self-presentation to voters in 2022 was, to use a technical term, a pack of lies — will sit side by side on a committee with members who haven't been pathologically mendacious on the road to Congress.
Lyndon B. Johnson once allegedly said in deflecting some criticism, "Don't spit in the soup; we all have to eat." This should be engraved on McCarthy's precious gavel.