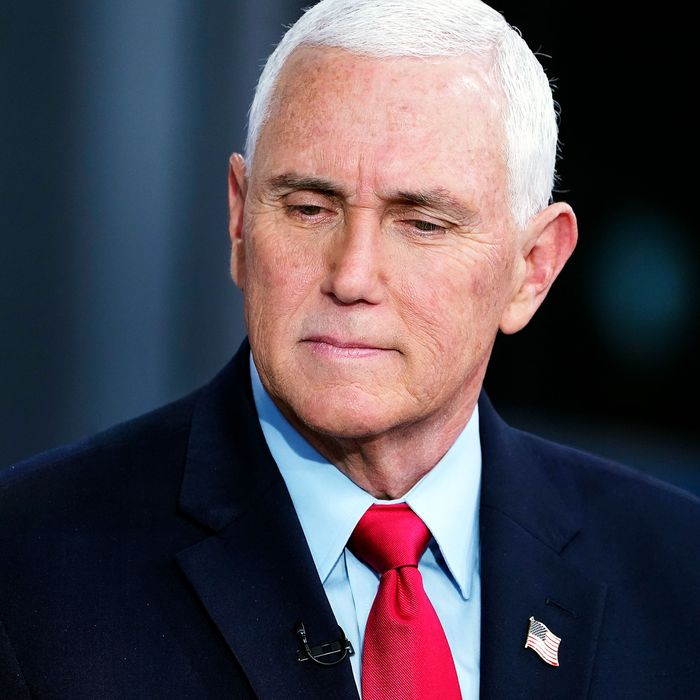 What's not to dislike?
Photo: John Lamparski/Getty Images
If you look at the early Republican 2024 presidential-candidate preference polls, it initially appears that former vice-president Mike Pence is in a solid dark-horse position, prepared to benefit if the contest turns into a Donald Trump–Ron DeSantis slugfest that diminishes both Floridians. Pence is consistently the third-ranking candidate in RealClearPolitics polling averages. His support is only in the mid-to-high single digits, but it's well above that of Nikki Haley, Ted Cruz, and the rest of the potential candidates Republican voters are asked about.
But as the Washington Post's David Byler notes, Pence's comparatively strong standing is an illusion. Other potential candidates don't do well in these early polls because they are relatively unknown. They thus have growth potential once their name ID rises. Pence, on the other hand, is very well-known but not well-liked:
Republicans who are as famous as Pence — such as former president Donald Trump and Florida Gov. Ron DeSantis — are beloved by the base. And other candidates who post low favorable ratings, such as Sens. Josh Hawley of Missouri or Tom Cotton of Arkansas, aren't disliked. GOP voters simply don't know them.
Byler explains with this chart:
Some of Pence's popularity, such as it is, stems from his relatively positive showing among self-identified Democrats who think fondly of him for thwarting Trump's attempted coup on January 6, 2021. But that will not help Pence, and could hurt him, among Republicans. It probably already has, as Byler notes:
GOP voters dislike Pence because he stood up to Trump on Jan. 6, 2021. Immediately after Pence certified Joe Biden's (rightful) victory, Pence's favorability rating among Republican voters dropped. He never fully recovered.
Pence really is stuck between a rock and a hard place. He can and must praise the administration he shared with Trump (for whom he had worshipful esteem through all of the ex-president's follies — including the buildup to January 6) as a high point in the history of the planet. You know, except for the insurrection thing, which Pence called "un-American." So all he really has going for him are clothes borrowed from Trump and a bond with the Christian right that is nearly as servile as his relationship to the 45th president was (until it wasn't). It's just not a good look, which is why Pence has about the same chance of winning the presidency as the last defeated veep to aspire to the big job: his friend and fellow Hoosier Dan Quayle.