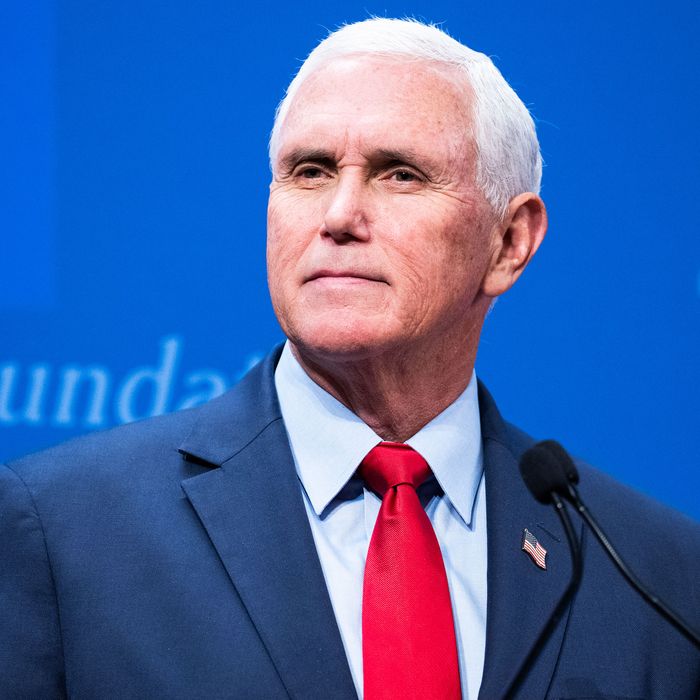 Photo: Tom Williams/CQ-Roll Call, Inc via Getty Images
It turns out bringing classified documents home from the White House and the vice-president's residence isn't all that uncommon. Mike Pence had roughly a dozen at his house in Indiana, and his attorneys have already handed them over to the FBI, according to CNN. The FBI and the Justice Department's National Security Division are now reviewing the documents and how they made their way home with Pence.
One of Pence's lawyers began to search for documents after news broke that President Joe Biden's attorneys had found classified docs in his personal office and home late last year, dating from when he served as vice-president. Last week, FBI agents searched Biden's house at the invitation of the president's lawyers, finding six more documents with classified markings. Attorney General Merrick Garland has appointed a special counsel to investigate how the records were brought to Biden's home and office and whether anyone has violated the law.
It isn't known what Pence's documents are related to, though he repeatedly denied possessing any classified information before his lawyer went looking. But the fact that both Pence and Biden had classified documents at their homes is certainly welcome news for Donald Trump. Last August, the FBI raided Trump's Mar-a-Lago estate after his team failed to comply with a subpoena requesting the return of government records. FBI agents reportedly found 43 folders' worth of classified material, including documents with information about one foreign government's nuclear program.
Since the Biden docs were found, Trump has been complaining of government bias, asking if the FBI will "raid the many homes of Joe Biden, perhaps even the White House?" With the Pence documents now on the table, those calls are likely going to get a lot louder. Trump, however, probably won't mention that he fought the government at every turn while Pence and Biden voluntarily handed their documents over. Trump, who hasn't always supported his former VP, released a statement shortly after the documents were made public: "Mike Pence is an innocent man. He never did anything knowingly dishonest in his life. Leave him alone!!!"