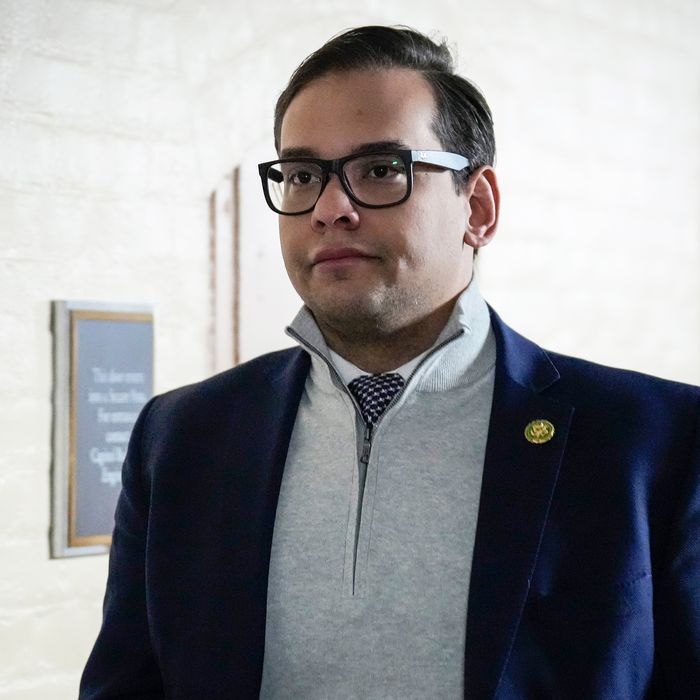 Photo: Drew Angerer/Getty Images
After weeks of revelations of fabrications and falsehoods about his personal and professional life, Republican officials are calling on Representative George Santos to step down.
Since flipping a Democratic seat to represent part of Long Island in Congress, he was revealed to be a serial liar, fibbing about everything from where he went to school to having Jewish heritage. How exactly he financed his congressional campaign has also drawn scrutiny from state and federal prosecutors who are currently looking into him. On Tuesday, two U.S. House Democrats filed a complaint with the Ethics Committee regarding his financial-disclosure forms.
On Wednesday, the Nassau County Republican Committee called for his "immediate resignation" with party chairman Joseph Cairo saying the newly sworn-in congressman's 2022 bid for office was "a campaign of deceit, lies, and fabrication."
"He deceived the voters of the Third Congressional District. He deceived the members of the Nassau County Republican Committee, elected officials, his colleagues, candidates, his opponents, and even some of the media," Cairo said, speaking from party headquarters.
"He has no place in the Nassau County Republican Committee nor should he serve in public service nor as an elected official. He's not welcome here at Republican headquarters for meetings or at any of our events," Cairo continued. "As I said, he's disgraced the House of Representatives, and we do not consider him one of our congresspeople."
Representative Anthony D'Esposito, who was elected to the 2nd District, took part in the announcement by video, saying he doesn't think Santos "can move forward as a member of Congress."
"So I join with you, and I join with my colleagues, in saying that George Santos does not have the ability to serve here in the House of Representatives and should resign," he said.
He's not the only Republican member of New York's congressional delegation speaking out. Nick Langworthy, who represents the 23rd Congressional District and is the chair of the state Republican committee, said he supports the Nassau County party's stance on Santos.
"It's clear that he cannot be an effective representative and it would be in the best interest of the taxpayers to have new leadership," he said in a statement.
Nick LaLota of the First Congressional District also thinks Santos should step down, telling Axios that what Santos has done is "disgraceful, dishonorable, and unworthy of the office."
Brandon Williams, the representative from the 22nd District, also joined in, noting voters backed Santos based on his "biographical exaggerations and apparent deceptions."
CNN also reported that Mike Lawler of the 17th District and Marc Molinaro of the 19th District feel that Santos should resign.
But one person is notably not joining the calls for Santos's resignation: House Speaker Kevin McCarthy. Per Bloomberg, the newly sworn-in House leader said of Santos, "It's the voters who made that decision, and he has to answer to the voters."
After the announcement from the Nassau County Republican Committee, Santos was asked by reporters in Washington, D.C., if he intended to resign from office. "I will not," he said.
He later took to Twitter to reiterate his point.
Santos remained defiant during an appearance on Stephen Bannon's show "War Room" on Thursday, vowing to give "110 percent" to any committee assignment he's given.
"I am going to outwork any of the pundits and talking heads that are out there saying that I should resign, that I'm unfit for office," he said.