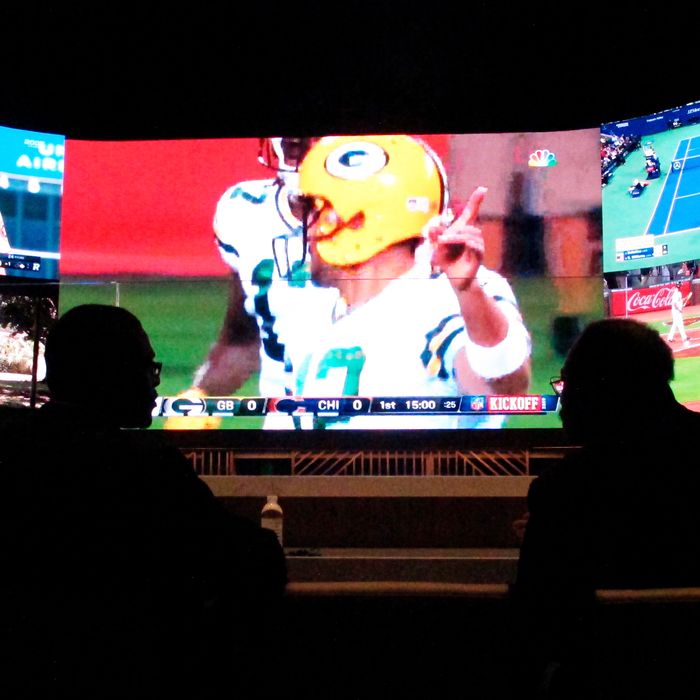 Photo: Wayne Parry/AP/Shutterstock
When then-Governor Andrew Cuomo was trying to distract from his many misconduct allegations in the spring of 2021 by legalizing mobile sports gambling and weed, he estimated that New Yorkers betting on their phones could bring in around $500 million in revenue for the state. It turns out Empire State residents like it a whole lot more than expected: In 2022, its first year of mobile sports gambling, New York brought in an impressive $909 million in revenue.
In a press release Friday, Governor Kathy Hochul announced that mobile sports betting garnered $709 million in taxes on bets and an additional $200 million on licensing fees — money allotted for education, youth sports, and, somewhat ironically, "problem gambling prevention." With apps like DraftKings and FanDuel not yet legal in Florida, Texas, and California, New York is now the largest market for betting on your phone. In total, New Yorkers wagered $16.2 billion last year, far surpassing the $10.9 billion in total bets made in 2021 by the previous record holder, New Jersey.
It wasn't a surprise in the industry that New Yorkers would bet a lot on their phones. In 2020 — after New Jersey legalized mobile sports betting but before New York did — analysts estimated that New York residents crossed the bridges and tunnels to legally wager $837 million in New Jersey. When it was legalized in New York last year, the major betting apps dropped millions on no-risk-bet offers to entice adults to sign up.
With more states including Kansas, Maine, Massachusetts, and Ohio bringing on mobile sports gambling in 2023 and after, the industry is poised to change the way Americans watch sports — as anyone who has seen the moneyline odds during the broadcast of a game knows. Gambling-addiction experts already anticipate a rise in addiction in legalized states.