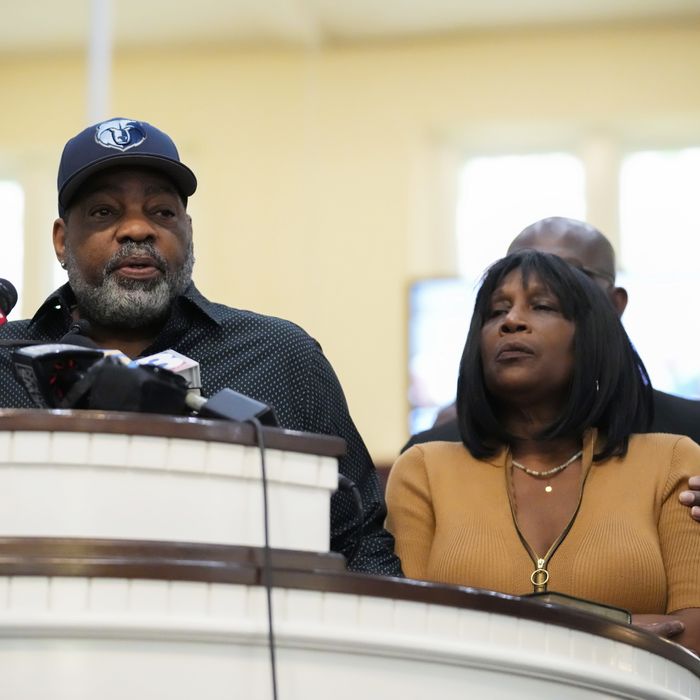 Photo: Gerald Herbert/AP/Shutterstock
The Congressional Black Caucus has extended an invite to the parents of Tyre Nichols to attend President Joe Biden's State of the Union address on February 7. Per the group's executive director, RowVaughn Wells and Rodney Wells, Tyre's mother and stepfather, have accepted the invitation.
The invitation comes just days after the city of Memphis released video footage of the brutal attack on 29-year-old Nichols by police officers following a traffic stop earlier this month. Nichols was hospitalized in critical condition and died three days later. Five Memphis police officers — Tadarrius Bean, Demetrius Haley, Emmitt Martin III, Desmond Mills Jr., and Justin Smith — were fired for their role in the beating, then subsequently charged with second-degree murder, aggravated assault, and kidnapping, among other charges.
The CBC has also requested a meeting with Biden personally to "push for negotiations on much needed national reforms to our justice system — specifically, the actions and conduct of our law enforcement." The group is also urging its congressional colleagues to make more progress in discussions concerning criminal-justice reform.
"We are calling on our colleagues in the House and Senate to jumpstart negotiations now and work with us to address the public health epidemic of police violence that disproportionately affects many of our communities," the CBC said in a statement.
There are signs that Nichols's death is prompting more urgency among some in Congress to get some legislation passed to address criminal-justice reform. Politico reports that Senator Cory Booker of New Jersey intends to reintroduce the George Floyd Justice in Policing Act in the Senate soon. The bill, which was passed by the Democratic Party–led House twice, has been stalled in the Senate due to a lack of votes despite attempts at bipartisan talks.