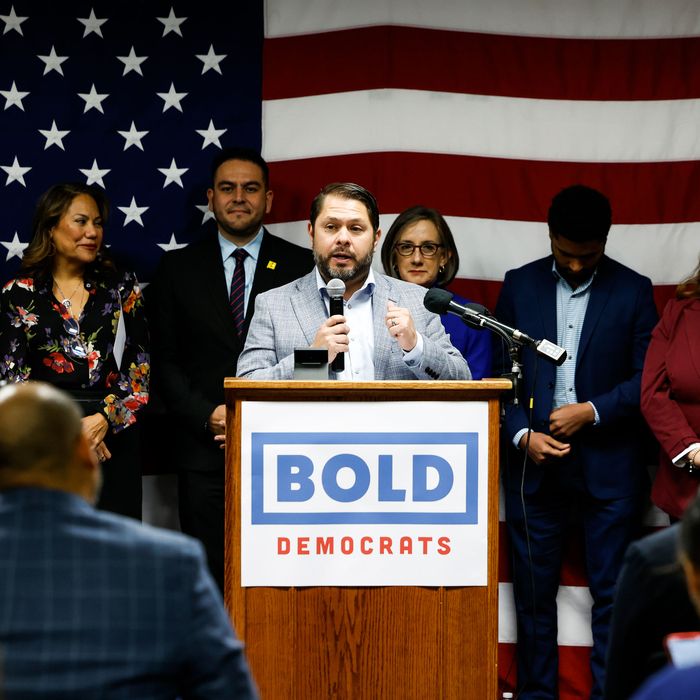 Future Senator Ruben Gallego?
Photo: Anna Moneymaker/Getty Images
This week, the newly minted independent U.S. senator Kyrsten Sinema of Arizona drew a lot of attention at the annual gathering of global elites in Davos, Switzerland. Once again she defended her stubborn defense of the Senate filibuster, that great font of conservative obstructionist power, even high-five-ing her fellow filibuster fan Joe Manchin over their success in thwarting (or at least radically reshaping) Democratic legislation in the last Congress.
Whatever the assembled plutocrats and power brokers thought of Sinema's preening, it did not play well back in Arizona among the Democrats who feel that she betrayed them before abandoning them with a shift in her party affiliation from D to I. Indeed, progressive congressman Ruben Gallego chose the occasion to signal he will soon formally announce his widely anticipated challenge to the incumbent's reelection in 2024, as Newsweek reported:
Gallego, the chair of BOLD PAC, the political arm of the Congressional Hispanic Caucus, plans to make the announcement via a video in English and Spanish that was shot in his home district, which includes parts of Phoenix, according to three sources briefed by the campaign …




After his announcement, Gallego is set to begin a media blitz before returning to Arizona for an in-state tour of events for which the campaign is presently nailing down logistics.
Gallego also had a tart comment about Sinema's performance in Davos, an odd choice of venue for someone already being accused of carrying water for the rich and powerful in the Senate: "It just shows that she is absolutely separated from reality and from the Arizona voters."
That's also what polls have shown. Throughout late 2021 and 2022, Sinema's job-approval ratings among Arizona Democrats have been abysmal, even as Gallego's have been solid, making it clear he could take her down pretty easily in a primary. Most recently, after her declaration of independence, Morning Consult found her job-approval ratio among Democrats had dropped to 30-59. But it's not like she's found wild popularity outside her old party: Her job-approval ratio among independents is a meh 42-43, and among Republicans it's 43-48. My colleague Jonathan Chait has plausibly argued that Sinema hopes to blackmail Democrats into backing her as an independent in 2024 in order to keep a precious Senate seat out of Republican hands (and out of the particular hands of mega-MAGA 2022 gubernatorial nominee Kari Lake, who is mulling a Senate run). But fresh data from Gallego's camp showed that the case for Sinema as the lesser of evils is pretty weak at this point, as I recently explained:
A very early poll on behalf of Gallego's Senate campaign showing Sinema is so unpopular that she might become a virtually irrelevant factor in the 2024 Senate contest in Arizona. In a hypothetical three-way general-election race with Lake and Gallego, Sinema comes in at an anemic 13 percent with Lake (at 41 percent) and Gallego (at 40 percent) in a dead heat. Perhaps more strikingly, Gallego (48 percent) and Lake (47 percent) would also be in a dead heat if Sinema didn't run at all in the general election. If these sort of numbers persist in future polls, any blackmail effort by Sinema to threaten to throw the Senate seat to the Republicans if Democrats don't back her might not get much traction.
Yes, some Democrats will worry about Gallego being "too far to the left" to win in a 2024 election cycle in which they will really struggle to hang onto control of the Senate. And without question, he subscribes to the traditional progressive theory that moderation in the defense of political power is both cowardly and ineffective, as Christian Paz reported for Vox last fall:
Ruben Gallego has a vision for reshaping the Democratic Party — and it starts with a fight. Too many liberals, he says, have lost the plot on their party's identity, ceded ground and airwaves to a radicalizing Republican Party, and failed to convince working-class voters — especially the Latino voters Democrats lost in 2020 and 2021 — that Democrats stand for something. He wants his party to own their victories and take the culture war to Republicans — reclaiming support from voters of color, building a new Democratic coalition, and rebranding progressivism.
If Gallego wins the Democratic nomination and his general-election opponent is Kari Lake, he won't have to worry much about ceding the middle ground. The key question is whether Sinema uses her substantial bankroll (she currently has $8 million in cash on hand for a reelection contest, and has the big-money contacts to raise a lot more) to damage Gallego's credibility within and beyond the Democratic Party. That would soften him up for takedown by Lake (or less probably, by Sinema herself in a three-way battle). Sinema could also retire for the moment and choose among cushy sinecures (some perhaps arranged by old and new friends she has made in Davos), before considering future political options (she's only 46). But two things are definitely clear: With Democrats currently holding a two-seat Senate majority, Sinema's not quite in the catbird seat she occupied in a 50-50 chamber, and any hopes she had of forcing Democrats to accept her without a primary fight are now kaput.