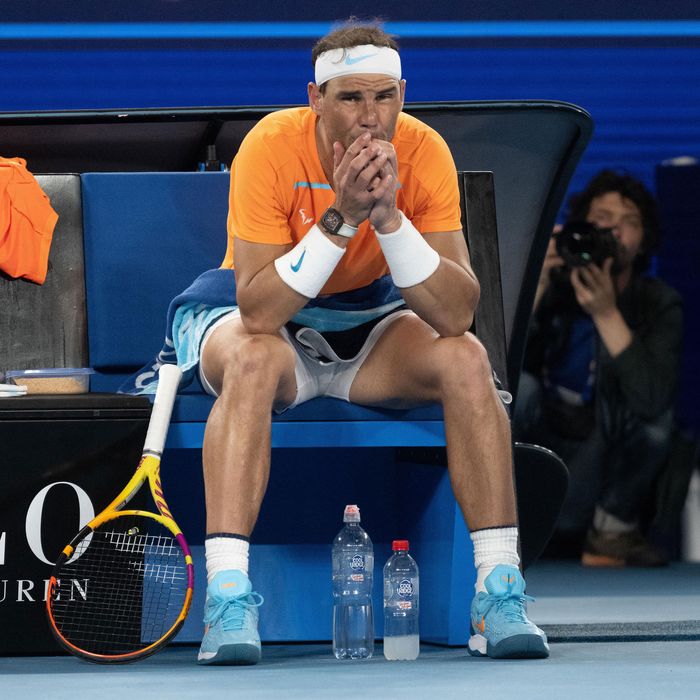 This about sums it up.
Photo: Will Murray/Getty Images
The indomitable Rafael Nadal looked very, well, domitable on Wednesday in Australia.
In one of the earliest losses of his illustrious Grand Slam career, an injured Nadal went down 6-4, 6-4, 7-5 in the second round to the young American Mackenzie McDonald, ranked 65 in the world. And he sounded pretty dejected about things after the match.
"It's a tough moment. It's a tough day," Nadal said. "I can't say that I am not destroyed mentally at this moment, because I would be lying."
In the middle of the second set, Nadal tweaked his left hip, called for a trainer, took an injury time-out as his wife teared up in the stands, then returned to the court. He played on valiantly, not wanting to forfeit the match. But he was a shadow of himself the rest of the way, unable to move and hit his backhand anywhere close to normal capacity.
Even before that moment, Nadal was playing far from his highest level against an impressive McDonald — which was not too surprising given his run of recent results. Nadal had lost six of his seven previous matches coming into the Open, where he was nonetheless the No. 1 seed. (Novak Djokovic is the heavy favorite to win his tenth title.) Nadal has struggled by his standards since defeating Taylor Fritz at last year's Wimbledon, during which he tore an abdominal muscle, then had to pull out of the tournament after the victory.
It is never wise to count out Nadal, who conventional wisdom wrongly said would have a short career because of his intensely physical style of play. Just one year ago, he came into the Djokovic-less Australian Open as almost no one's favorite and ended up winning the tournament in spectacular fashion. Every time he has struggled with injuries — most naggingly a degenerative foot condition he has been dealing with since he was a teenager — he's come back strong. But by the time the French Open final rolls around, Nadal will be 37 years old, an age at which only one man, Ken Rosewall, has ever won a major title. Winning the championship in Paris seems far from the foregone conclusion it usually is for Nadal; as Tom Brady is demonstrating on the football field, age comes for us all.