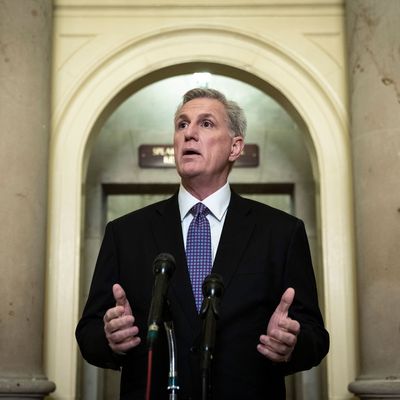 Photo: Drew Angerer/Getty Images
In a good example of how quickly House Speaker Kevin McCarthy and his Republican allies are reneging on some of the promises they made to secure McCarthy's gavel, the fate of the kooky Fair Tax bill that was promised a floor vote is not looking so good. The bill, reflecting an ancient right-wing talk-radio chestnut, would abolish income taxes on individuals and corporations (along with the IRS) entirely, substituting a (roughly) 30 percent national sales tax. There are details that include a clumsy effort to make the scheme less wildly regressive via rebates to low-income families, but the basic idea is to shield income and wealth and tax consumption, which is always going to be a much better deal for people who have a lot more money than they need to live on, and a crushing blow to the working poor and middle class.
Unsurprisingly, the Fair Tax bill being offered by Georgia Republican Buddy Carter has become target practice for Democrats, including President Biden, as the Atlanta Journal-Constitution reported earlier this month:
The White House wasted no time ridiculing the Fair Tax, trying to make it a political millstone around the neck of every GOP lawmaker.




"It would raise taxes on the middle class by taxing thousands of everyday items from groceries to gas, while cutting taxes for the wealthiest Americans," said President Biden, who issued a veto threat.
A number of leading Republicans are distancing themselves from the Fair Tax as well, including the man who agreed to put it back on his party's agenda again:
It's pretty funny, really: After a solid year in which every Republican in America talked endlessly and redundantly about high prices for living essentials, now some of them want to boost the price of milk and bread by nearly a third? It is, to put it mildly, far "off-message."
The shovel with which House Republicans are burying the Fair Tax, though, reflects some rich irony. During the Speakership battle, the anti-McCarthy rebels raised their voices most angrily at the abandonment of "regular order" in Congress, by which they meant the packaging and quick passage of legislation like the $1.7 trillion omnibus appropriations bill for Fiscal Year 2023, which escaped the traditional civics-book process of subcommittee and committee hearings, markups, and so forth. The desire for "regular order" underlay one of McCarthy's most important concessions to the rebels: an agreement to hold separate votes, with amendments, on 12 individual appropriations bills ever year, which hasn't happened in a generation.
But according to the gospel of "regular order," you don't send complicated tax legislation like the Fair Tax straight to the floor: It has to go through the tax-writing Ways and Means Committee. And that's apparently what is going to happen, according to Ways and Means chairman Jason Smith of Missouri. The Hill reports:
Rep. Jason Smith (R-Mo.), who chairs the Ways and Means Committee, has said the bill will get a hearing, telling Axios earlier this week that McCarthy "believes everything should work in regular order."




"We're going to have a public, transparent hearing on that issue and we'll see where it goes from there," he said. 




Whether the bill will ever make it out of the House, or even survive in committee, is far from certain. 
That's putting it mildly. The legislation draws zero interest in the Senate, where Republicans are in the minority anyway, and where Mitch McConnell hasn't had to make concessions on terrible tax policy to keep his leadership post. So the whole thing is just a messaging gift to Democrats — especially because the Fair Tax is only popular among the kind of people who heard about this great idea to kill the IRS on conservative talk radio. They may be angry when it gets buried once again, but there won't be any widespread GOP unrest.