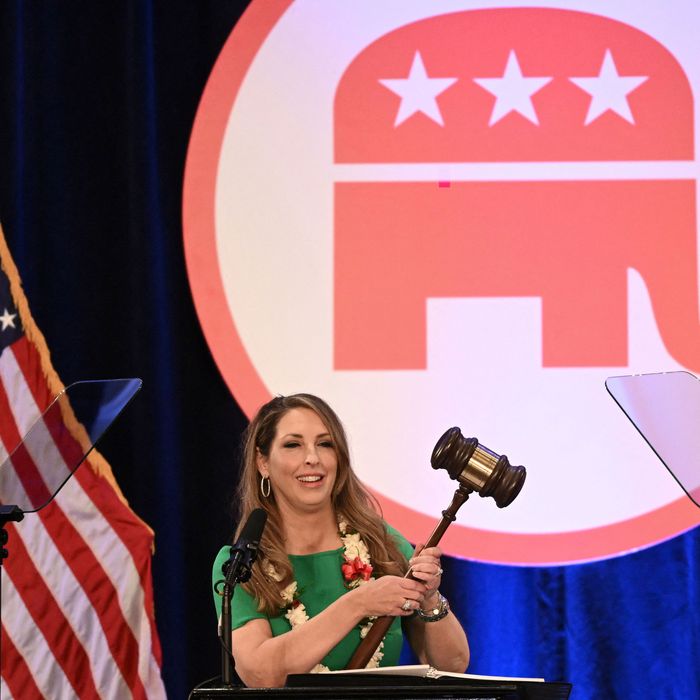 Ronna abides.
Photo: Patrick T. Fallon/AFP via Getty Images
Despite widespread activist grumbling about the 2022 midterm results and a surprise last-minute gesture of support for her leading opponent by Ron DeSantis, Ronna McDaniel won a fourth term as chairman of the Republican National Committee in a vote at a posh California resort on Friday. There were perceptions that DeSantis's favorite, Harmeet Dhillon, had some late momentum, but McDaniel won the vote 111-51, with My Pillow huckster Mike Lindell gaining four votes and one being cast for Lee Zeldin, who dropped out of the contest early last month. It was a fairly anticlimactic result for a fight that got pretty intense over the much-coveted but overrated party position.
The chief talking point for Dhillon (a Californian who did substantial legal work for Donald Trump) was simply that a party suffering three consecutive underwhelming election cycles needed fresh blood and new leadership. It was a tricky argument, since the figure even more omnipresent than McDaniel in Republican politics during her tenure (after he handpicked her) has been Donald J. Trump. Indeed, Dhillon's eagerness to avoid alienating the 45th president (who remained neutral in the contest) was shown when she downplayed DeSantis's support for her, calling it not an endorsement but an answer to a question posed to him by veteran MAGA activist Charlie Kirk. You can judge that for yourself:
Dhillon did get some buzz going in both state parties and among conservative opinion leaders, as Time reported:
[A]t least five state Republican parties, including Arizona and Texas, have passed resolutions of no confidence in McDaniel. A handful of others, such as Washington, Nebraska, Tennessee, and Wyoming, have endorsed Dhillon. So, too, have a coterie of GOP members of Congress and right-wing media personalities.
In the latter category, Dhillon got visible help in promoting her candidacy from Tucker Carlson and Laura Ingraham, among other Fox News talking heads. And her platform for the chairmanship exemplified gymnastic dexterity in calling for a greater GOP commitment to voting-by-mail strategies, even though she's supported abolishing voting by mail entirely.
But in the end, McDaniel's fidelity to the party line during her chairmanship and the unwillingness of many Republicans to admit any failure ultimately saved her, though there seemed to be a sense that Dhillon's challenge had thrown a healthy scare into her. All in all, there are worse things for the white Evangelical male–dominated GOP than a leadership fight between two women, one of them a Mormon (McDaniel) and the other a Sikh (Dhillon).
There could be some second-guessing of DeSantis's last-minute effort to boost Dhillon. It was his first public power play in the national party since the midterms, and it will dismay those who think of him as an all-powerful colossus poised to crush Trump and Biden serially in 2024. But I dunno: Theodore White once referred to party chairmanships as the "fool's gold of American politics." If DeSantis is going to challenge Trump, he will have far more important and daunting battles ahead.