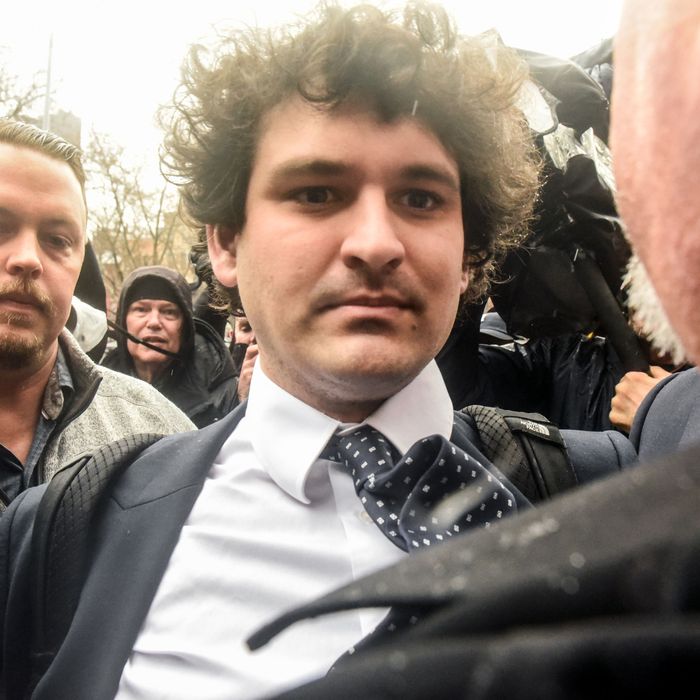 Photo: Stephanie Keith/Bloomberg via Getty Images
Sam Bankman-Fried is beginning 2023 the same way he closed out 2022: claiming he's done nothing wrong. On Tuesday, the disgraced ex-crypto CEO pleaded not guilty to eight counts of fraud and conspiracy relating to the collapse of his former exchange, FTX, and its related hedge fund, Alameda Research. It's the first time SBF has said anything publicly since December 22, when he was released on a $250 million bond to the confines of his parents' California home (though he's met with Michael Lewis and one of his favorite crypto influencers since then to tell his side of the story). Bankman-Fried's current living situation is a far cry from the maggot-infested Bahamian prison where he spent a week just after his arrest — and by all accounts, he's going to do everything he can to keep it that way.
The not-guilty plea was expected. SBF has maintained that the alleged fraud at the center of his companies' collapse — in which customer deposits were transferred to Alameda Research without people's knowledge in order for Bankman-Fried's hedge fund to make wild bets on his own artificially valued companies — was really nothing more than the result of shoddy record-keeping and a mislabeled folder on a computer. (SBF is also facing civil fraud charges from the Securities and Exchange Commission and the Commodities Futures Trading Commission.) Still, his last public defense, issued during a Twitter Spaces call-in on December 12, came before reports that two of his top lieutenants, Caroline Ellison and Gary Wang, were cooperating with federal prosecutors and had pleaded guilty to helping orchestrate the roughly $8 billion fraud. Bankman-Fried has obliquely cast blame on the others who were running his hedge fund — including Ellison, who was CEO at the time — even while claiming that the whole thing was really just a big misunderstanding.
Bankman-Fried's trial, which is set to start on October 2, will likely take years before it reaches any conclusion. (Should SBF lose, he'll likely appeal). It's a highly complex case, and the lack of professional bookkeeping at FTX makes the question of where everyone's money went even more byzantine. One taste of what's to come: Bankman-Fried's lawyer, who previously represented Ghislaine Maxwell, successfully sought to obscure the complete list of guarantors of SBF's extremely high bail, citing media scrutiny and threats to his parents, who put up their home as collateral.
It's a small detail but one that speaks to what high-profile criminal defenses like this one are built on — persistence, discipline, denial, and a willingness to push back on every point. Bankman-Fried will need that kind of help, since he's looking at a maximum sentence of about 115 years in prison should everything break against him. For now, he's merely under house arrest, which counts as a major upgrade.