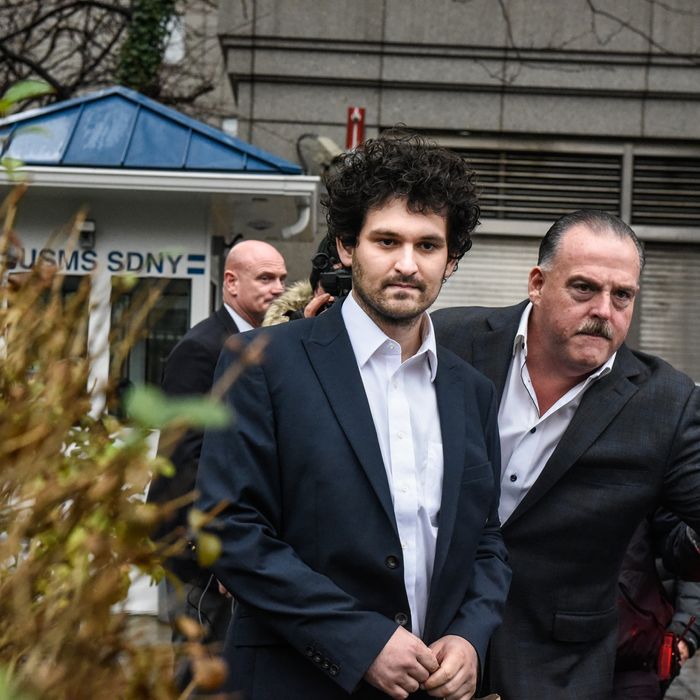 Photo: Stephanie Keith/Bloomberg via Getty Images
Sam Bankman-Fried doesn't conduct himself exactly the way an attorney would hope a client facing eight federal charges would act — as shown by his frequent blogs and interviews following the collapse of his allegedly fraudulent crypto empire, FTX. But late last week, he may have taken his questionable behavior to a new level.
According to a court filing filed by federal prosecutors Friday night, the FTX founder has been trying to contact the company's current general counsel, Ryne Miller,on the encrypted messaging app Signal. The filing states that Bankman-Fried wrote that he would "really love to reconnect" with Miller to see if "there's a way for us to have a constructive relationship, use each other as resources when possible, or at least vet things with each other." SBF — who has pleaded not guilty and still believes he could save FTX customer funds — appears to be trying to help Miller clean up his billion-dollar mess. But because Miller "may be a witness at trial," prosecutors allege that making the connection "may itself constitute witness tampering."
Signal has allegedly gotten SBF in trouble before: According to the Australian Financial Review, he was part of a group chat on the app called "Wirefraud," where executives chatted in the final days before FTX's fall. Bankman-Fried denies both the existence of such a channel and the actual wire-fraud charge he is facing, but prosecutors note that he has used the platform to get rid of communications before. In the filing, they cite a 2021 directive from Bankman-Fried encouraging all FTX and Alameda employees to set their Telegram messages to auto-delete after 30 days. For these two reasons, prosecutors requested that the judge overseeing the case bar SBF from accessing Signal and other encrypted messaging apps to "prevent obstruction of justice."
The case against Bankman-Fried isn't the only inquiry surrounding the company that's getting more complicated. As FTX conducts an investigation to determine how it misused and lost billions of dollars of customer funds — and to try and make those customers whole — some important operators aren't cooperating. In a filing in bankruptcy court in Delaware last week, FTX's lawyers state that Bankman-Fried's mother and former lieutenants Gary Wang and Caroline Ellison are not providing them with the information they need for "recovery efforts." (The family is somewhat divided, as Bankman-Fried's father is cooperating.) To resolve the matter, FTX requests that the Delaware bankruptcy court subpoena the required information to ensure the same cooperation from Ellison that the criminal investigation is getting.