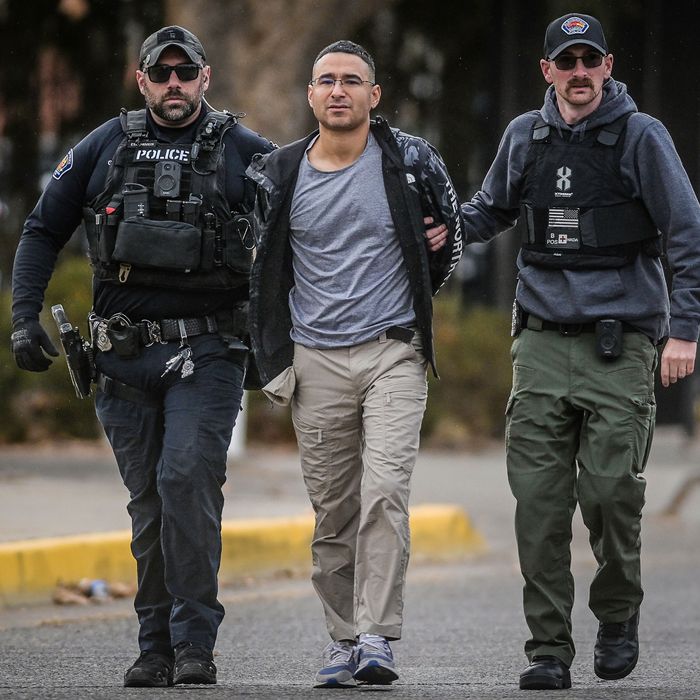 Solomon Peña being taken into custody on Monday.
Photo: Roberto E. Rosales/AP
In December and January, the homes of four Democratic leaders in Albuquerque were shot at by an unknown assailant, damaging the buildings and menacing the officials in an era of escalating political violence. On Monday, police announced they arrested the alleged "mastermind" behind the plot: Solomon Peña, a Republican candidate who lost election for a New Mexico state house district in the midterms and who has claimed he was the victim of election fraud.
According to the Albuquerque police, Peña hired four men to shoot at the homes of two county commissioners and two state legislators. He was arrested by a SWAT team and booking records show that he has been charged with conspiracy to commit a felony, shooting at dwellings or occupied buildings, and shooting from a vehicle. Peña, 39, has not yet submitted a plea.
After receiving just over 26 percent of the vote in his run for the state house seat in District 14 representing eastern Albuquerque, Peña tweeted that he "never conceded" his race and is now "researching my options." After his loss, the Albuquerque Police Department said that he visited "at least three" county commissioners to show them paperwork that would prove his election-fraud claims. An APD spokesperson said in a press conference that the officials were "puzzled and surprised" by the encounters and that one led to "quite an argument." Shortly after, the shootings began.
On December 4, eight rounds were fired at the home of County Commissioner Adriann Barboa, followed shortly by attacks on State Representative Javier Martinez's home and County Commissioner Debbie O'Malley's home. On January 3, Peña allegedly went along with the men he hired and tried himself to shoot State Senator Linda Lopez's house with an automatic rifle, but the gun malfunctioned, according to the police. One of Peña's hired guns then allegedly shot over a dozen rounds from a handgun into the home, including into the bedroom of Lopez's daughter. Forty minutes after the shooting, police say they found a handgun in a traffic stop that matched the casings at the scene. The car was registered to Peña.
The alleged plot is not Peña's first brush with the law: In July, the Albuquerque Journal reported that Peña had served seven years in prison after he was convicted of a felony in 2008 after stealing from at least four big-box stores, using stolen vehicles to break in and steal electronics. In a statement to the Associated Press, the Republican Party of New Mexico said that "if Peña is found guilty, he must be prosecuted to the full extent of the law."