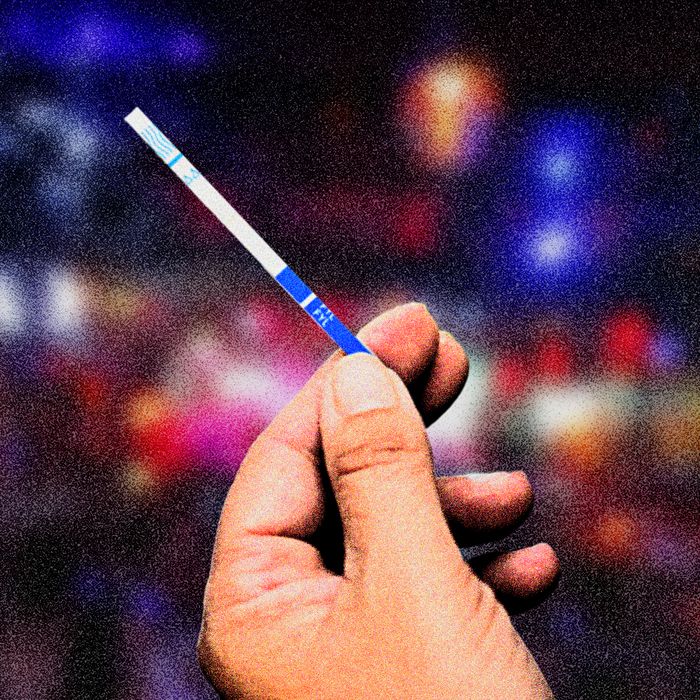 Photo-Illustration: Intelligencer; Photos Getty Images
Before their 9:30 p.m. dinner reservation at Catch, Nicole and six friends met up for drinks at a downtown apartment to kick off their Saturday night. A group of 30-something professional women, the experienced partiers had every intention of drinking all night with the help of $100 worth of cocaine in a tiny glass vial and one more thing: fentanyl testing strips. "We bought a bunch of strips off Amazon," Nicole said.
With a playlist of pump-up songs suitable for a pregame on rotation, the group sat around a wooden coffee table and meticulously read the directions. They scooped a small amount of the cocaine with a cotton swab into a plastic test tube filled with a clear solution. Then they inserted a thin, white paper strip and let it absorb the solution for 15 seconds, pulled it out, laid it flat, and waited five minutes for the result. Testing methodologies can differ in the speed at which results are delivered, but one thing is constant: Two lines are negative, and one line is positive.
"It's like waiting for a pregnancy test. I mean, you could do it in the bathroom when you are out at night, but it's easier to do it at home before the night, so you have a clean environment and enough space," said Nicole (a pseudonym). "Our use of cocaine has scaled back because of fentanyl, but if you're going out with coke to a party, you want to make sure you will have a fun night."
At least three New Yorkers seeking the same thrill died in 2021 thanks to cocaine laced with fentanyl, the powerful synthetic opioid typically used to cut its sister drug, heroin. They were part of the staggering 2,668 people in the city who died of a drug overdose that year, with 80 percent of the deaths attributed to fentanyl. Since then, the sight of people testing drugs — a decidedly un-fun ritual — has become increasingly common on a given night out in the city.
"We have no control over who is coming in or what they have done before they have come in," said the manager of Ray's on the Lower East Side, who would only give her name as Haley. "But by the end of the night, the testing strips are all gone. People are grabbing them for their friends and handing them out."
In October, Mayor Eric Adams signed into law Intro 56, a bill proposed by City Councilmembers Chi Ossé and Keith Powers that funds free naloxone kits and testing strips for establishments that request them. (Last year, the city distributed 160,000 naloxone kits and 32,000 fentanyl test strips, which are needed well beyond downtown. According to the city's data, overdoses were concentrated in the Bronx, disproportionately affecting Black residents.) "While the fentanyl overdose crisis is not exclusive to nightlife venues, accounting for less than 1 percent of cases, we see these spaces as places where people can look out for and protect each other," said Ariel Palitz, the executive director of the city's Office of Nightlife.
Before help from the city, it was largely up to volunteer efforts to bring drug testing to the masses. Darryl Phillips, the executive director of the nonprofit organization the A$AP Foundation, said they have provided testing kits to more than 30 establishments since 2016 — and demand has surged. On Halloween, he was sitting at Mictlan on the Lower East Side when three people coming from a party on Spring Street rushed in to ask the bartender for more testing strips after drugs at the party tested positive for fentanyl. Another time, one of Phillips's friends tested pills he purchased for a birthday party and found they were all positive for fentanyl, saving six people from a potentially fatal overdose. "Being someone out in nightlife and someone who uses, we know that is where a lot of recreation happens," he said.
And working in hospitality means seeing the toll firsthand.
"I had a friend die of a fentanyl overdose about three months ago," said Michael Bray, owner of Kind Regards. "I do not want to promote drug use in the venue, but it is the Lower East Side, it's nightlife, and people will do what they will when taking tequila shots," he said. "We want to do whatever we can to ensure it does not happen under our roof."
Bray said he bought Narcan from CVS to keep at the bar in 2018 following the death of a young woman in the neighborhood who took poisoned cocaine. "It is scary as a business owner knowing you could have someone passing away from fentanyl very quickly," he said.
It almost happened to Meghan Joye, owner of the popular pub Donnybrook on Clinton Street, in the summer of 2021. At around seven o'clock one evening, a sober-looking couple ordered a round of beers, but shortly after, customers panicked as the man collapsed to the floor. "His eyes were rolling behind his head, and it looked like he was foaming at the mouth," Joye said. "His girlfriend was screaming, 'He's ODing!'"
Joye received Narcan from a city official two years earlier and kept it tucked away behind the bar by the first aid kit, forgotten about until that chaotic moment. "At this point, we hadn't had any training on Narcan, so I'm trying to read the directions hoping I could bring him back," said manager Maria Christianson. "When the EMTs finally arrived, they administered more Narcan and took them away on a stretcher. I never saw them again. I know he was alive; he was talking when he left. I could see them in the ambulance."
Following the close call, Joye eagerly replenished the bar's Narcan supply and ensured that her staff was trained and confident in administering the nasal spray. While supplying bars and restaurants with Narcan is critical in the event of an overdose, simultaneously having access to testing strips is meant to prevent ever having to administer Narcan. Phillips hopes this approach to normalizing harm reduction is as noncontroversial as practicing safe sex. "Because you have condoms in your bar does not mean people will have sex in your bathroom," he said.