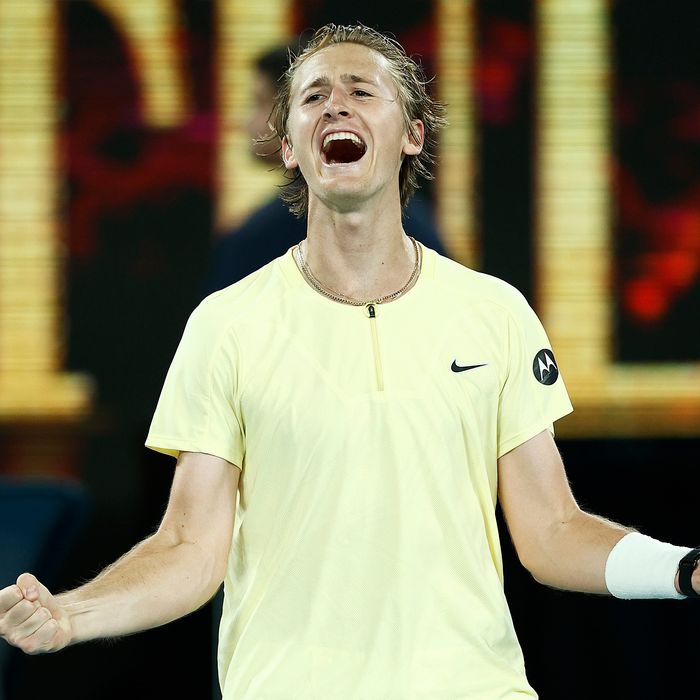 Sebastian Korda.
Photo: Daniel Pockett/Getty Images
It has been almost 20 years since a male American tennis player won a major (Andy Roddick at the U.S. Open in 2003) — an unthinkable gap for those who witnessed the Sampras-Agassi glory days of the '90s, to say nothing of the many U.S. champions who preceded them. Fans hungry for U.S. talent have had plenty to savor in the women's game in the past two decades — Serena Williams first and foremost. But on the men's side, they've often had to settle for watching big-serving John Isner reach the quarterfinals before losing in four 7-6 sets.
That's changing and quickly. The two most famous young American men's tennis players, Frances Tiafoe and Taylor Fritz, lost in the third round of this year's Australian Open. (Possible lesson for Fritz: Don't participate in a Netflix docuseries.) But the fact that three American men remain standing among the final eight — with at least one American guaranteed to make the semifinals — speaks to the depth of talent that has bubbled up in the U.S. in the past few years. There are now 13 Americans in the ATP top 100, and only one of them is Isner.
The domestic surge coincides with a new era for the men's game. After many years of almost complete dominance by three players — and many years of predictions that this was about to change — the men's game finally seems to be cracking open. Roger Federer retired. Rafael Nadal, bounced out (by an American) in the second round of this tournament, looks more vulnerable than he has in about 17 years. And Novak Djokovic … okay, he's still pretty damn good. Djokovic is the heavy favorite to win in Australia this year — especially after he shook off hamstring issues to return to utterly commanding form in the Round of 16. But the rest of the draw is anyone's to claim, and Americans are taking advantage.
So who are the three American men left at the Australian Open? Before the quarterfinals begin on Monday evening, here's a brief guide:
Sebastian Korda
Probably the most promising of the crop of American men left in Melbourne — and maybe the most promising young American man period — Korda, 22, dismantled the No. 7 seed and 2022 finalist Daniil Medvedev in straight sets to reach the Round of 16, then beat No. 10 seed Hubert Hurkacz in a far more competitive five-setter, which ended with a 10-7 tiebreak.
Currently the No. 31 player in the world, Korda made it to the fourth round of the French Open and Wimbledon in 2021. He seemed poised for a breakout tournament coming in: At a warm-up tournament in Adelaide, he made it to the finals and had a match point against Djokovic. He couldn't convert against the unflappable Serb — who praised his game before and after the matchup — but Korda's wins against Medvedev and Hurkacz might be the confidence boost he needs to make an even deeper Melbourne run. And he's got some pedigree in that department: His father is Petr Korda, the scissors-kicking Czech who won the Australian Open in 1998. Korda next faces Russian Karen Khachanov, the No. 18 seed who made it to last year's U.S. Open semifinals.
Ben Shelton
The 20-year-old turned pro less than a year ago after winning the men's singles college championships playing for the University of Florida. (Shelton, like Korda, has tennis in the blood. His father, who coached him at Florida, was a top-100 player in the '90s.) American collegiate winners have not had a great record of success at major tournaments in recent decades, but Shelton may be an exception. Last year, he won three ATP Challenger titles, knocked off Casper Ruud at an ATP final, and made it to No. 81 in the world — good enough to qualify for the Australian Open. A measure of Shelton's newness on the scene: He'd never been outside of the country before last week.
Although Shelton has been blessed with a relatively easy draw to the quarters (in part thanks to his compatriot Taylor Fritz losing so early), he has showed his mental mettle repeatedly during this tournament. In the first round, he knocked out another promising talent, China's Zhizhen Zhang, in five sets. In his Round of 16 match, he faced a tough test against fellow American (and fellow former college star) J.J. Wolf. Shelton lost two tiebreaks in the first three sets but rebounded in impressive fashion to prevail in five.
In the quarterfinals, Shelton will face yet another American …
Tommy Paul
The happy-go-lucky 25-year-old was one of the most highly touted juniors of the mid-2010s, winning the 2015 boys' French Open title (over Taylor Fritz). For years, his pro career foundered amid a series of injuries. But Paul has turned things around since he hired a new coach in 2019 who has helped him focus on his fitness and fulfill at least some of his early promise. Last year, Paul beat Carlos Alcaraz and Rafael Nadal and reached the Round of 16 at Wimbledon. He is now No. 35 in the world. As Caira Conner wrote for New York last fall, Paul's speed and heavy baseline game are his calling cards. After knocking off tough Spanish veteran Roberto Bautista Agut in the Round of 16, he's the slight favorite to make the semis, where Djokovic will likely await. Good luck.
This post has been updated.