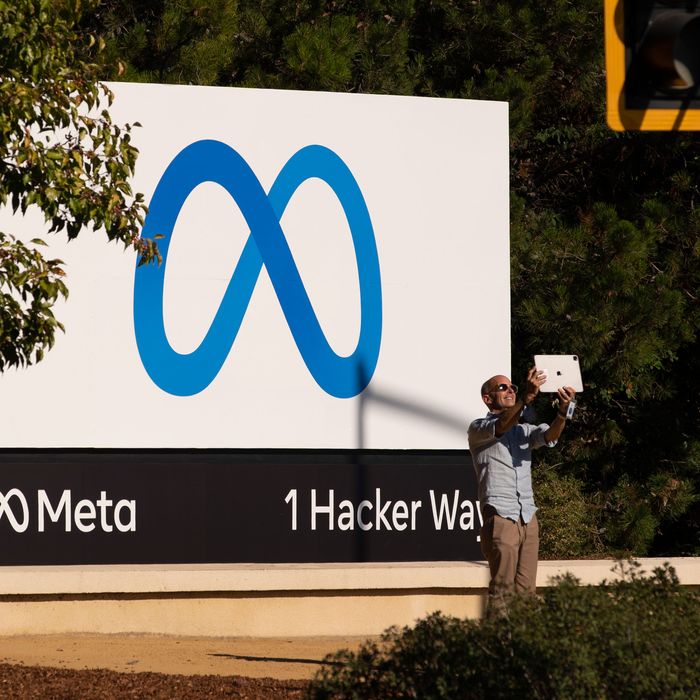 Photo: Liu Guanguan/China News Service via Getty Images
2022 was a rough year for Meta with shares of Mark Zuckerberg's company dropping 64 percent by the end of December. And so far 2023 isn't going much better. On Wednesday, European Union regulators determined that Facebook, Instagram, and WhatsApp — all owned by Meta, which is based in Ireland for tax reasons — had forced users to see personalized ads.
The policy violated an E.U. privacy law forbidding tech companies from collecting users' information without their consent. The fine is hefty, the equivalent of $414 million. But more importantly, the ruling could cause the company to overhaul its ad business in the E.U., where it must now find new ways to advertise to its hundreds of millions of users on the Continent.
E.U. regulators found that Meta's decision to place the clause allowing it to collect personalized user data deep in its terms of service more or less forced users to consent. If Meta users are allowed to opt out of automatic data collection going forward, it could cut the company out of one of its most lucrative revenue bases in one of its largest markets. The company must take action to satisfy E.U. demands over the next three months, though regulators did not state how Meta must adhere to privacy laws. Most likely, it will result in Meta letting its European users decide to opt in to data collecting.
Meta earned $118 billion in revenue in 2021, so the E.U. fine isn't much of a financial dent. (The body also fined Meta $275 million over privacy violations last year.) But the company faces now serious problems on multiple fronts. Its recent stock-market woes can partly be explained by a weak macroeconomic environment but also by Zuckerberg's fixation on heavy investment in the metaverse — a bet that lost $9 billion-plus last year with the company forecasting "significantly" steeper losses on the project in 2023. Considering that, a change to Apple's privacy policy that has cost Meta billions, and the drawn-out fight with the E.U., Meta is looking less and less like the sure bet it used to be.