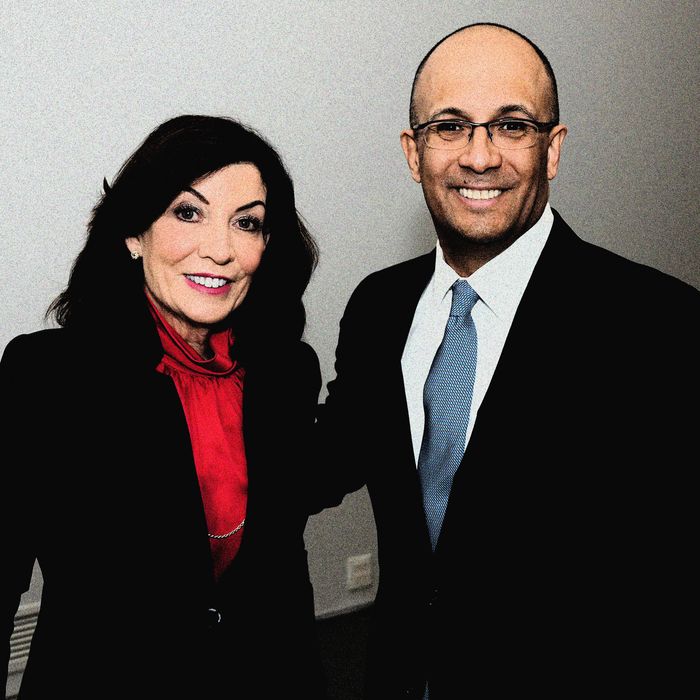 Photo-Illustration: Intelligencer; Photo: Governor Kathy Hochul
Governnor Hochul, still reeling from the disaster inflicted on her beloved Buffalo by a deadly Christmas snowstorm, has arrived back in Albany after the holidays just in time to be hit with a political squall — a blizzard of buzzwords, bad-faith and outright falsehoods — that threatens her nomination of Justice Hector LaSalle to become New York's chief judge.
Whatever the outcome, the fight to name a successor to Janet DiFiore, who retired as chief judge last year, will make history. If approved, LaSalle would become the first Puerto Rican chief judge in state history; if denied, it would be the first State Senate rejection of a Court of Appeals nominee since New York shifted to a system in which the governor nominates candidates who must be approved by it (prior to 1974, judges were elected to the top court).
"With a judicial record that is anti-labor, anti-abortion, and anti-due process, Justice Hector LaSalle is the wrong choice to lead New York's highest court," says a website run by a coalition of labor unions and activist organizations. That made-up mischaracterization of LaSalle's record is being dutifully parroted by a group of state senators who announced opposition to LaSalle before any public hearing, discussion, or debate has been held or even scheduled. For good measure, the judiciary committee has been expanded from 15 to 19 members; among the newcomers are state senators, like Jessica Ramos, who have already publicly announced opposition to LaSalle.
I asked Andrea-Stewart-Cousins, the State Senate majority leader, why her members aren't even pretending to give LaSalle a fair hearing. "The views of the conference were set long before Mr. LaSalle's nomination came up, and I think people are just reiterating, frankly, what they said before," she told me, referring to an August 30 letter in which senators called for a chief judge who had never worked as a prosecutor. As Stewart-Cousins put it, "They weren't looking for another prosecutor, and they were looking for someone that was more in line with the values of the majority of the Senate."
The August 30 letter includes the admonition, amusing under the circumstances, that "it is imperative that the next Chief Judge not be beholden to any of the state's political power brokers." The demand was addressed to the Commission on Judicial Nomination, a body expressly created to shield the selection process from meddling by political power brokers like state senators, union bosses, and self-appointed activists. The Commission, in keeping with the state constitution, forwarded seven names to Hochul, who was required to select one as her nominee and chose LaSalle.
The ugliest, least forgivable part of the fight is the willfully distorted interpretation of LaSalle's more than 5,000 judicial rulings. Opponents accuse him of anti abortion leanings based on his joining a unanimous opinion in the 2017 case of Evergreen v. Schneiderman. The issue in that case was whether then-Attorney General Eric Schneiderman went too far in aggressively investigating one of those deceptive "crisis pregnancy" clinics that pretend to give medical advice but in reality provide only scant medical services and simply try to talk women out of having an abortion.
A four-judge panel (including LaSalle) ruled unanimously that Schneiderman was free to demand documents and other evidence the clinic was illegally offering medical advice — but could not go further by demanding background materials on staff members and a list of the Evergreen organization's funding sources; such a wide-ranging fishing expedition would violate the center's First Amendment free-speech rights, the court found.
The claim that LaSalle's agreement with his fellow judges constitutes anti-abortion bias is so ludicrous that the judge who actually wrote the opinion, Jeffrey Cohen (who is now retired from the bench and in private practice), took the step, rare for judges, of coming forward to discuss the ruling and slam LaSalle's opponents.
"Sometimes you have to defend the rights of people who you think are not exactly on your side," Cohen, a former Legal Aid attorney, said of the need to protect Evergreen from a government fishing expedition. "I hear now certain people either misreading the case, or worse than that, possibly lying or being cynical about the case, and portraying Justice LaSalle in a fashion that is absolutely not true," he told me.
Cohen calls the use of his opinion to attack LaSalle "highly offensive. And it's terribly disturbing for me."
LaSalle opponents are using a similar misreading in Cablevision Systems v. CWA District 1, a case in which labor leaders sued (and were countersued) for defamation by Cablevision during a contentious labor fight. In another decision that LaSalle joined but did not write, the court found that, under New York law, the labor leaders could not be sued for acting on behalf of the union but could initially face charges for individual statements and actions not connected to their union work. (It was virtually unanimous, with one judge dissenting, in part, but concurring with the majority's decision.)
The court in Cablevision pointedly noted that the labor leaders would end up with zero liability if their actions were later found to indeed have been made on behalf of the union; that question, the judges said, "is a matter for discovery and future adjudication" — signaling that the labor officials would likely be off the hook at the next stage of the case. Opponents of LaSalle have turned that procedural ruling into a fictitious charge that he is "anti-union."
Evergreen and Cablevision are not long or overly technical, and they're worth reading — something that many Democratic senators appear loath to do; instead, they are parroting the marching orders handed down by unions and activists. The tweets and letters of opposition being circulated by unions, activists, and senators — circulating and recirculating trumped-up inaccuracies — are precisely the kind of political scrum the state constitution was amended to deter: There's a reason we don't let the loudest politicians and best-connected unions determine who sits on our state's highest courts.
The demand that no ex-prosecutors be elevated to the bench is, for some, an exercise in goalpost-shifting that did not apply to Sonia Sotomayor, an ex-prosecutor whose tenure on the U.S. Supreme Court has featured reliably liberal votes and opinions.
The anger among some Latino leaders is palpable.
"You'll see otherwise intelligent people distort cases that they're citing to try to disqualify Judge LaSalle and think they can get away with it," ex–borough president Fernando Ferrer told me. "Do they think we're all not literate, and can't read a case, and can't understand what's happening here? At least I understand what's happening here. They're trying to defame a terrific jurist who has come through independent screening panels as was contemplated when the law changed in 1974. There has never been an attempt that I've seen like this, that called upon the governor to withdraw her nomination. On what basis?"
J.C. Polanco, an attorney and former president of the Board of Elections, says the attacks on LaSalle reflect a cramped view of Latino leadership in New York.
"When you look at Latinos in Texas, and in Florida, and in California, they're doing very well. And that's because, in those states, you can be a Democrat of all persuasions, " he told me. "You can be a conservative Democrat, like you see a lot in Texas, or a moderate, or you could be a progressive liberal, and the Democrats support each other and they succeed. Here in New York, if you're not an ultraprogressive and a friend of the most progressive side of the aisle, you don't have a shot in hell of getting anywhere. That's a problem, and it's going to keep us in the back bench. This appointment is very important for us."
Hochul says she intends to fight for LaSalle and has reportedly begun calling individual senators to urge them to at least give him a hearing. By law, the State Senate has to vote within about 30 days. At which time we'll see how good Hochul is at plowing her way out of the first of what will likely be many Albany storms to come.
Editor's Note: This story has been updated to clarify how the court ruled in Cablevision Systems.