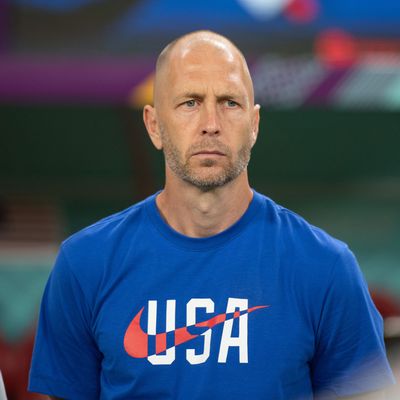 Gregg Berhalter.
Photo: Stephen Nadler/ISI Photos/Getty Images
This week, U.S. men's soccer coach Gregg Berhalter revealed via a lengthy public statement that in 1991 he had kicked his wife (then his girlfriend) Rosalie in the legs in the midst of an argument. The reason he released this piece of information now? It was an effort to get ahead of someone who Berhalter said contacted him during the World Cup informing him that they had "leverage that would 'take me down'." That someone, it seems, was someone very close to his team.
ESPN reported on Wednesday that the person in question is Danielle Reyna, a former U.S. women's-team player, the mother of current men's player Giovanni Reyna, and wife of former U.S. team captain Claudio Reyna. Reyna admitted to telling U.S. Soccer sporting director Earnie Stewart about the old incident out of frustration with the way her son had been treated by Berhalter in Qatar. And with the Reynas and Berhalters going way back — Claudio and Gregg were teammates at the high-school level and again at the national level in the '90s, and Danielle and Rosalie were roommates and close friends — she had information to spare.
As followers of the U.S. team know, Gio Reyna has been at the center of a World Cup contretemps. At a forum in December, held after the U.S. team had been eliminated, Berhalter told reporters that an unnamed player hadn't given sufficient effort in practice and that he had almost sent that player home altogether. Berhalter rather implausibly claimed that his comments had been off the record. But word quickly got out, and given that Gio had seen surprisingly little playing time in Qatar, it was obvious whom Berhalter was referring to. Gio later confirmed on Instagram that he was the player in question.
In a statement, Danielle Reyna said, "I thought it was especially unfair that Gio, who had apologized for acting immaturely about his playing time, was still being dragged through the mud when Gregg had asked for and received forgiveness for doing something so much worse at the same age." She denied that she had tried to get Berhalter fired, however. Multiple sources told ESPN that Claudio Reyna had threatened to reveal the same information about Berthalter to U.S. soccer officials, which he denies.
The statement Berhalter put out includes a detailed recap of the 1991 incident, which he says occurred shortly after he and his wife Rosalie began dating, when he was 18. He describes his kick as a "shameful moment and one that I regret to this day," but says that he and his wife, whom he calls "my soulmate," worked through the fallout from the incident, that it was an isolated event, and that they have been open about it with their four children. The statement is signed by both the coach and his wife.
Danielle Reyna did not agree with Berhalter's characterization of the event, saying that "without going into detail, the statements from yesterday significantly minimize the abuse on the night in question. Rosalind Berhalter was my roommate, teammate and best friend, and I supported her through the trauma that followed."
The U.S. team announced on Tuesday that it had hired a law firm to  launch an independent investigation into Berhalter, who has coached the men's team since 2018. But it said in its own statement that the probe wouldn't just be limited to Berhalter: "Through this process, U.S. Soccer has learned about potential inappropriate behavior towards multiple members of our staff by individuals outside of our organization. We take such behavior seriously and have expanded our investigation to include those allegations,"
The U.S. had a very respectable World Cup in Qatar, defeating Iran and playing England to a draw before bowing out to the Netherlands in the Round of 16. It has higher expectations for 2026, when its very young team will reach the peak of its powers and the tournament will be played on home turf. It has three and a half years to sort out the theatrics off the field first.